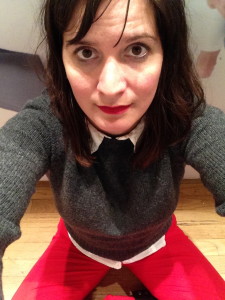 I'm Kasey, a graduate student still working towards my PhD in Developmental Psychology. I'm in the dissertation writing stage and work daily to keep school from taking over my life. I also work to yell less at my kids. I've recently rediscovered my sewing machine and reading for fun. I love my container garden in the spring and summer and I've finally convinced Rob to let me compost…now I just have to remember to drop it off each week. Weekends are family time for walks around the city and hanging on the playground with the kids. I am not so great with the domestic things like cleaning and cooking, I don't do dishes. I will however do all laundry.  That's the deal. I love ice cream, really love ice cream. I grew up on a farm in Indiana.  Moving to NYC by myself in 2005 was my big adventure. Since being here I've changed careers (production to research 2007; started grad school 2009), met (2007) and married (2008) my husband and become a mom (20011; 2014). On to life's next big adventure.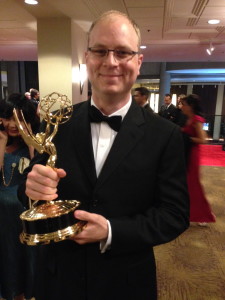 Rob is an Emmy Award Winnng Animator and Director. You can see his most recent work on PBS's Peg + Cat. You can find more about him at his websites (Slippery Rock and One Stuck Duck) or blog – although all are sadly out of date. He has many hobbies such as jewelry making, learning French and playing the guitar. Rob spent 6 months as a SAHD and totally gets why the apartment is a wreck, for this I am grateful. Rob is a pretty good cook and does 99% of the cooking around these parts. I am really lucky to have found such a wonderful guy.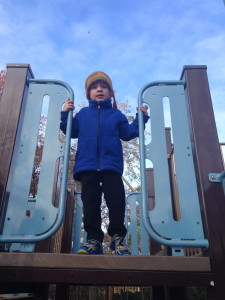 Simon joined us July 9, 2011. At 4.5 Simon is now in Universal Pre-K, we have officially entered public school. After somewhat of a rough start he's doing well. Simon is heavily into video games, the iPad, and Legos – and all the toys that come with these. Wii Sports, Mario Kart, and Super Mario Bros. are some favorites. We also spend as much time as we can at the neighborhood parks and exploring new "far away" parks around the city. The Hall of Science is his favorite museum and we go at least once a month.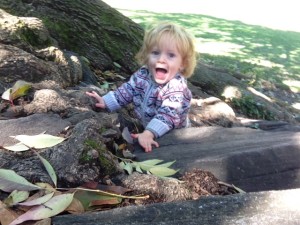 Caleb joined us on February 10, 2014. At nearly two, Caleb lives life at an 11. He is the happiest of happy or the saddest of sad and the sweetest boy. He will often run up to us just to say "ELO!" and give a kiss. Caleb loves Micky Mouse, Bubble Guppies, Thomas the Train, and EVERYTHING his big brother does.
Mr. Theodore Monkey is Rob's pet rabbit.  We are not animal people, Monkey was a gift.  If you get nothing else from my blog hear this – DO NOT BUY PETS AS GIFTS. He's 9 now and hitting geriatric rabbit age.  He used to have free reign of the living room but now prefers to never leave his cage. He does enjoy the basil the boys pick and feed him daily.