As we enter the holiday season, I want to go back in time to blog about a different Fiesta from our vacation in October. Rob, Simon, Val (Rob's Mom) and I flew out to Albuquerque to visit with Aunt Mary and Ahad and to attend the Balloon Fiesta.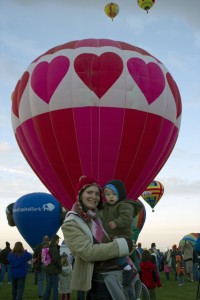 We had a great week with family and several days of early mornings and no naps. Last time we visited was just after we got married at Christmas in 2008. We spent the first day at the Albuquerque Zoo. Then Saturday morning got up at 3AM to see balloons. Of course Simon chose this as a night to SLEEP, so we had to break a rule and WAKE the BABY. We got to the Fiesta grounds only to find that the wind was to strong and there would be no launch. Instead we spent the afternoon at Explora.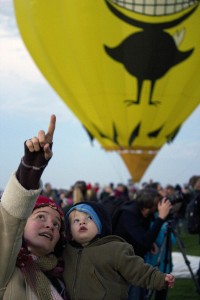 Sunday morning we tried again. And SUCCESS!!! Monday we drove up to Santa Fe and saw even MORE balloons while driving.
I spent Tuesday working on school stuff to prepare for THE EXAM (which was last week, and until I hear otherwise will assume I passed – they are grading December 5) so Rob took Simon and Val up the Tram to the top of the mountain.