So many things to blog about and just not enough time right now. I still have vacation photos from last month to edit. And Simon is talking all. the. time. But I still haven't taken THE TEST (it's on Thursday) and I decided that we needed to reorganize the apartment, so the last two weekends have been consumed with moving furniture. And brunch. There has been lots of brunch and a couple of dates because I'd been putting off everything until after THE TEST and had quite the full start of November. So all of this is coming.
Until then. Baby Simon isn't really a baby anymore, he turned 16 months on Friday. It's kind of fun having taken off a few months of the "monthly update" because SO MUCH has changed since his birthday.
At 12 months he was walking pretty good – now he is running and climbing. He can finally get on the couch by himself. He can walk about 5 blocks before getting tired or to distracted to go on, of course it takes us 30 minutes to walk those 5 blocks.
He loves to play with his cars and the magna doodle. The kid has drawing in his blood, but he's getting pretty good at putting pen to surface. His crayon works of art from daycare are starting to have full coverage of scribble rather than a mark here or there. His fine motor skills are really improving and he still loves to move small objects from one container to another. He also learned to go down the slide all by himself. He still needs a little coaching to remember to "sit" at the top, but he can do it.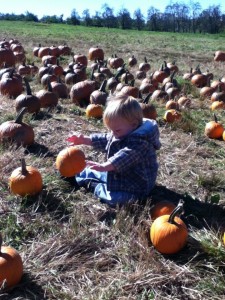 Some days he will eat as much as me at a meal and other days it all goes on the floor. But he likes most foods. Eggs, cheese, and bready things are his favorite. And chocolate. We do limit that though. If I ask "Simon do you want some cheese?" and he does, he will go to the refrigerator and want to help get it himself. We are still nursing, but he drinks milk and water throughout the day too.
At his birthday he had a few words that he would say when he felt like it. Now he spends the whole day jabbering away. He has about 30 words and more that he will repeat. Mostly nouns where he's labeling things but he will say "all done" which is immensely helpful for no longer throwing his plate on the floor when he's done. Simon also loves to sing. EIEIO was one of the first things he repeated and new in the song, but now he can sing songs BY HIMSELF. I am working on a whole post about language.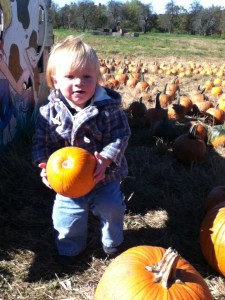 Happy Sweet Sixteen Months my boy. You are truly a toddler now.