All through elementary school any time I had to fill out one of those "About Me" pages and it asked what you liked to do, I answered "Reading." I was the kid who checked out five books from the library every week and read them all. I read all the time. In third grade while reading Where the Red Fern Grows my Dad caught me reading with a flashlight. he caught me because I was crying loud enough he heard me. In fifth grade I was no longer allowed to take a book to recess, I was supposed to get exercise or something…
When I first moved to New York, I would visit my cousin Peggi and come home with a bag full of 20-30 borrowed books. Every few months I'd visit again and exchange the books.
Then I started grad school and reading stopped being fun. I didn't have the time or the brain capacity to read. Then I discovered free romance novels for the Kindle and that is my confession: romance novels are my guilty pleasure. They are just so easy to read. They follow a formula a)crazy physical attraction b)some obstacle as to why it's a bad idea c)misunderstanding / refusal to just say what's on your mind usually accompanied by guilt or low self-worth that of course the other person wouldn't really love you d)someone meddles and get over misunderstanding and marry. They are an easy escape and there are genres.
I was skeptical when I stumbled into Christian romance – same general formula, but no sex, usually some biblical reference and I just feel like the books are a little less "crap for my mind."  Last summer at BlogHer I met the people from Zondervan and they offered to send me two books to review AND copies for a giveaway. Of course that was almost three four months ago.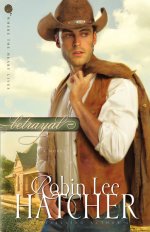 Belonging and Betrayal by Robin Lee Hatcher are the first two books in a trilogy. They are are set in the American west in the late 1890s and each book is about one of three siblings who were separated as children. The books share their journeys to finding love and to reuniting their family. They were quick reads and the stories pulled me in. I will read the third one as soon as it's available. While I've been waiting I read a couple of Hatcher's other books. One set during the Civil War and one set in the 1920s.
On my bookshelf right now are copies of books to mail to a reader! First comment that wants them, gets them. Enjoy!
**I received these books from the publisher in exchange for an honest review.