I really love watching live sports. I don't really follow any teams, but put me in a stadium and I have a blast. Except golf…I've never really understood watching golf… But this week is the start of the U.S. Open and Saturday was Arthur Ashe Kids Day.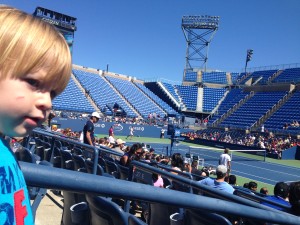 The grounds are open for free and there are tons of activities for kids – all kinds of skills practicing on the different courts and at different levels. Simon is much to young for any of this, but I figured he'd like running around and watching. And since he went to his first matches 2 years ago at 6 weeks old (men's quarter and women's semi) I thought it was time to go again. We were lucky enough to find one beginner court with no line and they said as long as he would go by himself (no parents allowed) he could play. So here is Simon playing tennis…
And for the grandparents – or anyone who really wants to watch 4.5 minutes of my kid trying to his a tennis ball here is the link to the long version.
We also got to meet Sponge Bob!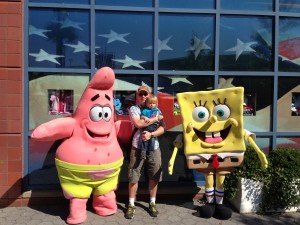 And the Polo bear.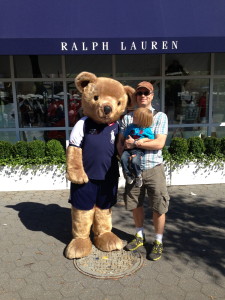 We didn't get a picture of the Hess blow-ups but Simon really loved the truck and the airplane (shuttle). After grabbing a snack we headed into Loius Armstrong Stadium to watch the pros practice. Since I don't follow tennis (and maybe even if I did) I have no idea who we were watching. According to Simon, they "hit that ball fast" "he hit the gate" (the ball hit the back fence) "he's gonna get it" Video possibly to come.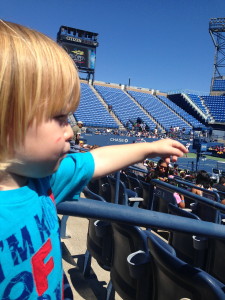 Next year we'll be back.