I totally unplugged this Christmas. It was awesome. I did a little Instagramming and checked in on Twitter or Facebook before sleeping, but I didn't turn on my computer for three days. Simon came down with RSV just after my last blog post and missed almost a week of school, then was finals week and the grading that comes with that and then Christmas. I'm so glad we got our tree and decorations up early so we could enjoy them.
I got our cards out in batches. The only mess-up was a small stack I found under a bunch of school work that I thought had been mailed and stamped. So sorry to those who didn't get their cards… I really do enjoy sending and receiving cards though. I didn't get around to scanning and scheduling this years card to post. So here it is.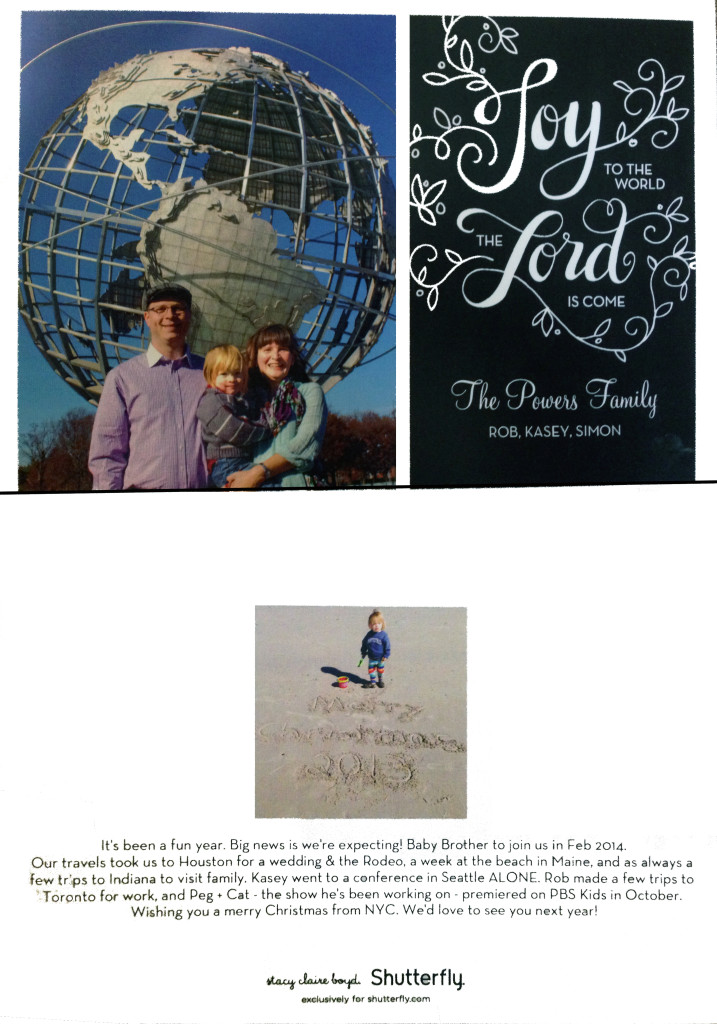 Christmas was lovely. We stayed here and enjoyed our little family of three. The weekend before Christmas we Facetimed with Dad and Marilyn and my bro and sis. They got to watch Simon tear into box one of presents. Simon was so into Christmas this year. He totally gets presents. It's been funny (and a little sad) to hear him wake up every morning asking if it's time for presents. Especially once we took the tree down. It's not all his fault he keeps asking though, since we did have presents for days.
Christmas Eve we went to the playground for the morning and then home for rest time. We made it to the first half of the Christmas Eve service at church. I wasn't planning on an extra long service so we had to leave early. It wasn't all presents and Santa – who he mostly knows from school, but we do talk about Santa coming (and Santaland). Simon loves to look at the creches at the different churches and I have a small nativity from New Mexico and a felt one I made a couple of years ago. This year he learned that there is an Angel and a Mama and a Daddy and a baby Jesus. Although sometimes he called baby Jesus "Baby Brother." We'll get there.
This slideshow requires JavaScript.
I don't know that I would say Christmas was magical but it was fun. Christmas morning we woke up and had cinnamon rolls for breakfast. Then presents. Simon got to open his stocking (a car and a chocolate snowman) and help us open ours. Then he had a great time opening presents. I'm glad rob restrained me because the three things we got him were perfect. He got a mat for his Duplos, a Hot Wheels Monster Truck, and a "team treasure chest" complete with gold dubloons that Rob painted from a box we had sitting around. Rob got the awesome Tardis Prime t-shirt, which you either get or you don't. There are no pics of my gifts, but I got some PJs for the hospital and nursing the new babe and a necklace. I also got a poem and promise of a tea date at the St. Regis sometime in January. A simple and happy Christmas.
After we called everyone, we got cleaned up and started prepping for lunch. Simon helped.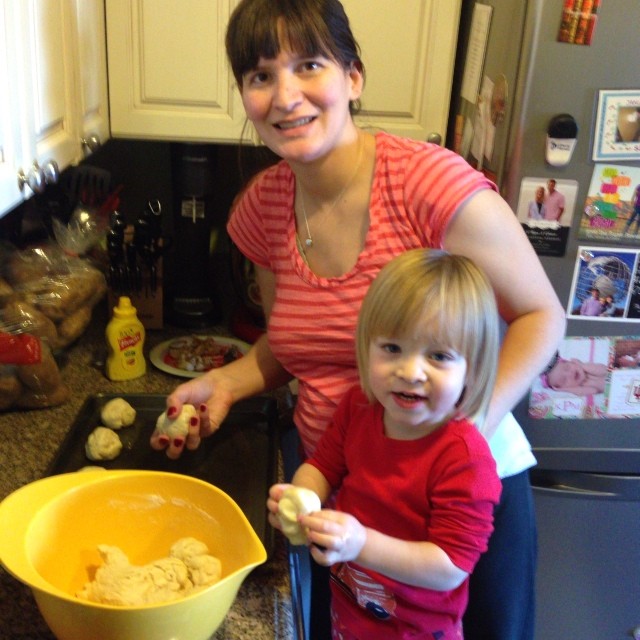 Val and Josh came over along with Rikhia. Dinner was great, and since I'm pregnant I got to rest while clean-up happened. Simon got a few more things. The 7 Train was his favorite.
This slideshow requires JavaScript.
On the 26th we went to the city for my OB appointment. At 32 weeks this is the first appointment Rob has been to (he's been to the ultrasounds, but those are different) and then took a walk around to see the Rockefeller Christmas Tree and the trains at Grand Central.
Then Mom and Chip came to visit for the weekend. So more presents for Simon, lots of good food, and two kid free nights. We went to a movie and dinner on Saturday. Sunday we just slept. Sleep was the best gift we could have been given.
Now that the decorations are down and put away. The baby/kid clothes are in the process of being organized and the true nesting is setting in as we enter the final countdown. The holidays are over, we are in a new year and I can officially say that baby brother will be here next month.