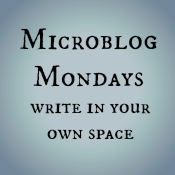 Hopefully I will get around to writing more about our time in Indiana. But in case I don't… My last living grandparent is turning 80 next month.  We wanted to have a big surprise birthday bash for her, and my mom and aunt were nice enough to plan it for a few weeks early when I was already in town. Rob flew in for the long weekend too.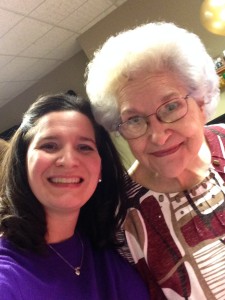 About 75 people showed up to celebrate Mom-Mom, Mom, Flo Ann. Three of her four living siblings made it and most of my grandpa's living siblings. And so many nieces and nephews (my mom's cousins). I was close to all of my grandparents growing up and was lucky to have all four until my senior year in high school. Simon got to meet my Grandma, but Mom-mom is the only grandparent to meet Caleb and my nephew and niece.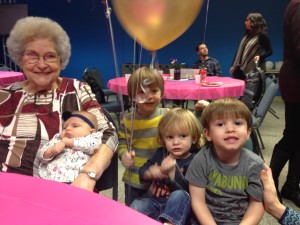 It's a special thing to have a great-grandparent (I remember mine) and I'm so glad to have these memories and pictures.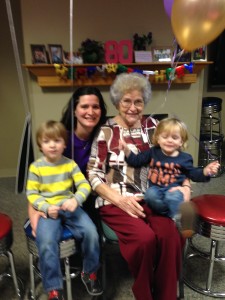 ***
Not sure what #MicroblogMondays is? Read the inaugural post which explains the idea and how you can participate too.