Wow! It's been a whole month since I last blogged – I don't think I've ever lapsed that long. And when I came in to do these snippets I thought it had been two weeks…
We've been exceptionally busy. There has been some behind the scenes things (in our family, not this blog) that have resulted in a no screen time when children are awake Monday – Friday, for any of us. This means no more blogging after school while they play. But overall we are a week in and I think it is a good change.
Along with the rest of the world we've had fun with the MSQRD app. This one hasn't been deleted from my phone yet. Lot's were deleted in the above mentioned screen reduction. Caleb loves it.
Caleb had the flu a couple of weeks ago. Poor sad boy. But he bounced back in time for Easter.
We totally slacked on Easter this year. Grandmas sent some small things, so that was it. I'm giving myself grace that there are some seasons of life I will be able to go all out, and others where I just can't.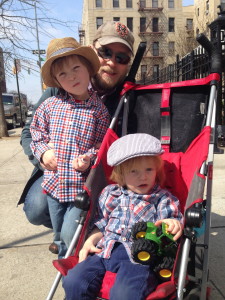 Boys in hats. That is all.
Simon is still playing chess on Fridays. We need to practice more at home. He's struggling a bit because the teacher "asks him too many questions". In order to understand that there is a strategy beyond knowing how to move the pieces Simon has to explain the consequences of each move. It's mentally exhausting, but I think we've come to an agreement that there are questions for 20-30 minutes, then only playing. He earned a gold star. Last time the teacher told him he'd get a gold star, then at the end Simon asked for his star – only to find it was a symbolic star. So this week the teacher had brought a sheet of stars just for Simon. I thought that was sweet of him.
I have a full preliminary dissertation file. Meaning I have a file with everything that is coded so far and can start analysis. But I still need to code about 20 questions and have about seven hours of audio to transcribe. So far nothing is significant.
And just for fun Caleb singing. He only sings two songs. Jingle Bells and Let it Go.
And Simon, practicing for Pre-K graduation. Which I will miss for work travel. But this video is everything.