Psst… Mom, make sure you read this one, there are pictures at the end of the post 🙂
Today marks the first Sunday of Advent.  It is also the day that our Christmas decorations are up.  As I sit here I am grateful for the Chrismas station on Pandora as I look at my tree, the candles are lit, and I am drinking hot chocolate and planning my Christmas cards.
It's been a few years since we've sent out cards.  In 2007, when Rob and I were dating we sent out a letter with pictures.  In 2008 I had just finished sending out what seemed like a million thank you notes from our wedding.  And last year, 2009, I really have no excuse, I just didn't do it.  This year I wanted to send out a photo card.  My favorite cards are the ones with pictures, and I just don't have the time for a letter this year…  There is a good chance I would have let it go again, I didn't know where to look to start with the photo card.  Then I found out about Shutterfly, and this awesome deal they have for bloggers to get 50 free cards.  What could be better.
While this will be my first experience using Shutterfly, I do have a couple of their photo books that were given to me as gifts.  I think these photobooks are a product we will be making in coming years.  But this time of year it is all about the cards.  As we celebrate Christmas and Santa and all that good stuff this time of year, the Christmas Cards are where I looked.  But there are cards for all holidays and occasions.  I've even received invitations.
The hardest part of creating a card was finding a decent picture of Rob and I to use.  One would think that we had more good pictures of the two of us.  Unfortunately, most of the pictures I have are the self-portraits, and while these make for fun facebook photos, they aren't really what I had in mind for a Christmas card photo.  I searched through the last 12 months of photos and found a few good ones.
So here is a preview.  Three of my favorite card designs.  But you'll have to look in the mail to see the card and photo we picked.  Can you handle the suspense?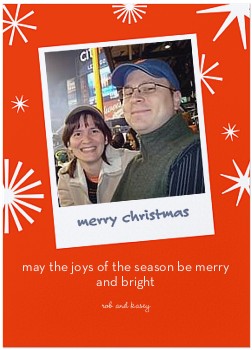 Starlight Star Bright Christmas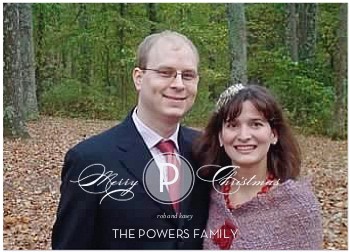 Frosted Glass Monogram Christmas Card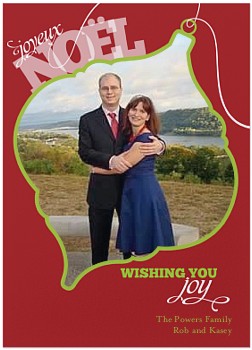 Joyeux Noel Ornament Christmas Card
I was provided with 50 free cards for this post as part of the promotion for bloggers.