My Spring Break was the last week of March – then I had a week of crazy catching up to do – here is the photographic evidence. I have a new nephew, born in February, so this trip was so that Simon and I could meet baby Cy. Simon LOVES to look at picture of baby Cy and he now calls all babies Cy.
We flew in on Wednesday and the first stop was at the Baby Gap outlet to buy matching outfits for the boys. Then we drove south to see Mom-mom (my grandma). Mom-mom loves her great-grandsons. She had been visiting her sister in Arizona, so this was her first time to meet Cy as well. Mom-mom is my last living grandparent. I am so blessed that I had all four grandparents until I was 18, and that Simon got to meet both grandmas. Hopefully we will have a few more years of getting four generation photos like this one.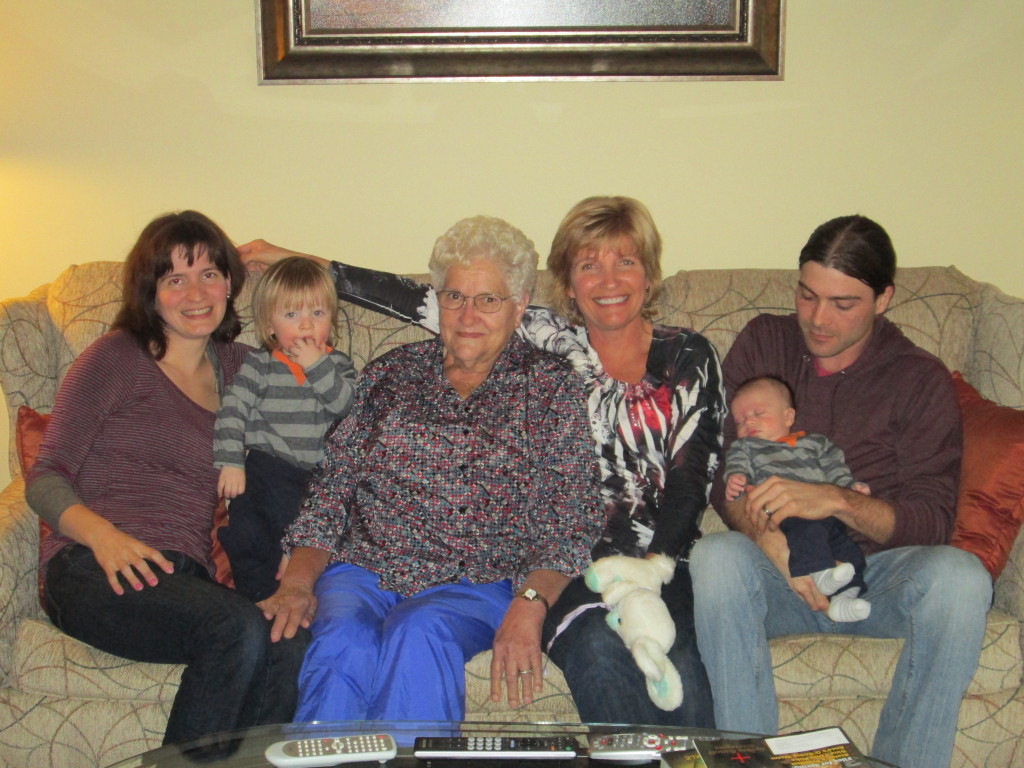 Simon's first act upon seeing me hold Cy was to climb into my lap and try to kick him off. JEalous much? Then MeMe took him while Simon was throwing his fit, and when Simon found Cy in grandma's arms, he didn't feel much better about it. My vision of Simon loving baby Cy who he talks about ALL THE TIME went out the window as it was quickly apparent all Simon wanted to do was throw decorative Easter Eggs under the couch. We did get this one of siblings and kids, Clint and I are not intentionally matching…
Simon's hair is getting long. I can't bear to cut it, other than a bang trim, which is mucho necessary due to snot and food and other grossness. So it's getting long. Just like Uncle Clinto, who Simon adores. So I gave him a matching ponytail.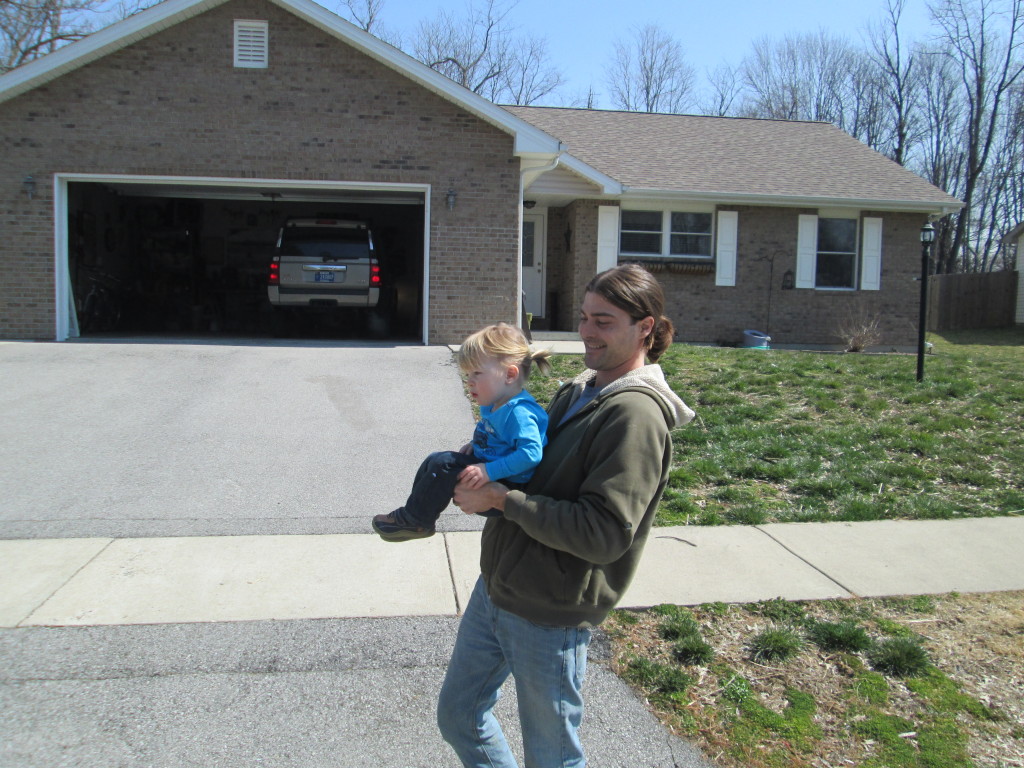 Then finally. Five minutes before we were set to leave, Simon decided baby Cy was pretty awesome. And thought it was hilarious that Cy had feet.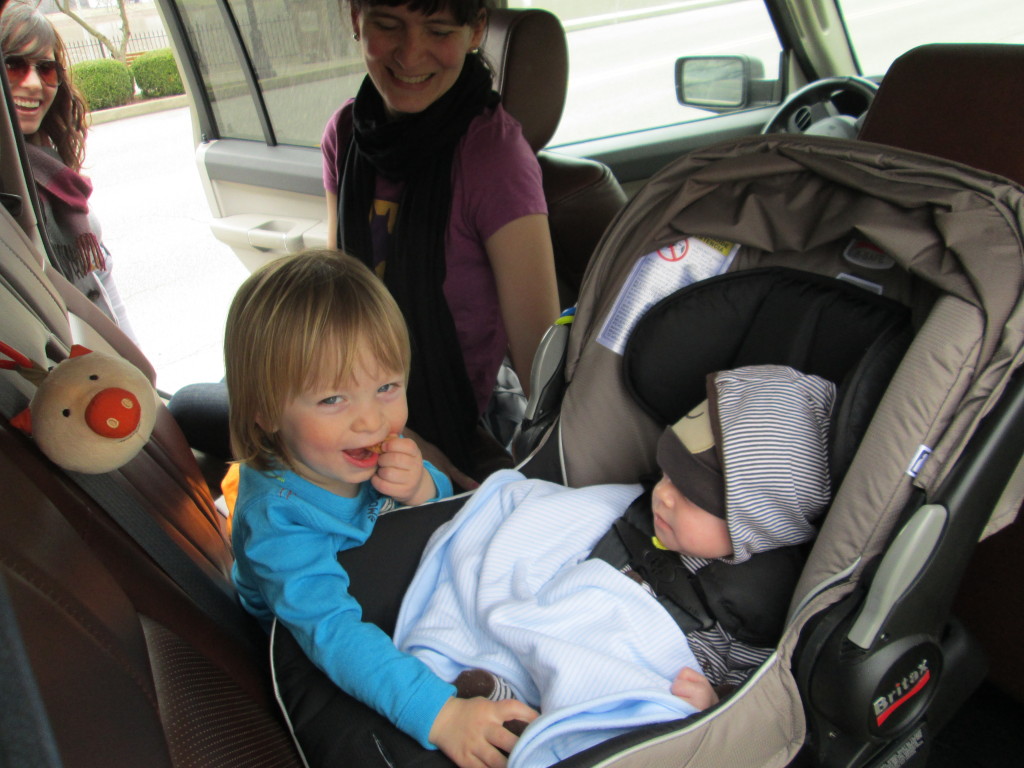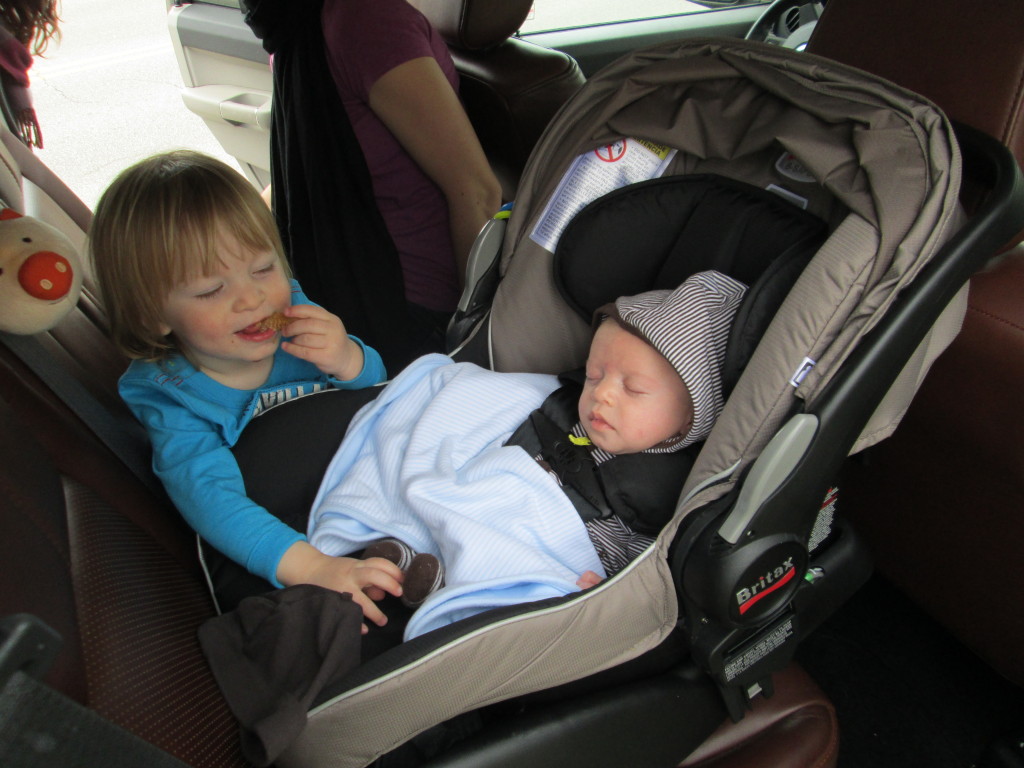 On the way out of town we drove home through Bloomington to see Emily and Scott at their new moped and scooter shop. Simon proceeded to destroy the store by trying to ride every single scooter in stock and terrorize Yumi dog by loving her a little too much. Oy!
What I really learned on this trip that we are heavily into the Terrible Twos and surviving this stage is going to be interesting.