Last weekend we finally made the trek to Governors Island. The East River Ferry from Long Island City is a nice hour cruise to the Island. Simon napped the whole way.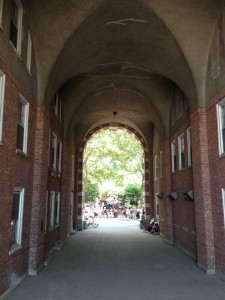 When we got there we explored the buildings and walked along the water.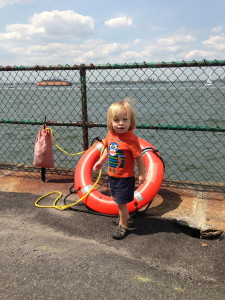 Simon loves the water – and thanks to our Maine cruise a few weeks ago thinks he is going to see whales. Always.
Then a nice walk through the big lawn in the middle of the island to the vintage French fair. All summer you can view and RIDE vintage carousels and some swings. There is even a small roller coaster! And some midway games. We bought a pack of 10 tickets (1 ticket a ride) and had some fun.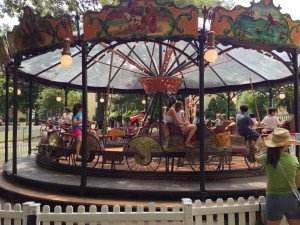 First we rode this bicycle carousel. Simon was VERY upset he couldn't ride the bicycle part. But he was too small to ride alone so we sat in the "car" seat behind the bicycle so he could still drive.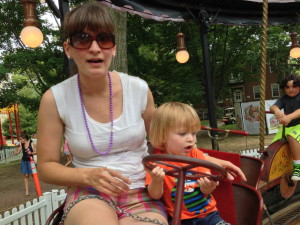 Rob rode the bicycle part. He had a hard time keeping his legs pedaling fast enough.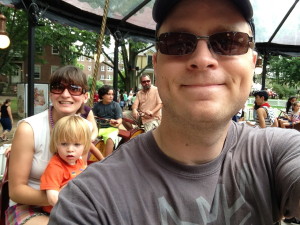 Then Simon wanted to "ride the pig" and insisted upon it and ran across the fair to find it.
This slideshow requires JavaScript.
This one was perfect for a toddler because it went pretty slow. He had a great time being able to sit or stand while we went around. He was sad when it was over.
But it was ok because that meant it was time to "DRIVIN A BUS!" This ride is designed for littles. If he were a bit more confident he totally could have gone alone. Instead I sat in the middle just so he knew I was there.

This one he loved so much he rode it twice. I was proud of Simon because there were other kids who got in the bus first on the next ride. So I asked him if he wanted to ride the car or wait for the bus. He said the bus. So we stood at the gate holding a ticket and he waited!
***Sidenote*** The reason the waiting is noteworthy is that Simon got in the bus for his second turn and another kid (from the previous ride who wouldn't get off) was in the other driving seat. A bigger kid – 3 or 4 – got on and threw a HUGE tantrum because he wanted to sit in the driver seat. To the point he came over GRABBED Simon and tried to pull him off the seat. You better believe I stopped that pretty quickly. And then the kids mom is trying to get him out of this bus as he is hitting and pushing. He didn't take the suggestion to wait for the next turn so well. Mostly I felt bad for the mom and not at all like I should make Simon move – because he had waited his turn so patiently. Mostly he was really confused about the whole tantrum and just wanted the bus to start.
After the bus we took a family ride on the one carousel with horses. Rob rode a horse. Simon decided last minute that this was not cool – so we rode in a rocking carriage.
The we finished the day with some overpriced snacks and some dancin'.

I do want to go back. Maybe this summer, that probably won't happen. And Simon was disappointed on the ferry home that there were no whales "makin' a water fountain".