We are entering one of my favorite times of the year, that transition from summer to fall. There are lots of nice things about summer: BIRTHDAY WEEK, the traditional vacation taking season, lots of daylight. But really, I don't love summer. I HATE the heat and the mugginess. The heat makes me angry. I have a hard time eating. We don't have central air and our wall units are loud so it's hard to sleep or watch tv when they are running. While I'm happy to be getting to the cooler weather we did have a pretty good summer this year. Here's a recap, with some pictures from the last couple of weeks.
JUNE:
– We kept Simon home from daycare and I found that I could be a stay at home mom and survive. This was previously debatable although I really like my part time work status (even if I don't always love my work). We spent hours every day at the neighborhood parks.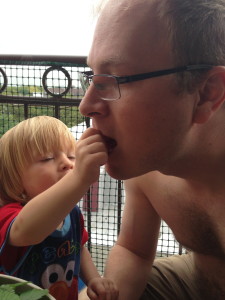 – We found out we were expecting! Eek! Planned but unexpected, we were surprised and excited.
– For the first time in awhile I didn't celebrate birthday week, but I did go out for dinner and drinks with some friends.
– I flew to Houston to surprise a dear friend for her baby shower. This was a fun one. A hotel room to myself was heavenly.
– Simon spent a week with Memaw and Granddad while Rob and I went to Orlando and Universal Studios.
JULY:
– Simon went back to school 3 days a week. He started in the 2s and 3s room. New teachers, mostly same old friends. His bestie moved up with him. And lots of new responsibility – they get to scoop their own cereal and help pour their milk. Simon is still one of the youngest in his class, but we are hoping that seeing the older kids use the bathrooms will spur an interest in potty training.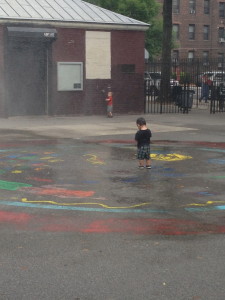 – Papo came to visit for Rob and Simon's birthday weekend. Next year they will get their own.
– First doctor appointment for the new baby. We hated this doctor which spurred a hectic two weeks of doctor searching and finding I'm not eligible to see a midwife (because of prior c-section) and deciding on a doctor who works in an office with midwives. We think it will be good. We get a due date in February 2014.
– Simon and I spend a ton of time at the park. I find my Tuesday/Friday moms and coffee while our kids run amuck. It was fantastic.
– I tell school about baby #2 and we decide the best course of action is to pick up a second course in the fall. This way I can bank my hours and take off for the spring semester, but keep getting paid and keep our insurance.
AUGUST:
– Family vacation to Maine. Perfect long weekend, I was not ready to leave.
– Simon starts school five days each week because I realize I'm on a fast track to pack in the work this fall so I can take an actual maternity leave this time.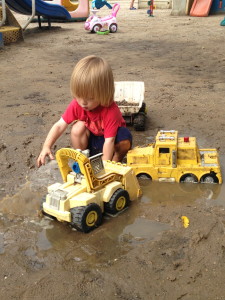 – Lots of prep for my school. Teaching two classes and my administrative job takes a ton of work now. This should make for easy going during the semester.
– We squeezed in a few more park days and some family fun days.
– Simon has finally learned the joy of playing on the balcony alone – only when we are sitting in the living room and can watch him the whole time. Playdough is an outside toy. As is the water table where he likes to make water fountains and a vortex (Rob taught him that one). When watering the plants he waters some more than others so I've started rotating the pots for more equal coverage.
– As is NYC tradition schools, camps, and daycare are closed the last week of August through Labor Day, so we got one last hurrah at the pool and sprinkler.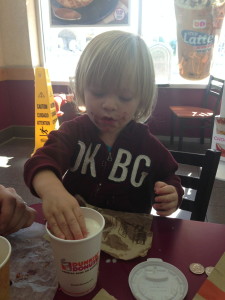 All in all it was a good summer. But I'm still happy for fall.