Somehow 24 weeks seems like a big deal. Mostly I can't believe how it's all flying by. It's for real there's a baby in there!
Weight gain: +10 lbs.
How I'm feeling: I feel really great most of the time. I just realized yesterday that I'm experience the 2nd trimester surge of energy. I'm motivated to do all kinds of projects around the apartment and cleaning way more than normal. I think this is called nesting. It took me awhile to realize because OMG I'm still tired and somewhat sleep deprived. (Simon deserves his own update soon)
The bump: I feel like I'm pregnant all of the time now. Which I'm enjoying. There were so many weeks where I didn't have any outward signs. I look pregnant to the outside world now too – people aren't hesitating to ask when I'm due.
Maternity clothes: Finally, my second favorite pair of maternity jeans fit. I like that I have a wardrobe I can wear.
Movement: We definitely have movement and Rob can feel it from the outside too.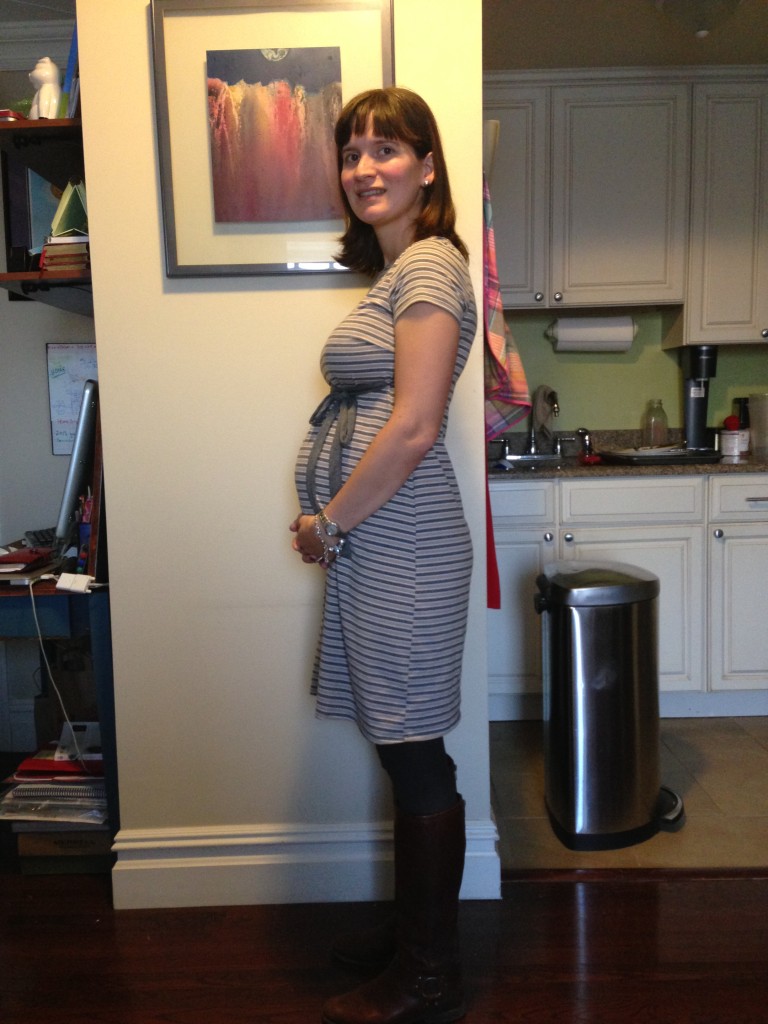 But these are all just the physical things. I am starting to mentally prepare for this baby to arrive now. I blogged Simon's birth story here and here, and I have no interest right now in re-reading that. The aftermath of birth trauma alluded to here. My memories are bad enough, and my biggest goal is to avoid having another bad birth experience. I learned a lot from my birth experience with Simon, and I am putting some changes in place this time around.
As a VBAC candidate there are some things I'm opted out of, delivering with a midwife for instance. But I found an OB who I think I will like a lot – I've mostly been seeing her midwives for prenatal visits (which I prefer a lot) and kind of wish I'd looked for this type of practice with Simon. My goal again is for a med-free birth. But knowing that I can opt for an epidural if I choose at any point during labor. If I do need a repeat c-section my requests are to be given time to emotionally process the change in plan (unless medically dire) and to be allowed skin to skin time in the OR. Also, unless medically necessary there will no separation of me from the baby. Simon was held hostage in the nursery for no goo reason for more than five hours. I WILL NOT go through that again.
We hired a doula. My biggest regret from last time was not doing this, and I picked one who's delivered with my doc before hoping that the experience will help me navigate the paths should we need medical intervention or a c-section. I don't have time to take a class (also wish I had done a weekly instead of 1-day intensive before). I did get a Hypnobabies home course, which I'm hoping to actually start soon – but in the meantime am listening to the affirmation tracks.
I have hope that this will go well. A couple of blogland friends have recently had second births that were awesome. These ladies are my role models. I have no doubt that the trauma to myself surrounding Simon's birth is what led to my trouble bonding with him. He was this baby, and he was mine, but I had a really hard time connecting with him emotionally until around 4 months maybe. I don't want to go through that again. But at the same time, I worry – what if I do have a great experience and bond with Little Mister right away. Will I love him more? (I know this isn't true and a bit of a reverse on "how can I ever love a second as much as the baby I already have" There is ALWAYS room for more love) I never want Simon to feel less because of my birthing experience – that experience is mine alone, and he is the bright awesomeness that resulted from it. But I wonder how I will deal with possibly very different emotions as I prepare to have a birthing experience that I can own, that will help to heal the emotional scars left behind.
I'll close with this. In my mom's bible study we are studying Hebrews. A couple of weeks ago the topic was fear – and I realized my biggest fear is not being there for my husband and kids. Not just physically, but emotionally too. So in the end all I can do is have faith that this baby will come into the world happy and healthy and in the way he is meant to. Birth trauma is real, but in the end all I can do is prepare myself as much as possible and to give birth without fear. Plans may change but in the end life is good.