And a de-clutter challenge. Back in October I posted a House Tour video. I'll do another once we finish a few more projects. In the mean time I want to document the progress. And to participate in SRB's "who needs it?" challenge. (There is a page on this blog now where I will list all of the posts. I'm also going to post my "to do" list from the video.) Back in October there was some conversation about home organization and purging that needed to happen. We all needed a little help and motivation. I have my own motivation in the form of a little man who will be making an appearance in approximately five weeks, so I've been busy the past few months, but that doesn't mean there isn't more to do.
First the update:
When I last posted THIS was the state of my living room. And for some reminding here are the before pictures of the hall and my desk area. Ladder style shelves and desk, and so much stuff.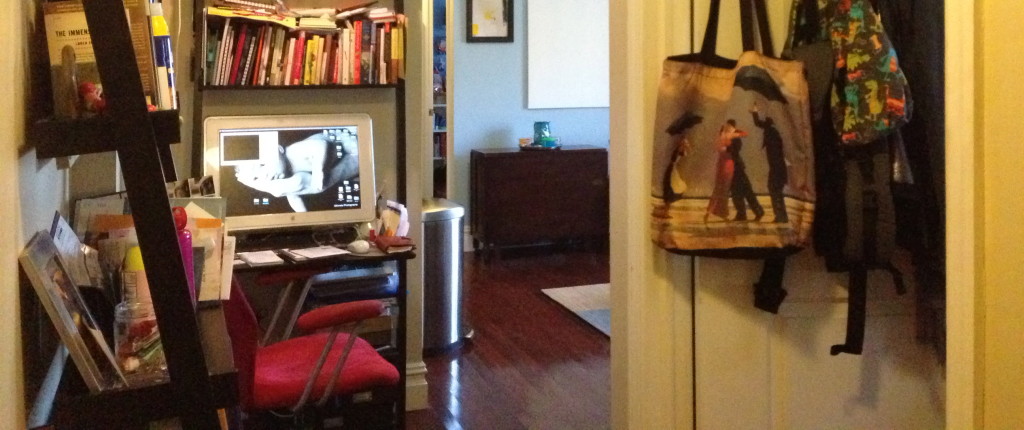 We sold the shelves and bought a new hall shelf from Ikea and found an awesome table to be a desk at a flea market. Then two shelves from Home Depot for above the desk. The living room was covered in all the stuff for a few days. I tossed so much old paper, recycled some textbooks that we no longer use to teach from (newer editions now) and generally just looked at what do I actually need to work effectively. It also helps that the new hall shelf holds a LOT more while still having a smaller overall footprint.
Here is where we landed: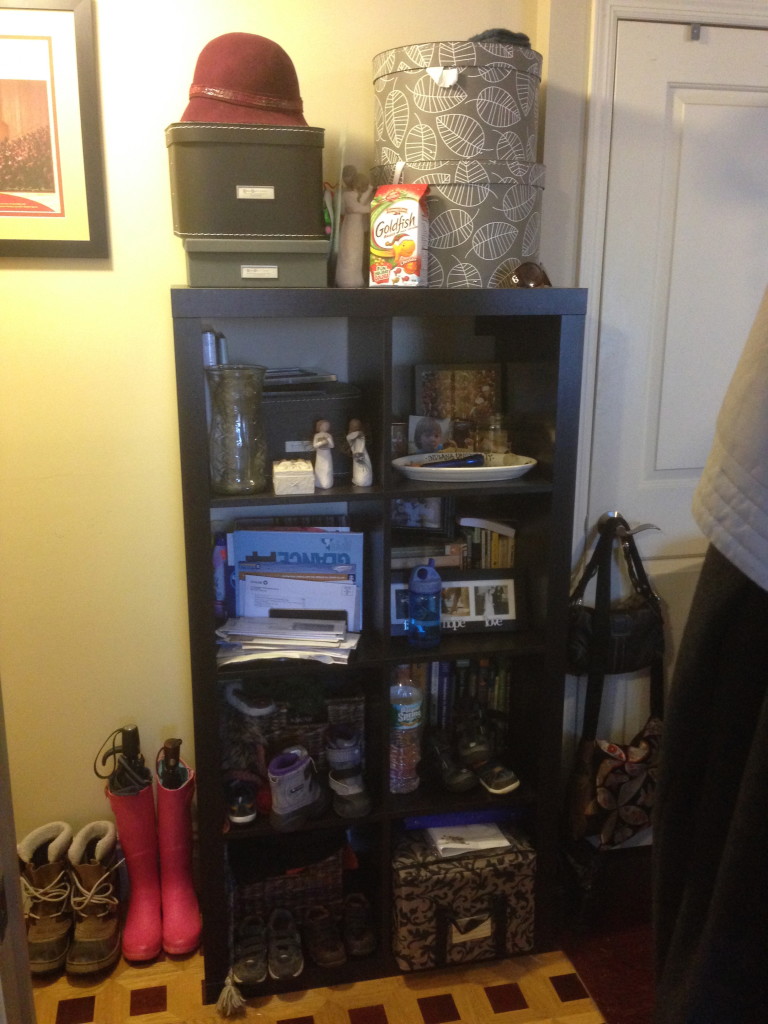 I took this picture without cleaning up just to keep it real. WHY are there goldfish on top??? WHY is the large pile of mail not sorted and filed??? Baby steps I say. Starting from the top: 1) TOP: my fall hat is on top of an empty box that will one day hold something I'm sure. The gray box holds Simons art from school and keepsake things that will get sorted and filed to his baby book. Two gray hat boxes; the top one is currently empty, the bottom holds our Halloween costume supplies. Goldfish crackers that never made it from the stroller to the kitchen. They made it just now… 2) Shelf 1 Left: baby books, a box with my desk stuff that I need but not every day, picture frames that have since been relocated to their rightful homes, stamp box, willowbrook figurines (2 of my VERY few knickknacks), 2 vases that need to go to school (this week, I mean it). 3) Shelf 1 Right: Cigar box with Uncle Dad's baseball card collection, some framed pictures, a jar with laundry money, a decorative plate that holds my keys/wallet/phone/etc… 4) Shelf 2 Left: MAIL! That should all be filed into the sorter of bills, coupons, and "to file" with junk supposedly going straight to recycling. At least it has a home for us to get to it eventually… 5) Shelf 2 Right: Some of my favorite books and some pictures.  6) Shelf 3 Left: Basket with my winter accessories and Simon's sneakers. 7) Shelf 3 Right: Text books for my dissertation or that I teach with. 8) Bottom Left: Basket with Rob and Simon's winter accessories and Simon's boots. 9) Bottom Right: Canvas box holding stationary, office supplies, manuals and warranty info for my computers, and my old planners (which I keep and do occasionally flip back through)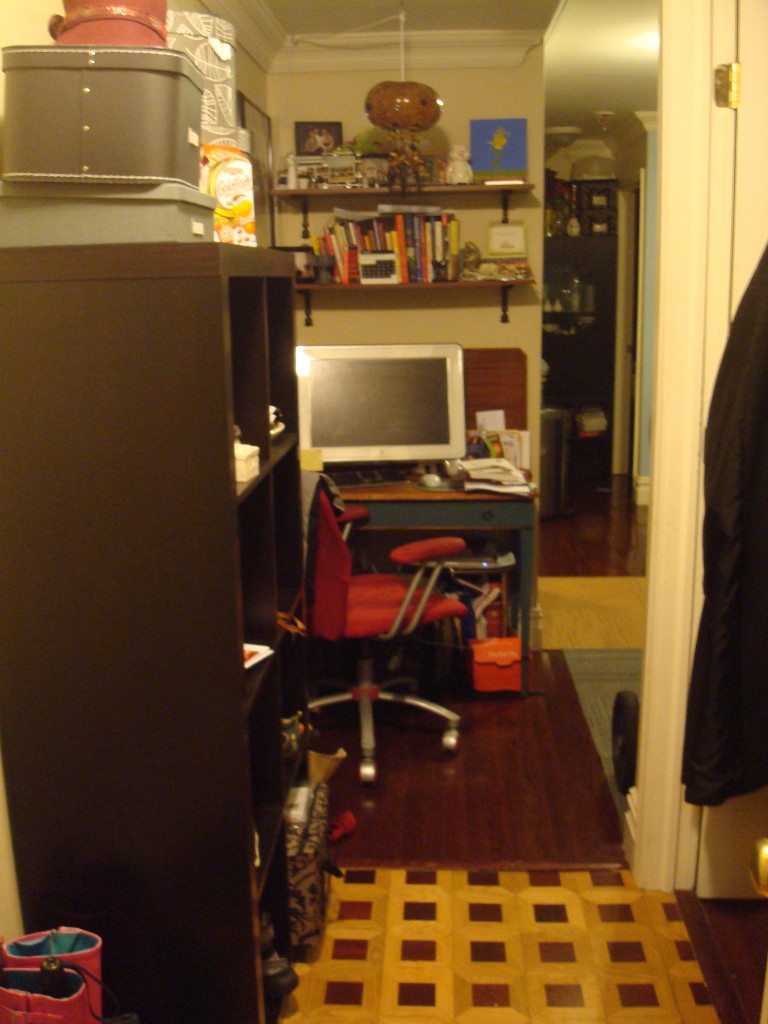 This is SO much better than it was. My desk has also come a long way. I love the new table. The workspace is bigger, I've cleaned out the under desk space and it's just more functional. It will also be an ongoing battle to keep it this way. I have a tendency to just stack the things I'm using on top and move it around the house when I need a clear space. Here it is on a pretty good day.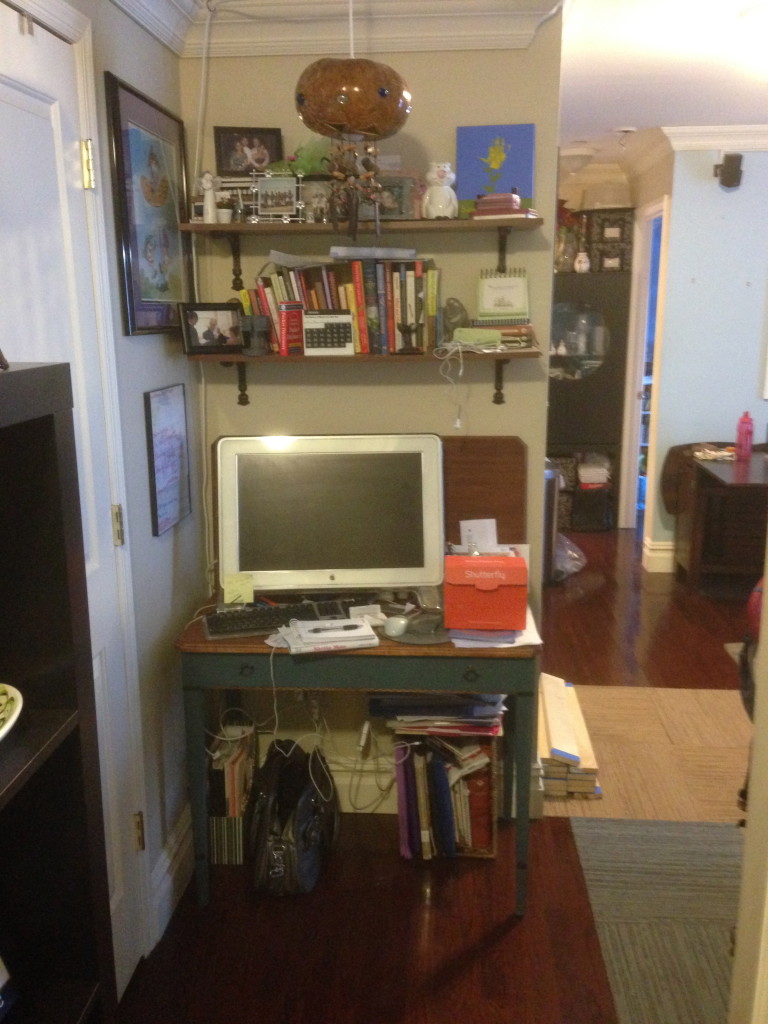 The top shelf is pictures. The lower shelf holds books I find inspirational (spiritually, and academically) with my address book and a few other things. The right of the desk was cleared off shortly after I took this because WHY??? does it need to be like this. Under the desk are folders with projects I'm currently working on, my camera bag and my laptop sits on top of the basket on the right. In this picture it is also covered with files that need a home.
Now I just need to deal with the chair. Which usually looks something like this…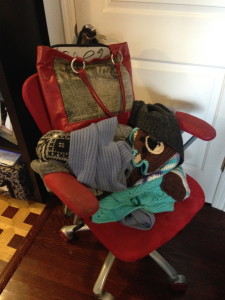 I want to ditch the chair altogether since it's a dumping ground and just use the exercise ball or a table chair when needed. Add that to the list…
This post has gotten long so the DE-CLUTTER CHALLENGE will be it's own post. And the other progress reports. There are SO MANY!