Saturday we took our semi-annual trek upstate-ish to the Stormville Flea Market. Again I took exactly three pictures while we were there. I'm too busy looking to take pictures, and this time we had the added fun of chasing a two year old who only wanted to find trains. Simon really lucked out though as we did come across a large bin of Thomas Toys, so he got some new fun pieces and a Harold Helicopter.
This post isn't about that though. This is about what happens when you get home from the flea market. Also known as "before it gets better it gets a whole lot worse." This is the state of our apartment Sunday afternoon.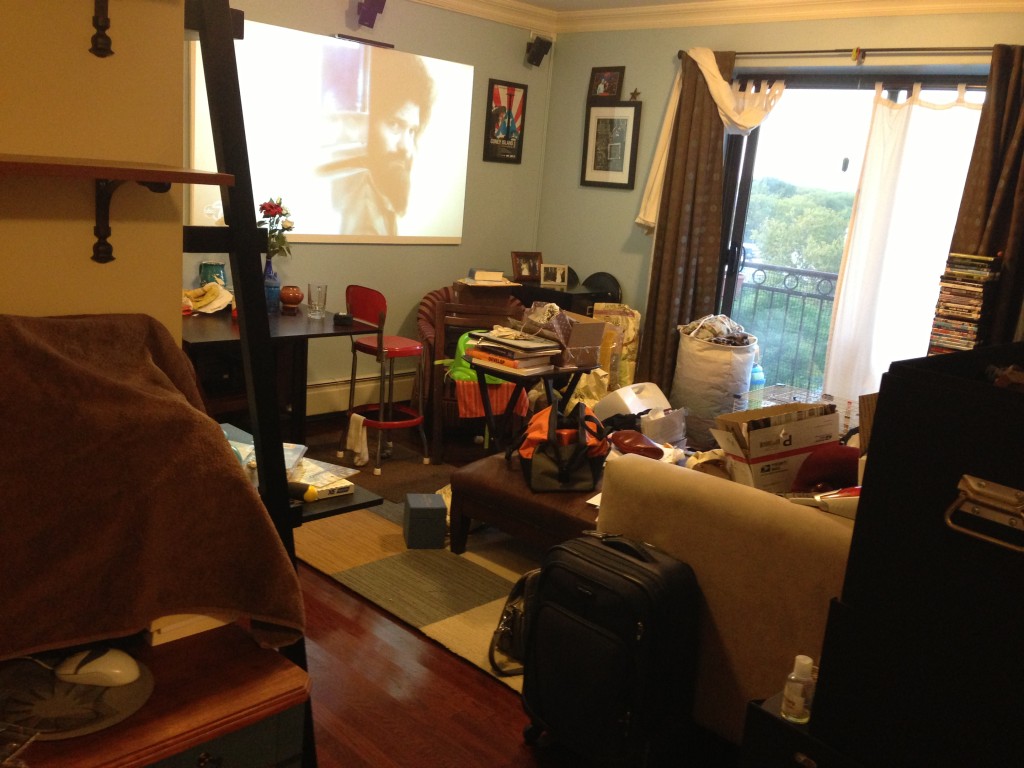 This happens because well, we found this great table to be used as a desk. And because it is a substantial piece of furniture we really need to not have it sitting in the middle of the living room. So we took down the ladder desk (peeking around the corner there) and ALL of the stuff on it. But then we needed to buy the new shelves to go over the new table so we went to Home Depot.
But while we were there we figured we might as well get the last pieces to put the air conditioner covers back up. And some steel wool and polish and rubber stoppers for the new high chair. And well it grew. And so did the mess.
Then the shelf brackets we bought needed a different kind of anchor to be sturdy enough to actually hold books. So trip two to HD happened. Really it looks great now that this corner is almost done.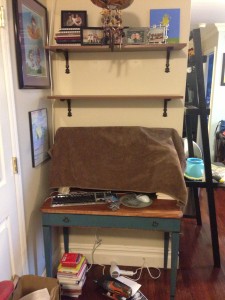 In the midst of the shelf hanging and book rearranging there was some paper sorting and plenty of recycling going on. And while getting caught up on new fall tv there was some chair cleaning. Simon loves his new chair (you can see the rubber stops in the first picture). The booster seat we had is fine, but it's always out and an adult can't sit on it. If we are going to have a chair out all the time, I wanted it to be usable. Enter this gem from the 1950s. Fun fact: It was made in Columbus, IN, not far from where I grew up.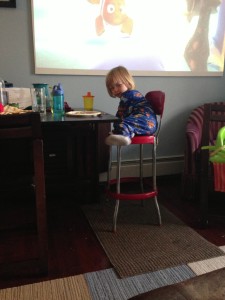 And where was the little munchkin during all this you ask? He spent the morning at HD with us. Then we have the beauty of Uncle Josh and Rahkia who picked him up and took him to the Natural History Museum. Then to dinner. Then to a friends house. Bringing him home just in time for bed. That was amazing.
Monday morning is here and there are piles of things everywhere. But we can sit on the couch and get to our bed. There is a ways to go, but it's going to be great!
This is part of PAIL's Monday Snapshot.