Seven Years ago today my life changed forever. I was working as an Associate Producer for a small company and two of my colleagues invited me to a birthday party for someone I didn't know, but I went because I needed a social life. At this party I talked to Rob Powers for the first time. The rest as they say is history…
So much has changed in just seven years. In 2007 I was single, living in Brooklyn, and working in film and television. I hadn't even started this blog yet (that was September 2007) – I thought blogs were kind of dumb.
Today. I am a wife and mother of two. I am a graduate student so very close to a PhD in Psychology. I am a homeowner and a blogger. It's kind of everything I ever wanted but not at all how I pictured it would be.
So on this anniversary I'm going to tell you about how I met my husband. I don't think I've ever written it out before.
I actually met Rob for the first time in late February when we hired him to do some animation for a project I was working on. I wasn't very good at it yet and our first interaction as we remember it was me going to look at what he'd done at the end of the day and saying "that's not how it's supposed to look." Then I walked away giving no other instruction. (that's probably not really true – but whatever I did say wasn't helpful for him to understand what I meant…) Then I didn't see him again because my great uncle died the next day and I flew home for the funeral.
A month later March 22, 2007 I was invited to this birthday party at a bar downtown. I knew the two people who invited me and was introduced to lots of people there. I had a long and intriguing conversation about bacon and a bacon of the month club with the birthday boy and then I recognized Rob. Even though I didn't really know him, he was someone I had at least met before. He came over to the table I was sitting at and we spent the rest of the night talking. While I remember many parts of that conversation nothing is truly noteworthy until I was ready to go. Because this was a Thursday night. And I had to work the next day. Rob walked to the door of the bar with me then started talking again (for those that know Rob – this may be the most he's ever talked in one night) and all I could think was "OMG I'm so tired and I have to go home now so walk me to the train or go away." And I left. And all Rob's friends were like "did you get her number" and he said "I'm never going to see her again."
The next night I was invited to a show – The H.M.S. Pinafore Puppet Show. I'm not sure how I knew Rob would be there. Either he had mentioned it at the party or the mutual friend who invited me mentioned it because he had asked her for my number and she wouldn't give it without my consent but knew he was interested. (The number conversation did happen.) I wanted to go. But I didn't want anyone to know the reason I wanted to go was to see Rob again – because I am crazy. So I invited others along too…on my kind of date…because I am crazy. We went to the show. I sat next to Rob. It was nice.
Then we went to the pub for dinner and it was all how to make sure we sat together without making a big deal aboutit. (Because in my mind IT WAS ALL ABOUT US. In reality I'm sure no one other than the mutual friend who knew of the interest had ANY IDEA.) We sat together and had a nice evening. He held my hand under the table. Then he walked me to the train and asked if he could call. I had his number already (because I hired him) and texted him first thing the next day.
Our first one on one date was on March 27. We went to an Italian restaurant in Hell's Kitchen then walked to Lincoln Center and across Central Park. The two memorable parts here are 1) I asked him what his parents did for a living and he said "Well my dad is dead." And how do you respond to that? 2) He tried to kiss me at the train and I turned my head so he only got my cheek.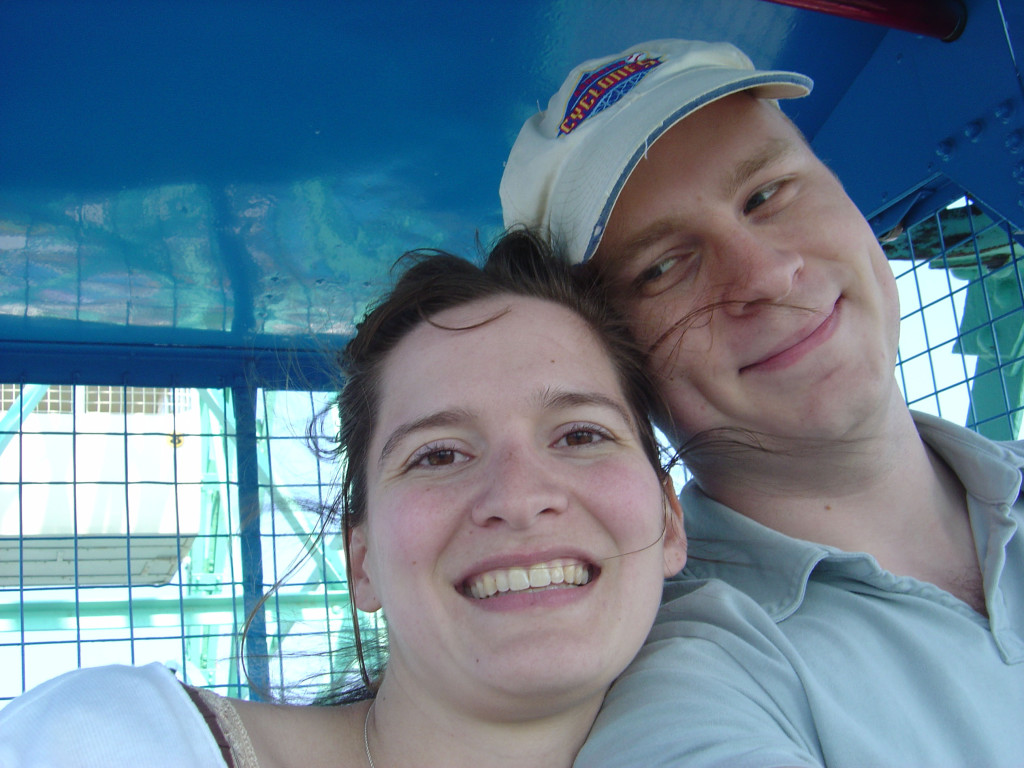 Date two I got stuck working late, but since I worked with people he knew and we were keeping it quiet I didn't want to tell anyone why I needed to leave on time so I just kept working. Until 9:00! I usually left at 6:30. I told Rob we could cancel early in the evening, but he waited for me. Noteworthy because he wasn't living in the city at the time. We went to Johnny Rockets. This time he kissed me at the train. I was wearing my green coat.
Our third date we went to an art show in Williamsburg and then he came to my apartment for dinner and to watch The Departed. We started the movie late enough that he was going to miss the last train. Unintentional, but we were both aware of this but avoiding this. He slept over. On top of the covers. In all of his clothes. Such a gentleman.
The next day I emailed my sister that I had met this guy. He was really nice and something must be wrong with him. So maybe I shouldn't see him anymore. She basically told me to stop being stupid.
And that's how I met my husband. The rest of the timeline.
June 2007 – Trip to Saratoga with my cousins.
July 2007 – Trip to Indiana to go to a wedding and meet my family. I went to Brazil to see Emily and told her I was going to marry him.
November 2007 – Started talking marriage and do we want to look at rings. My family came to NYC for Thanksgiving.
December 2007 – Rob joined me for half the trip to Indiana Christmas and not one family member cracked a joke about marriage (that should have been my first clue this was for real)
January 26, 2008 – Engaged!
July 9, 2011 – Simon.
February 10, 2014 – Caleb.