**And the last of the summer posts on October 1, time for fall adventures.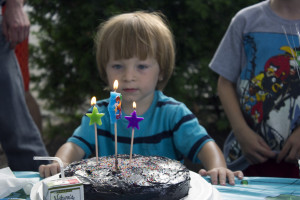 To keep things simple, which is something I've really been working on the last couple of years. So we started Simon's birthday with donuts and family presents.
This slideshow requires JavaScript.
Then Simon's party was that evening, on his actual birthday – a Wednesday – at the park with a few friends. I took Simon to Party City and let him pick some plates and a few other decorations. I made some cupcakes and bought a fruit tray and some drinks. Then I ordered pizza and had it delivered.
This slideshow requires JavaScript.
The party was perfect! The kids had a great time playing on the bikes and at the playground. They got some pool and sprinkler time. I got to talk to the other adults. I think this will be the trend of future parties – low stress and lots of fun.