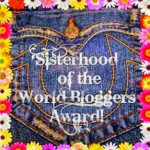 Thanks to A at No Baby Ruth for nominating me to answer these questions. And if you missed my video blog a couple of weeks ago I answer some similar questions about my self and my blog.
So here are my Q & A:
1. If you didn't know how old you are, how old would you say you feel?
Today I would say I feel 103. Despite being away and looking forward to my night in a hotel of unbroken sleep I stayed up entirely too late gabbing with old friends who I haven't seen in a long time. I think most days I feel like I'm in my early 20s because there is NO WAY I am old enough or mature enough to be married with too kids.
2. If you had a chance for a "do-over" in life, what would you do differently?
There is very little in my life that I regret. But I think I would do-over my college years in that I wished I could have cared less about "fitting in" and been truer to who I am.
3. If you could only keep five possessions, what would they be?
This one has been hard and I've been thinking about it for the last five days (I AM AMAZED THAT IT'S ONLY TAKEN ME FIVE DAYS TO DO THIS). This is like the question of a burning building what would you save. And things are only things and there is so little that I couldn't replace in some form or live without. To answer the question I couldn't do it without items that are a collection of things – but I count the collection as an item because individually it doesn't make sense:
– My laptop (it has everything on it)
– Simon's memory box & baby book
– Caleb's memory box & baby book
– My Grandmas jewlery
– My wedding rings
4. What are your top three favorite books and why?
Where the Red Fern Grows – I read this for the first time when I was eight and it was the first book to DEEPLY affect me. I've read it maybe 4 more times, and I will read it with the boys. And then maybe never again.
Speak by Laurie Halse Anderson – If you haven't read this, do, now. Another incredibly powerful story.
Pride and Prejudice – I had to read this about five times and watch the movies the Kiera Knightly one and the BBC one before I finally got it. It took me that long to understand why Mr. Darcy was anything other than a complete ass, but once I got it I love it and reread about once a year.
5. What are you most afraid of?
Failure.
6. What was your most embarrassing moment?
I'm sure I have a lot but this one I was just telling Rob about last week. In high school we'd had a half day or something and a big group of us had gone to someones house to hang our. At some point we started tickleing and I kept saying stop I have to pee. Which everyone knows is a ploy to stop the torture, except that I really did have to pee and I peed my pants. One of the girls had a change of dress clothes in her car so I changed and am all dressed up compared to everyone else, and my friends parents came home and were all – you look nice are you going to work? And I had to hang my head in shame as I relived it and everyone laughed. (I'm lucky that none of this was mean spirited, just bad luck and timing for me) And I was in HIGH SCHOOL – Gah!
7. How would your friends describe you?
I hate answering this questions. I should ask my friends.
8. Are you a collector of anything?
I used to collect / keep ticket stubs and the like but then I went in a crazy purge mode and tossed it all because they were just sitting there. I don't think I regret it. I horde nice fabric and table linens and I would love to collect more, but space.
9. What is your perfect pizza?
Garlic Bread Pizza. It's a thing and it is divine.
10. What question do you hate to answer?
See number 7.
I suck at the chain letter part of this and finding 10 blogs I read who haven't already been nominated is beyond me right now. March is my nemesis.