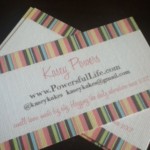 I wrote about the sessions and what I learned. But a huge part of any conference are the connections you make. This is hard for me because I'm not really all that great at talking to new people. I'm working on it. That is one reason I really wanted to do Pathfinder Day, aside from the fact that I knew I would learn a lot, I wanted to have the smaller group of people to interact with. That was a great decision. The people I ended up spending the most time with throughout the weekend came from this group.
Day 1 at my table 8 women. We found things in common, we spent a day together. This is 7 new blogs to follow. And I sat next to www.hannahbunker.com and we had the SAME BAG from Jo Totes. So we decided to meet up through out the weekend. We worked the expo hall, and even hit up a party together, it was nice to have a friend to check in with as there was just so much going on. I just wish she lived in NYC, we'd totally hang out.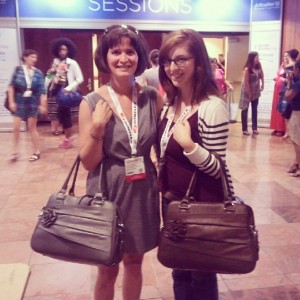 I'm not a huge party person, but I went to a few. The first night I went mostly to get something to eat. It was a happy coincidence that I sat next to someone who has friends that live near me – so I might get a play date out of that. Night 2 was SparkleCorn. I have read so much about this party in recaps over the last couple of years that I really wanted to go. So I did. And I remembered that crowded + loud = not really my thing.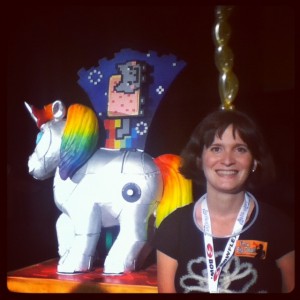 But while waiting for the party to start I joined D.J. of Thoughts From Paris (one of the **17 men at the conference), who met Kelly, who made balloon unicorn horns for us. And D.J. was the lucky one who got an entire balloonicorn to wear around. So that was fun.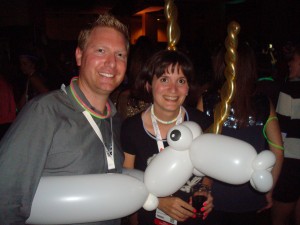 At the party I ate some food (love that there were sliders and mini hot dogs at every party) and got a drink. The bartenders version of a rum and coke was a glass of rum and a bottle of coke. Seriously. So I was glad he gave me the whole bottle to use as a chaser after the tiny splash he actually mixed with the rum. I danced a bit, talked to some lovely ladies, waited for cake, and called it a night.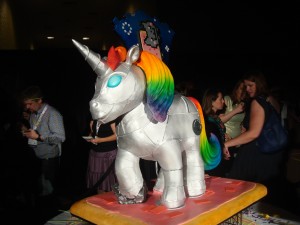 Day 3, Hannah and I decided to hit up the Come As You Are Party. It was early. There was food. And there was also a photo booth (or 2). We ate and drank and had a good time. Then took some photos and headed out. There were THREE other parties that night that I just couldn't do. So tired. I really wanted to make it to CheeseburgHER, but it started at 11! Maybe next year…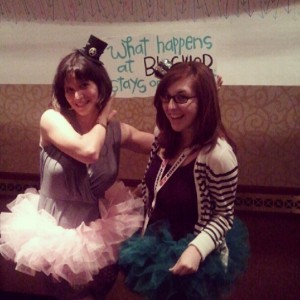 It seems many people get all crazy about the Swag (free stuff from the sponsors) and I kind of get it. It is really good swag. Not your pins and pens and notepads that are common at these types of things. In addition to these common items I got 2 water bottles, 3 books, lotion, bath wash, band-aides, a handheld fan, a pair of pajama pants, 4 tote (to be used as grocery) bags, granola bars, ice cream (consumed on the premises), 2 massages, and a make-up touch-up. I was choosy about taking only things I would actually use. Rob brought Simon for a little visit and was a little jealous that we are wined and dined much more so than at conferences he goes to. Never fear though husband of mine – at academic conferences they don't even serve us coffee.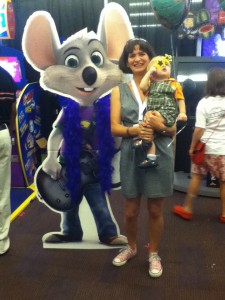 There was so much. The thing I found to be really different from when I went to BlogHer two years ago is that I felt like the sponsors wanted to talk to me. They were interested in MY BLOG. I mean, I know that is the reason they are there, to connect with bloggers, but I really didn't feel that last time. It could be a testament to how much more confident I am now, but it was nice to engage. I have about 10 emails from different brands who took the time to look at my blog and follow up with me. There are a couple that I talked with for quite awhile, and may do a review or post about some those products in the near future. It was kind of exciting.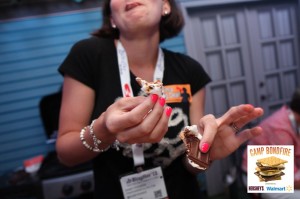 As I re-read this post it feels a bit rushed, as I am cramming so many thoughts into a single post, but I don't know how to properly convey how much I truly appreciate the relationships and new friends I made. I have 60+ cards from the conference. 15 I would say I really connected with. Another 15 I can picture the person who gave it to me, which means we had an actual conversations. The other half were quicker interactions, and it will take some time for me to get to know them through their blogs. Actually it will take some time for me to get to know everyone a bit better through their blogs. This is what it's all about. Real connections, with real people, to have online relationships with.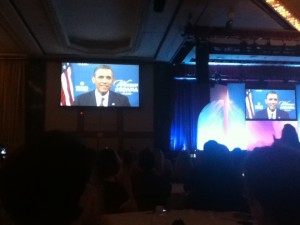 Recap: New friends are awesome. Parties are fun if attended with said friends. It's kind of fun for a brand to want you. S'mores are awesome. I can say I've Skyped with the President.
See you in Chicago? Maybe?
**This is not a precise number.