I usually do a series of posts after the holidays, but this year I just don't have the energy. So instead I provide this one picture heavy (with only the most basic of editing) post. Simon and I left on December 18 for 15 days; Rob was all set to join us on the 21 but his flight was cancelled due to a snowstorm and he was delayed several days, finally joining my mom late on the 23rd in time for Christmas Eve. I didn't document so well. When I was sans Rob it was too much effort, then I was too exhausted, then I just wanted to enjoy myself. The holiday was full of joy and sorrow and happiness and blending of family. It was nice to be away, but it is good to be back home too.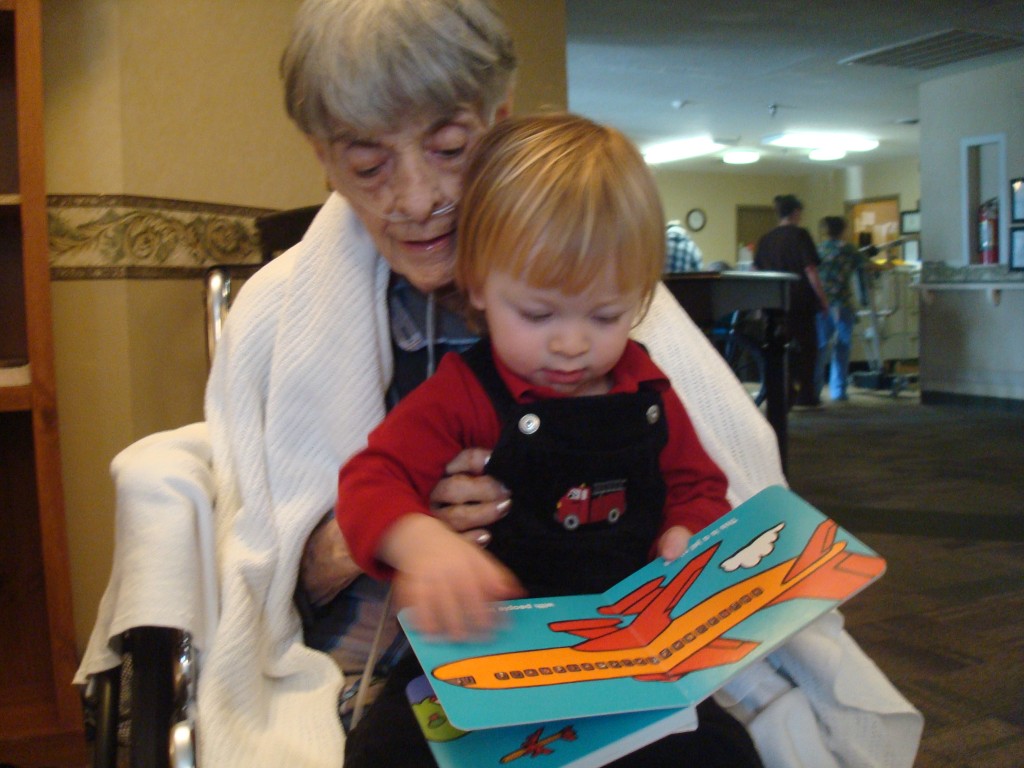 We spent the first week in Bloomington with my sister, but drove down to Madison to visit with Grandma. I was really happy she was lucid in the morning and I got this great pic of her reading with Simon.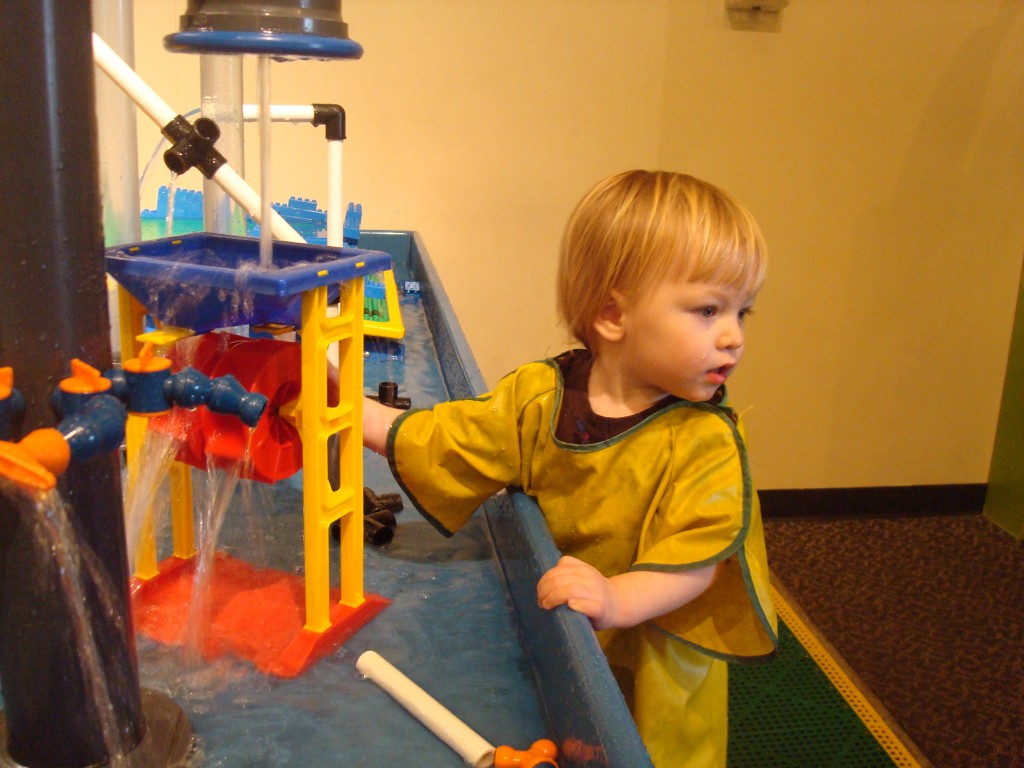 We ended up spending two afternoons at The Wonderlab in Bloomington due to some crummy (rainy and snowy) weather. Thank you reciprocal museum membership. This is the first time Simon has been big enough to really play in the water table beyond splashing.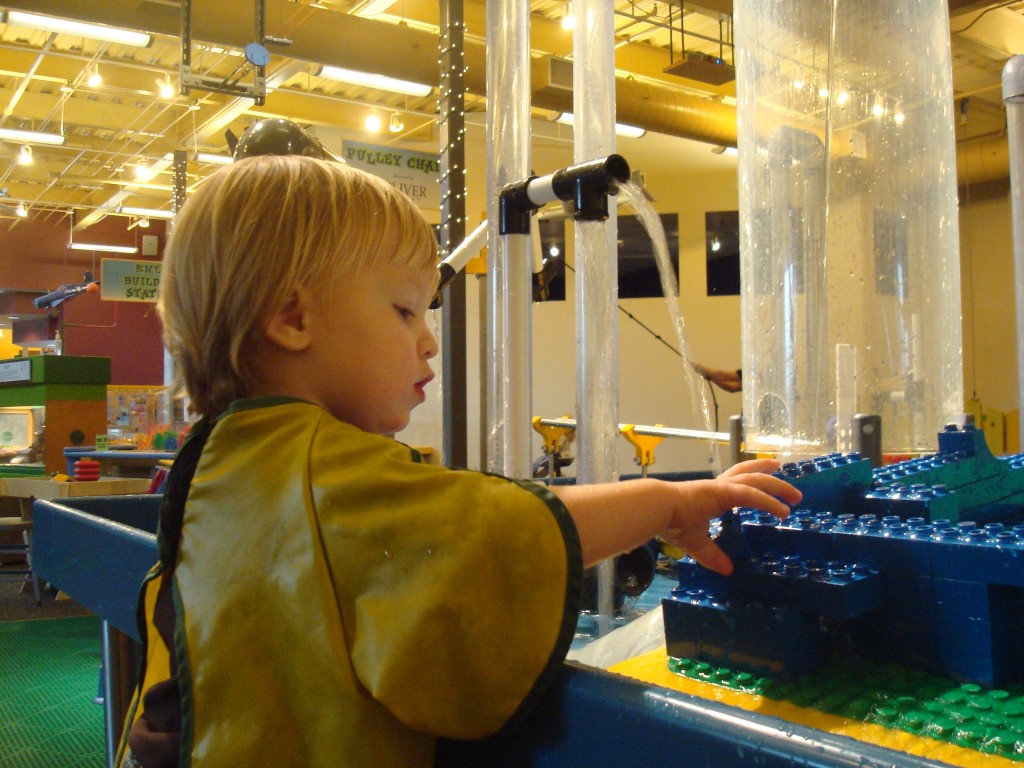 He figured out how to put the pipes together, completely soaking himself in the process. He was so cold and shivering, but every time I tried to take him away he cried. So he played until it was time to go. The second day I was smart and brought a complete change of clothes. Day two was also more fun because we were joined by Charlie and Sara and Dave. The boys don't really play together yet, but that's ok.
We also went to Simon's first IU Basketball game. We got there late – 10 minutes into the first half and stayed until about 10 minutes into the second. He LOVED it. We were sitting in the balcony, but he totally got that there was a ball down on the floor. And he learned to say "I – U," my little Hoosier.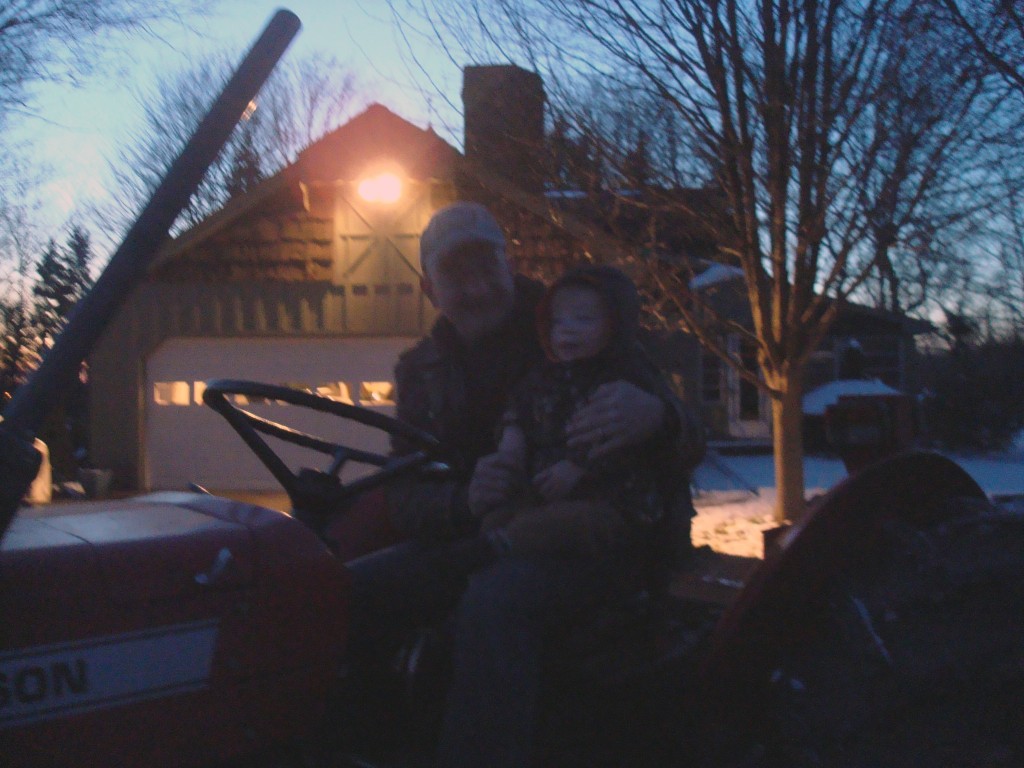 Simon and I packed up with Emily and Scott on Saturday morning (sans Rob, super sad) to drive to Ohio to see Dad and Marilyn. We got there just in time for their wedding, we cut that one a little closer than I would have liked… It was a nice little ceremony with just the kids. After dinner there was the playing of spoons and singing and dancing with the guitar. Sunday we made cookies, took a family shopping trip to spend our Christmas gift cards (thanks dad) and Simon finally got his long awaited tractor ride. It was dark so the pictures aren't so great.
Christmas Eve, Simon and I drove back to Indianapolis with Clint and Katie. Simon adores his Uncle Clint. They played trains, and Simon tried to hold every. single. ornament in his arms at once.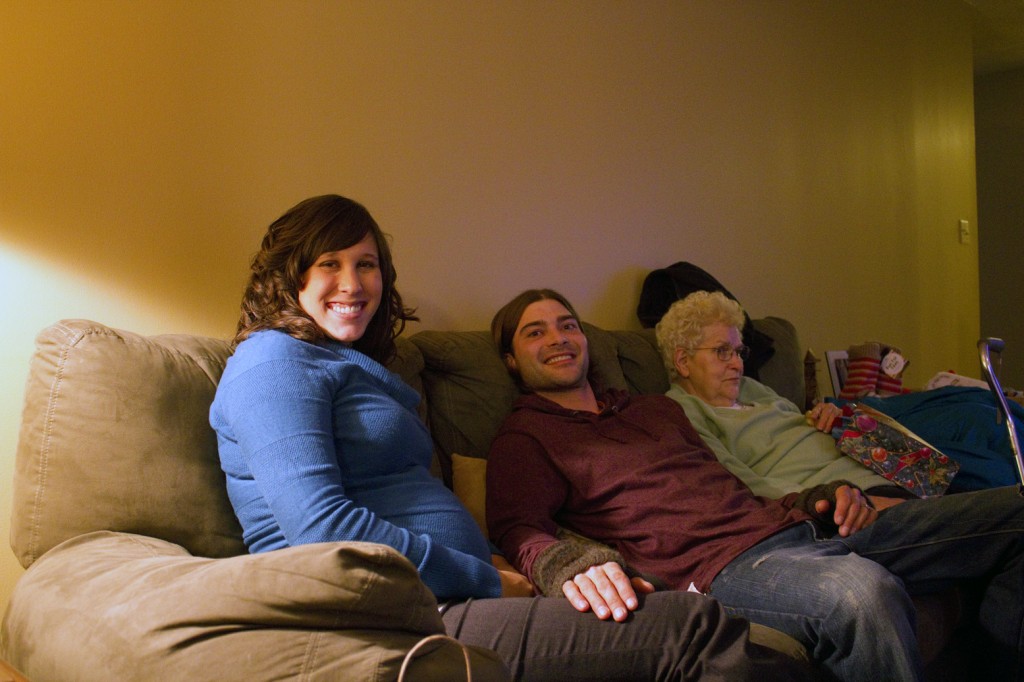 SIL Katie is adorable pregnant and new baby nephew is coming in February. After opening a few presents at Mom and Chip's house we went to the bit Ables family Christmas at Kevin and Margean's. It was so much fun to see everyone, so much fun I didn't take a single picture. (I'm hoping someone can help me out here with a family picture)
Christmas morning was probably the most un-Christmasy ever since the only presents were for Simon – and those were leftovers from the day before. He's too young for Santa and since we were away it just wasn't worth it this year. (I love my purple shirt from the shopping trip with Dad)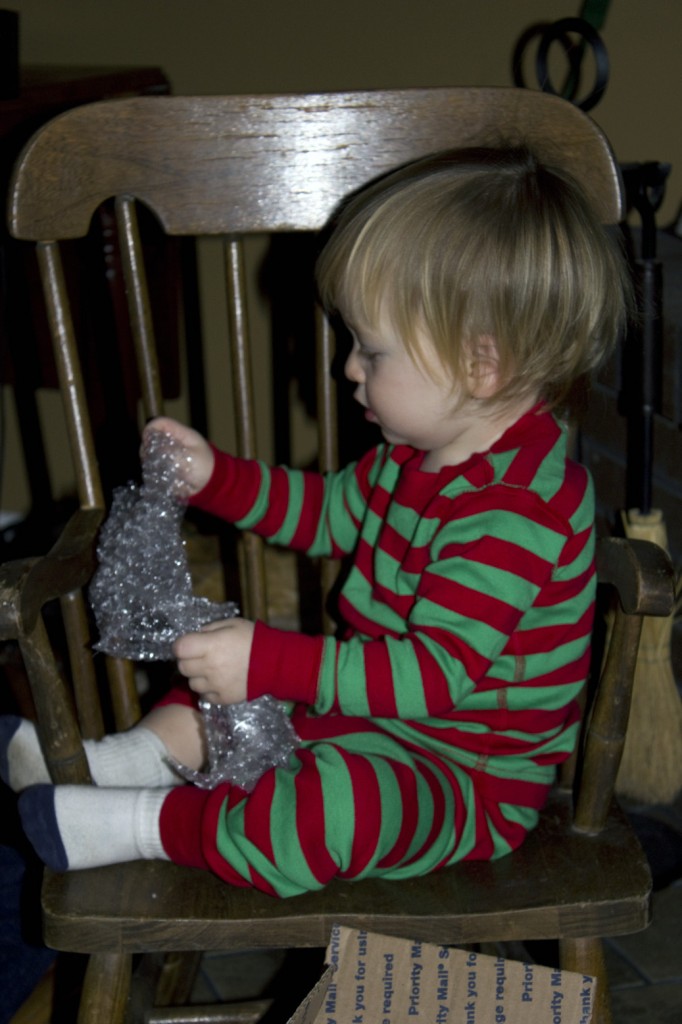 I also love this picture of Simon in my old rocking chair. He climbed in and out of this chair so many times while we were there. While I'm sad it doesn't live at our house, I like that he has a special chair at Me-ma's.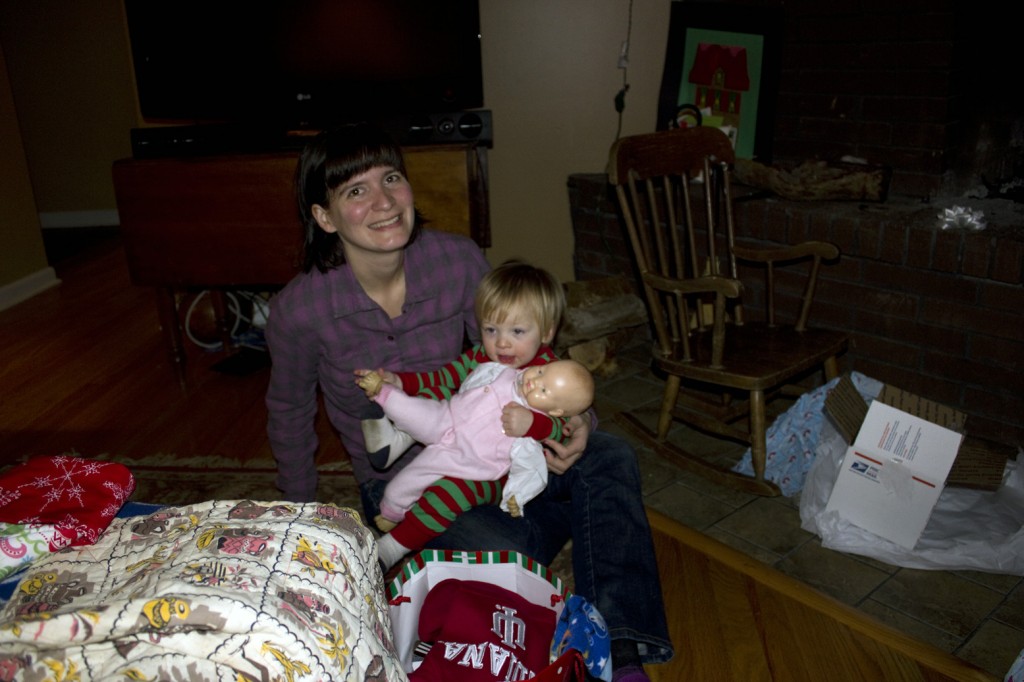 Simon also got two of Mama's babies and a baby blanket. I am okay passing on these relics of my childhood to my son. I may look for a boy outfit for one of them.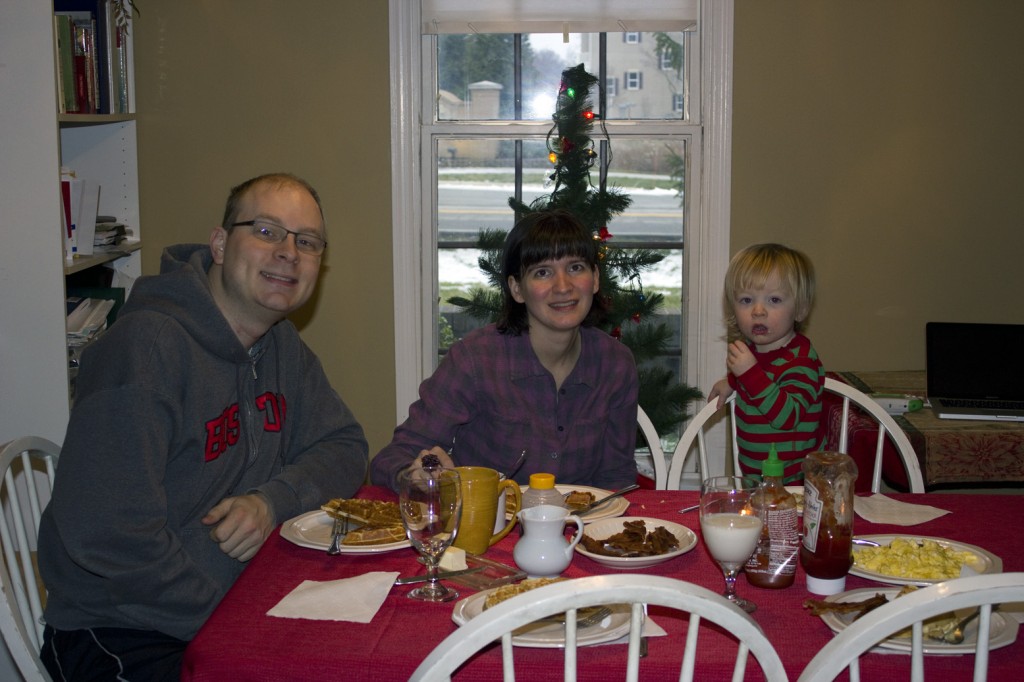 Christmas morning breakfast was waffles and eggs. I love breakfast food.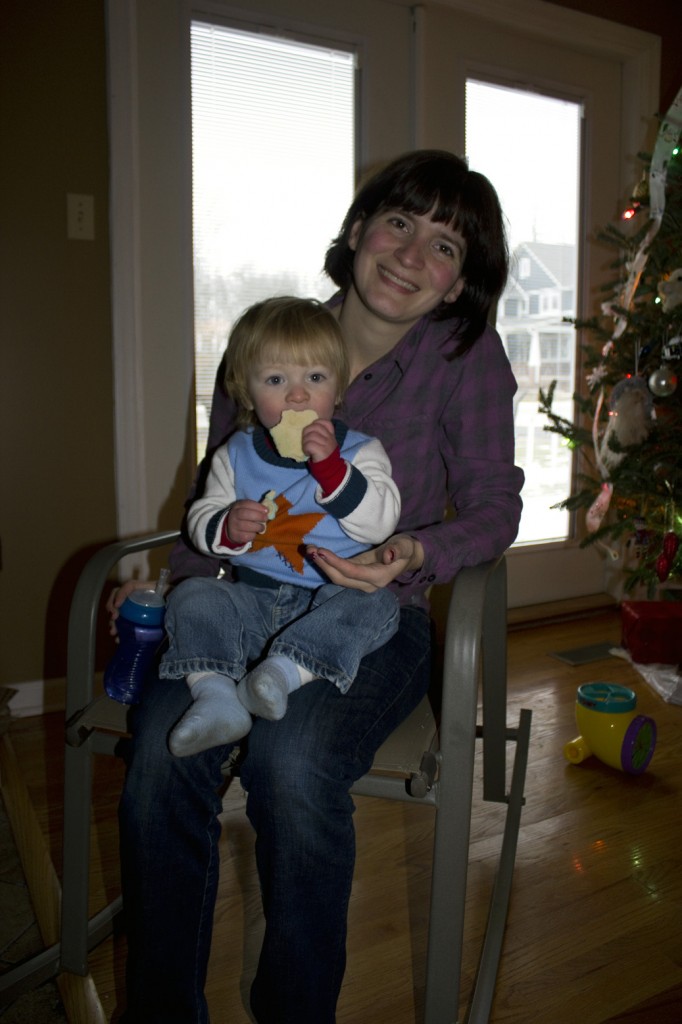 Simon loved the cookies we made with Marilyn and Theresa. He had SO much sugar, I'm going to have to work hard to cut the growing sugar habit. The kid is just like his mom with the sweet tooth.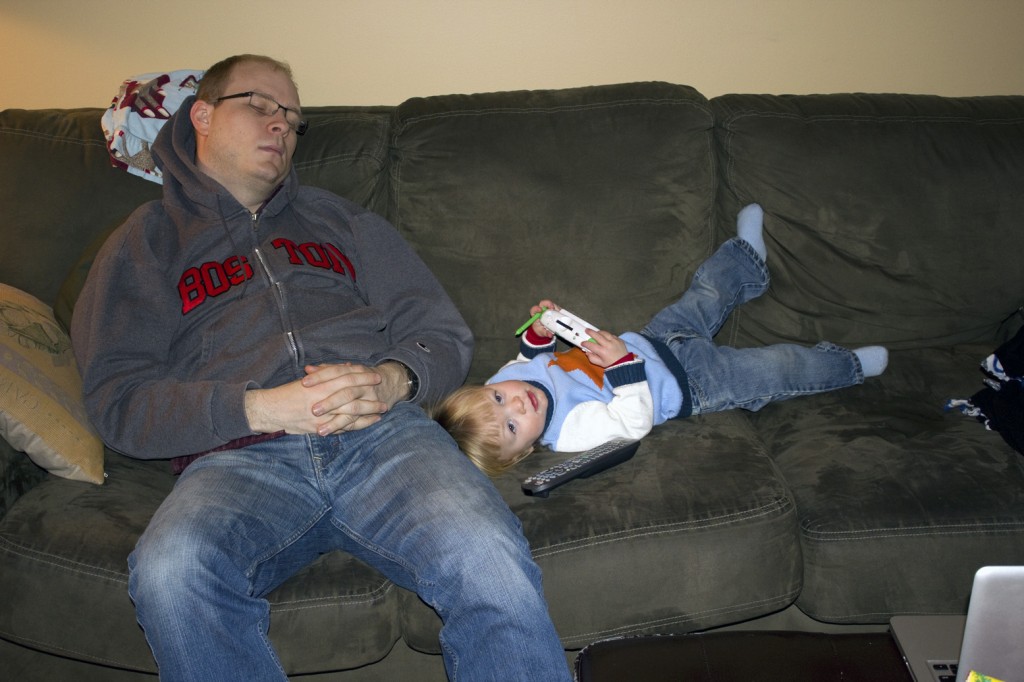 And always there are naps. This is Simon chilling watching Bubble Guppies on his new Leapster Explorer. (And he loves his new "Twinkle" sweater)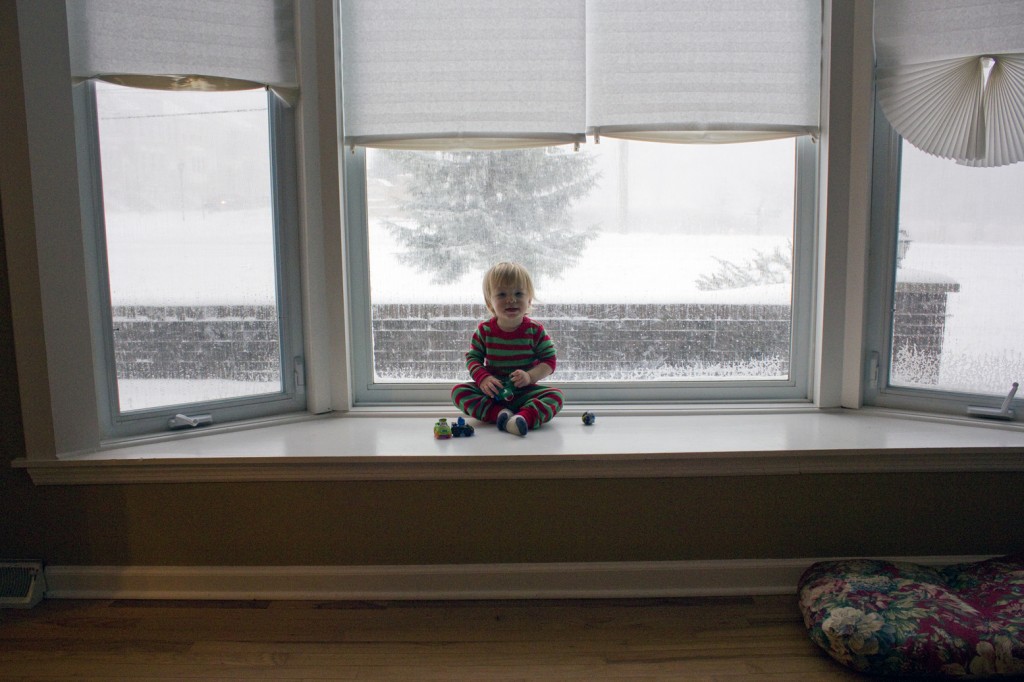 The day after Christmas we had a blizzard. I-65 was closed as were all of the malls. Sad for all the after Christmas shoppers. We spent half the day in our pjs and played car-cars in the window.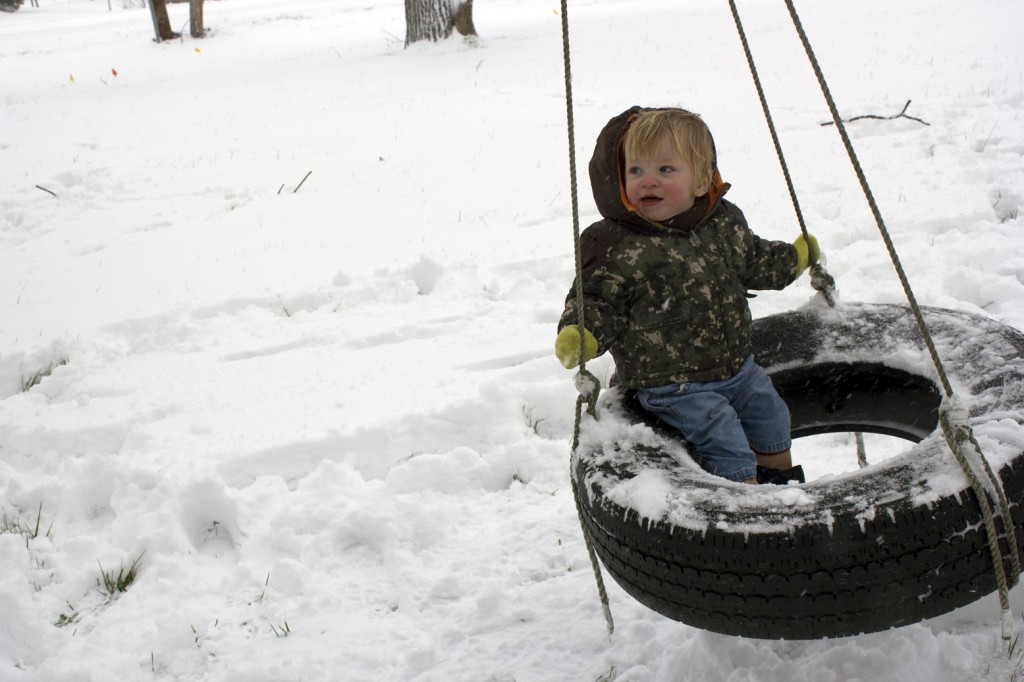 Then there was outside play in the snow. There was a tire swing. Simon didn't care how cold it was or how miserable he looked. He had a ball and cried when we made him come in.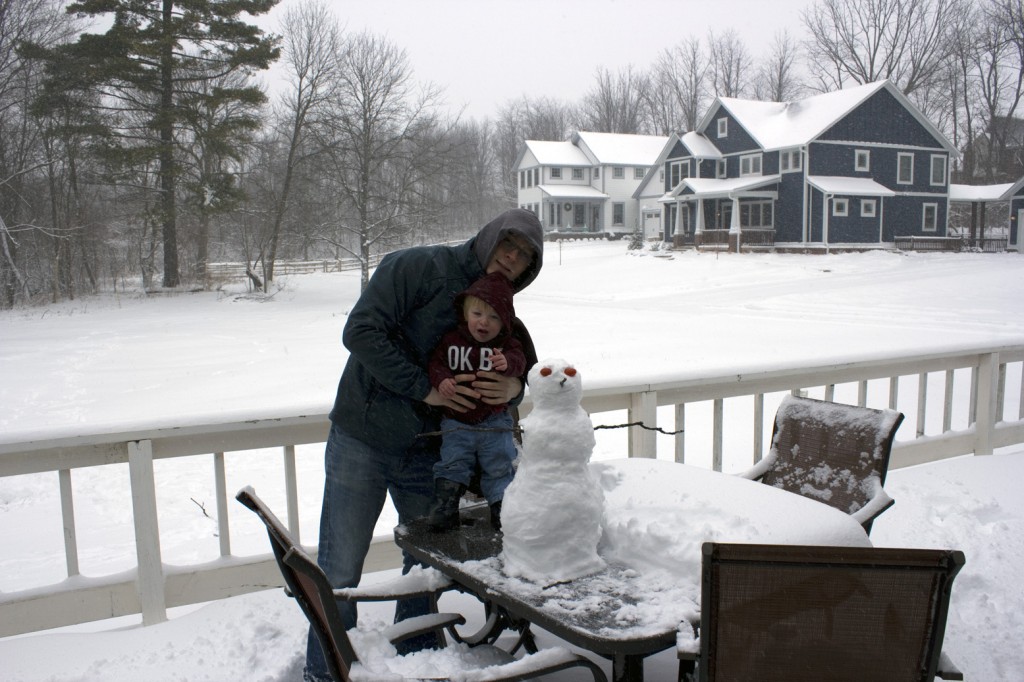 But not before he got to build a snowman. Then we got up at 3am and went to the airport. I won't bore you with the story of how we almost didn't get on our plane – but feel free to ask when you see me if you really want to know.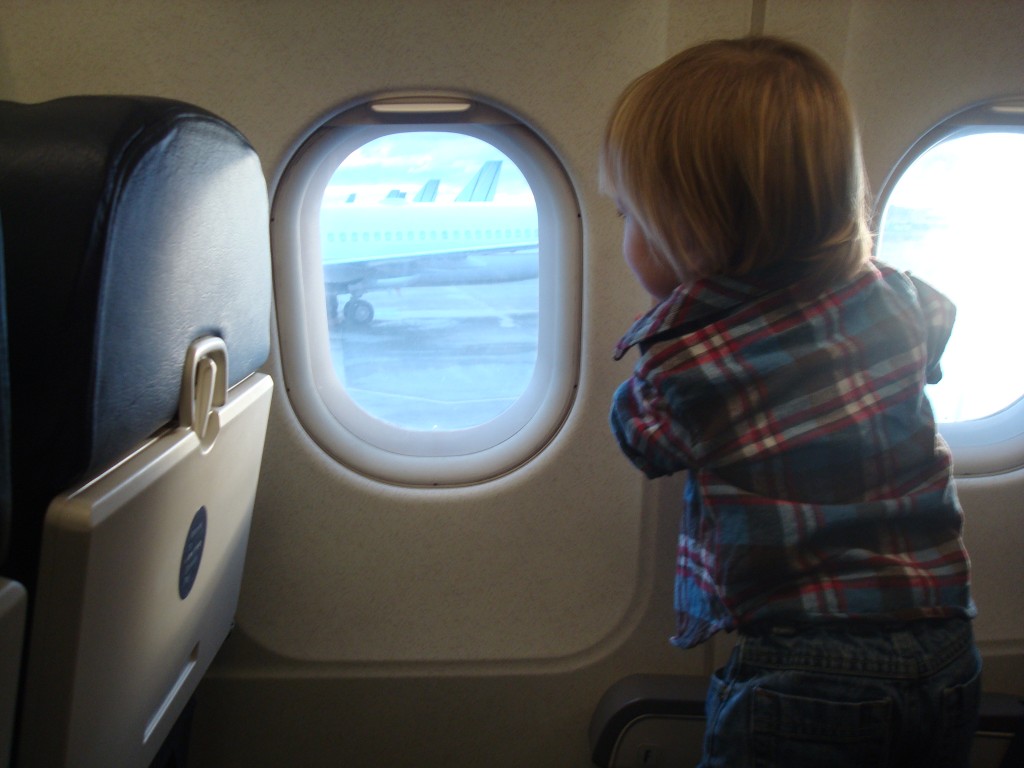 We got on a plane and flew to Tampa. Then we got on a ship to Cozumel. We got a family picture.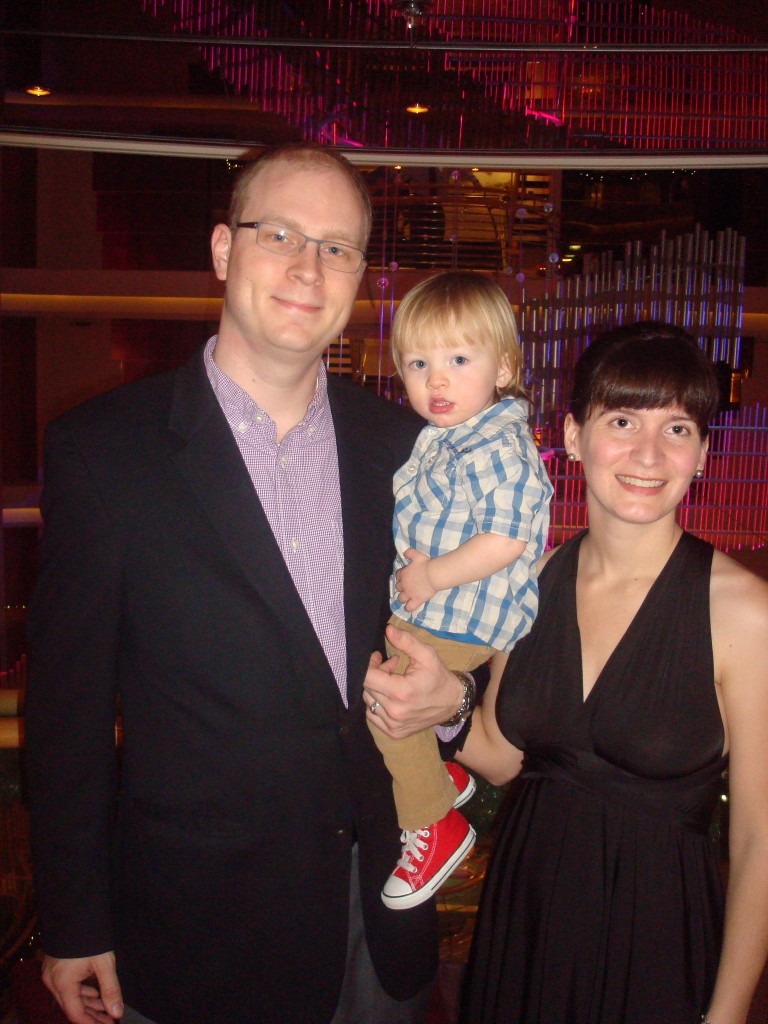 And a bigger family picture of all nine of us. Simon did ok in the dining room every night. I got to READ AND ACTUAL BOOK. And we did something we haven't done since the newborn days and slept when Simon slept. (this made possible by the fact that someone had to be in the cabin with Simon while he slept.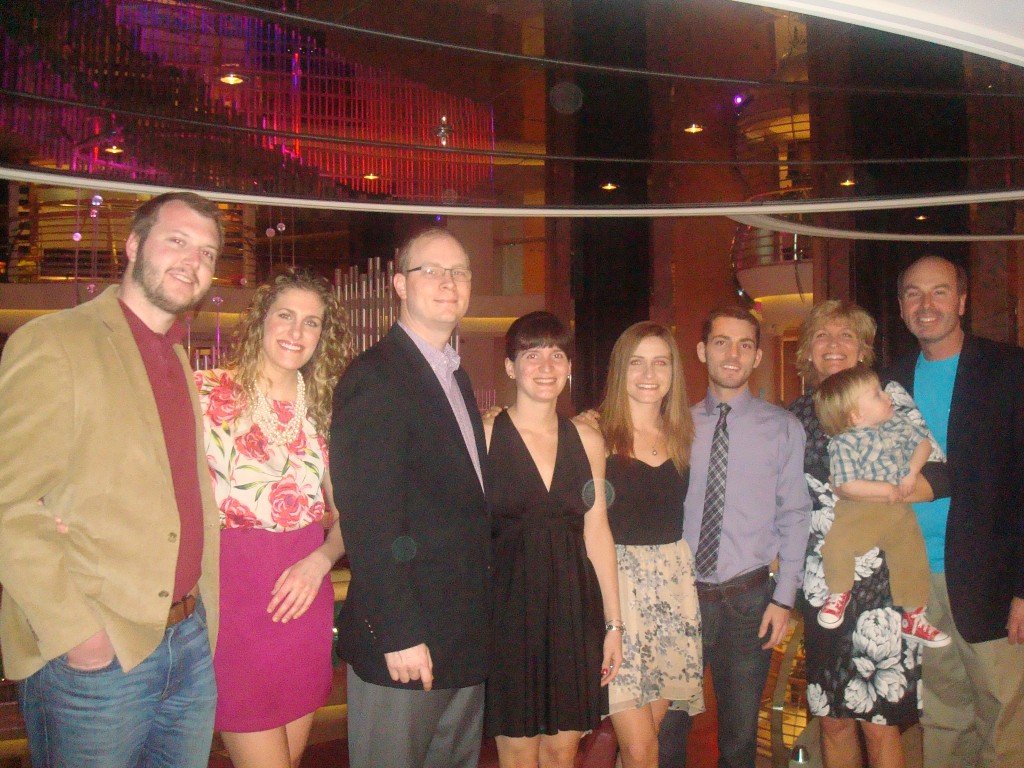 In Cozumel we snorkled. And built sand castles. And a whole lot of nothing that was quite lovely. Simon took a two hour nap in the shade.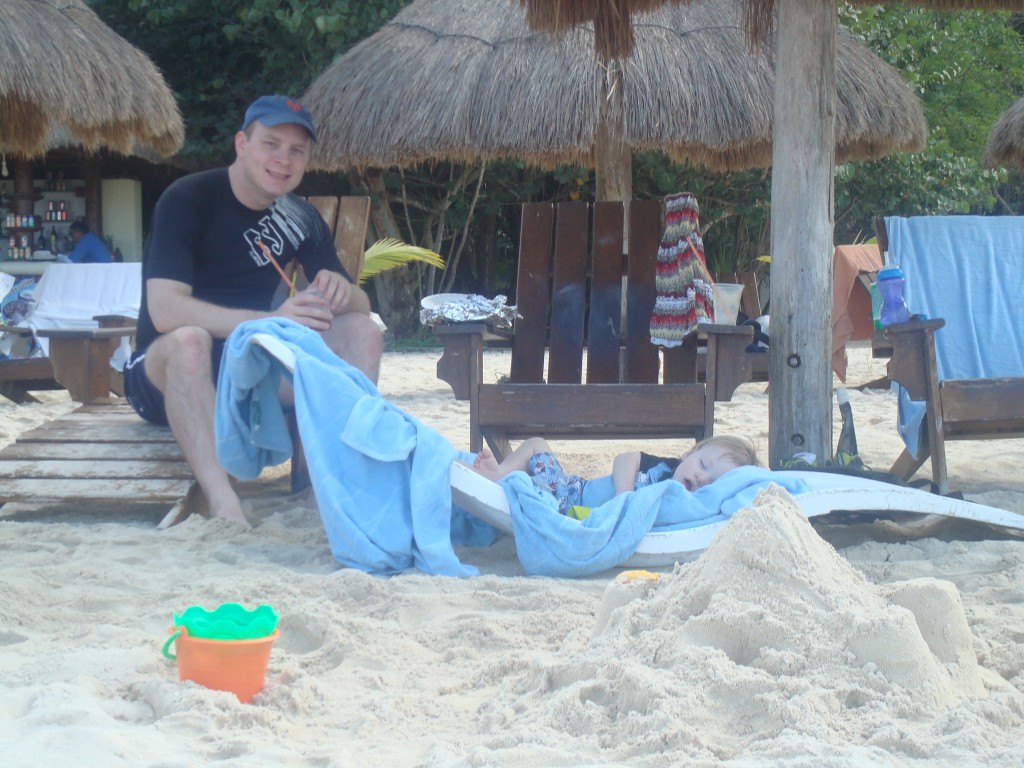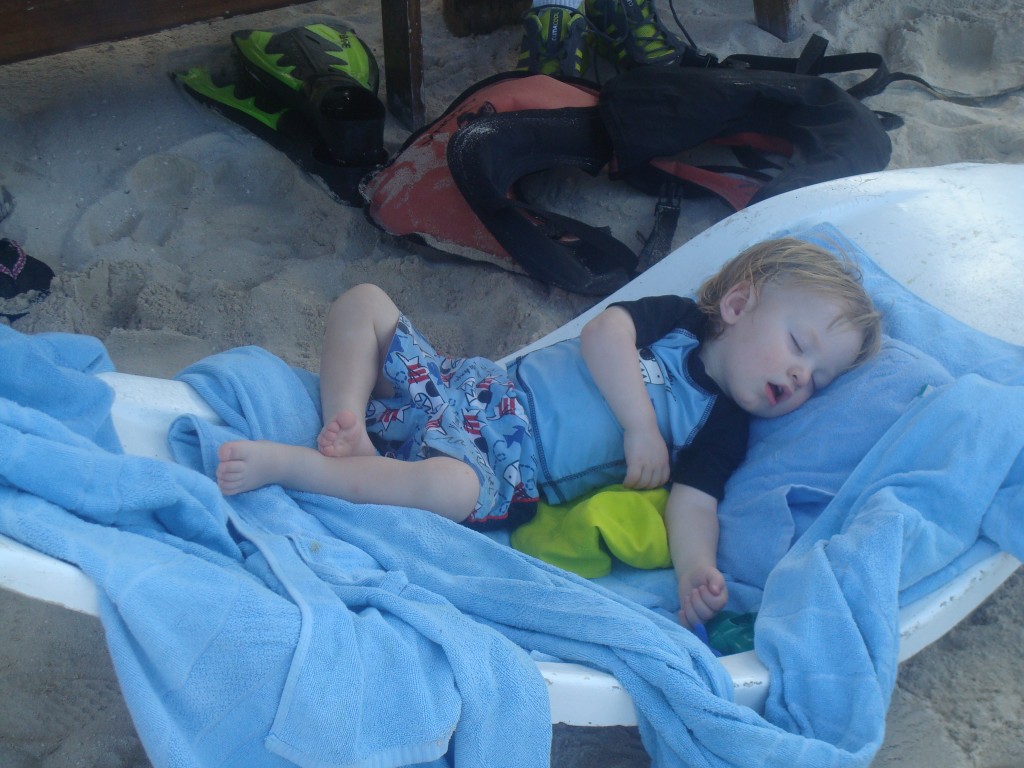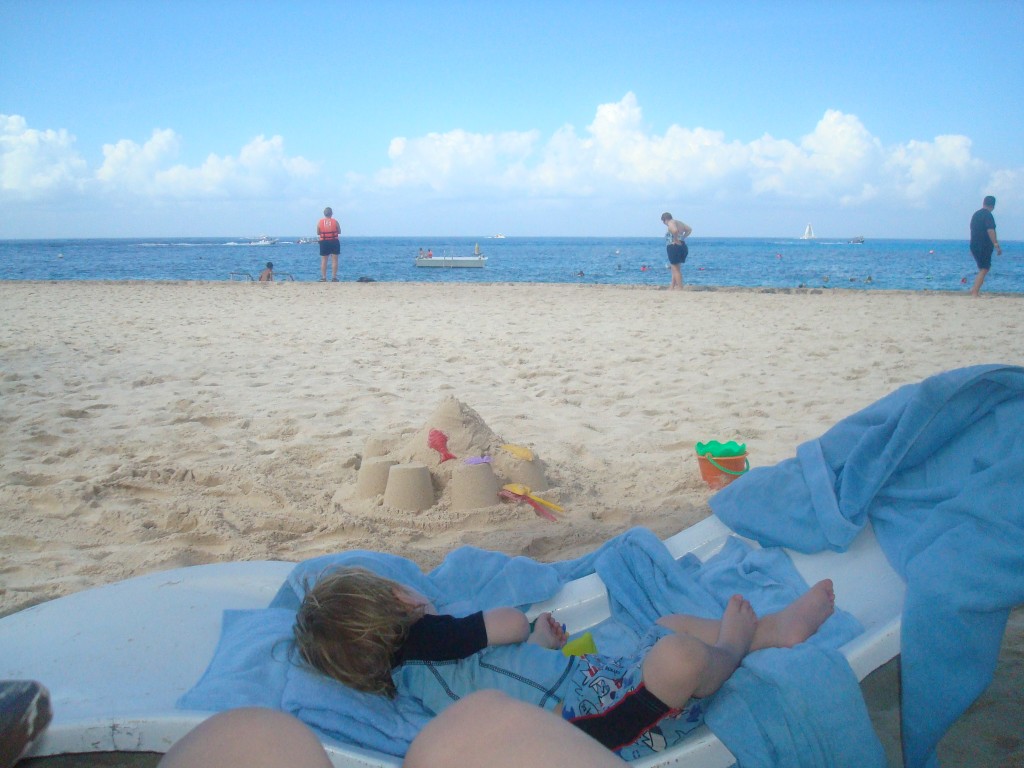 Then we flew back to Indiana on New Year's Eve and were in bed at 9:30. New Years Day we were back in NYC and jumped right back into life.