If you've been reading for awhile, you may remember my breaking point of insanity when I was pregnant with Simon was in picking bedding (or a theme) for Simon's room. You can read about it here, here, and here.
I had toyed with the idea of making my own, and when I found this robot piggy bank at a toy store in New Orleans, I knew it's what I wanted to do.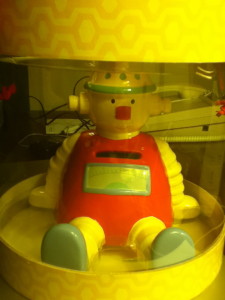 I found a great pattern in Boo Davis's book Dare to Be Square Quilting: A Block-by-Block Guide to Making Patchwork and Quilts
. I modified the pattern sizing it down to 4 x 5  and using a rail fence pattern instead of what it originally called for. Fabric was ordered and my mom and sister-in-law kindly cut the fabric for me. 263 tiny little pieces.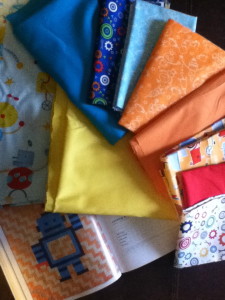 I had grand plans of working on this before Simon came. But it was hot and I was busy. Then I thought I would work on it while he was born. HA! Finally on my birthday 2012 – when Simon was 11 months old, I spent an afternoon sewing. It was wonderful.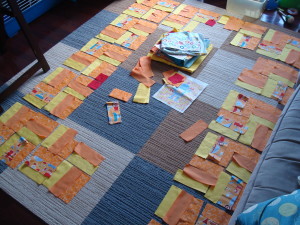 I bought a vinyl table cloth for storing the pieces and didn't spend another afternoon working on it for eight months. In February I was hitting a breaking point with school and NEEDED a hobby. So I sewed in spurts.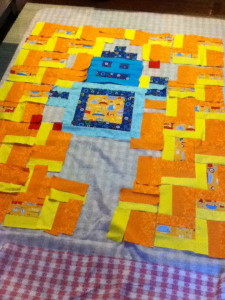 Finally in May I was close to being done, so I started working a little each night. I finished the front!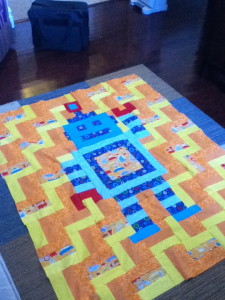 Then realized I didn't have enough fabric for the back, so I added a stripe. The Squaring off and basting was pretty easy. Machine quilting was terrifying. I learned to quilt by hand from my grandma with a hoop but the machine is faster.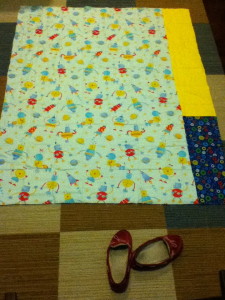 The binding was a bit tricky and I had to watch a few tutorials multiple times, but I finally got the strips pieced and used the machine to sew the front side. I finished off the binding by hand.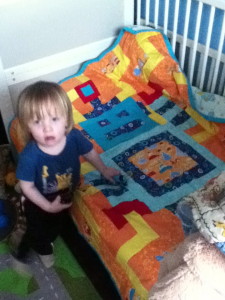 Simon loves his "Bo-bot" blanket and sleeps under it every night. Even when it's a million degrees, so I'm glad I went with the thin batting.
Also, cotton batting is AMAZING so different from the large rolls of poly-fil Grandma used.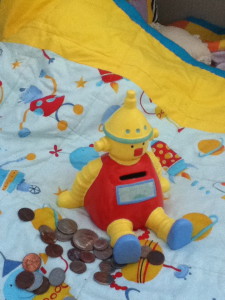 I'd forgotten how much I enjoyed my sewing machine, so with a couple of friends having babies soon I've been quilting away because there is nothing I love more than a good handmade gift.