Since the baby was half-baked at 20 weeks, I can't really say he's fully cooked now. But deep fried seems just about right for my state right now. I know it's best for baby (and if I'm being honest me too) to stay in there at least another week, but I AM DONE. This pregnancy I've chronicled more how I've felt about being pregnant whereas with Simon it was more a check list of what was going on. In reflecting last week, while there is no longer disbelief about being pregnant – that's been gone for awhile now – I can't help but still be in awe about what a FREAKING MIRACLE this is. While there is a part of me that will be sad to (most likely) never feel another baby kicking inside I'm ready for him to come out. I also realized last week that February marks seven years since Rob and I MET. Just to think about how much my/our life has changed in that time is pretty amazing too. (I'm going to try to get a post scheduled to mark the day, since I will likely have a newborn by then)
So here are some comparison shots. First with this baby, then with Simon. Any bets on how much longer until this guy makes an appearance?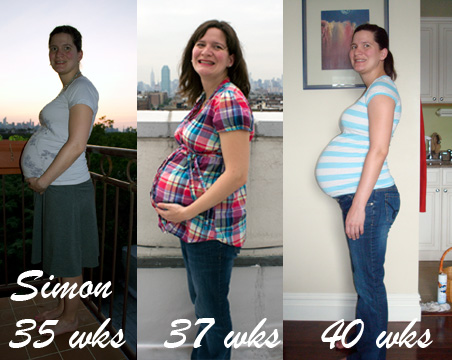 I am to the point now where I'm feeling kind of crappy all the time. Reflux/heartburn or such has finally kicked in. It is no fun, and I am SO SORRY for all my friends who had this for months of their pregnancy. It sucks, but I got off easy. My back hurts all the time, but at least it's manageable still. I have so much school work that needs to be done before the baby comes. And since I'm not teaching and I'm working from home most days I really shouldn't complain about this either. But I'm JUST SO OVER IT. I want a break to just lay on the couch for a few weeks… I know I know… So part of my readiness to have the baby is to be able to stop working. But then it will just be hanging over me and I have to remind myself I do prefer to be done and have the option to focus 100% on the new baby for as long as I want. (If I don't finish there will be pressure to start writing again before I'm ready)
My brain and body are fried. We are waiting and working and I'm doing my best to just get things done. At least the apartment is ready. Hopefully I'll get the final few posts and a new video tour up before baby… but totally low on my list.