"Work" is in quotes because I often work from home with Caleb. On meeting days he comes with me, if I'm freelancing in the field he has a sitter. Home days are hardest to concentrate because I'm the only one caring for him. What I've learned from doing this two days is that Caleb does his best and longest nap in the morning, so I really need to make sure I'm ready to go and not wasting that time with things like clearing a workspace. Second, it's a miracle I get anything done in the afternoons since it's incredibly fractured. Third, I'm incredibly lucky to have the flexibilty to go to the park every day after school, even though usually it's closer to 5:45 when I do pick-up.
A picture for you mom – unrelated to the post.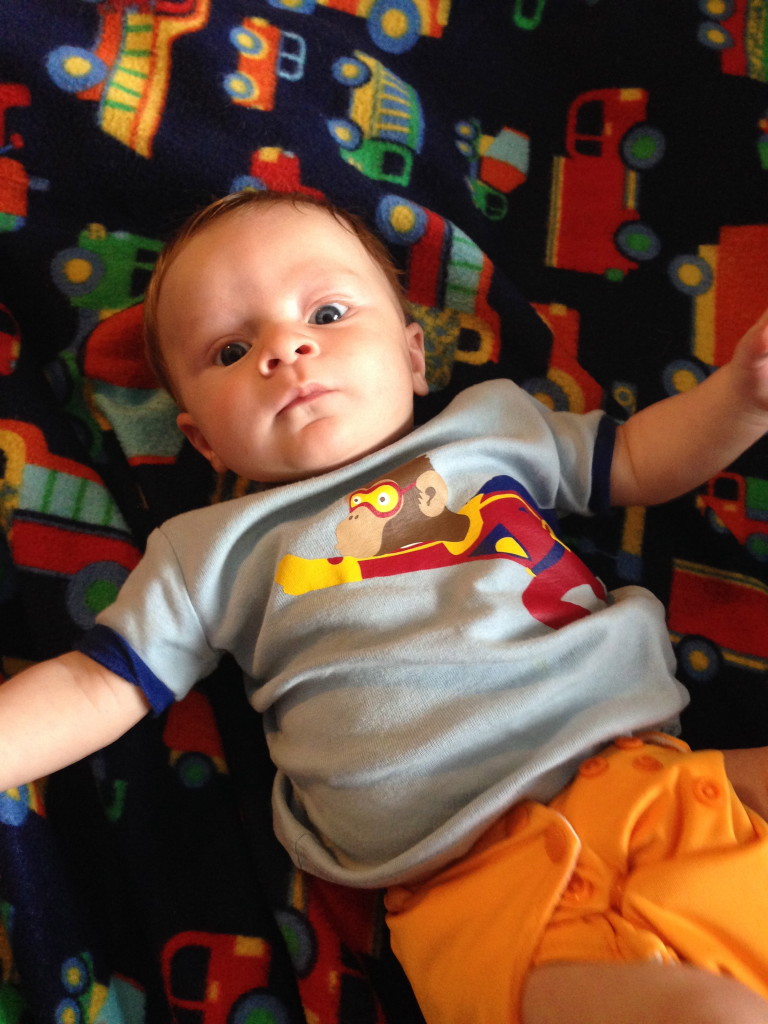 Friday, May 30, 14
2:00 am – Caleb wakes (went down at 9pm) Rob gets up and grabs him from the bassinet in the hall and brings him to our bed. We nurse.
5:30 am – Caleb rousing. Nurse pretty consistently until 6:30. I'm in and out of sleep.
6:30 am – Put Caleb back in bassinet and lay in bed awake but with my eyes closed.
6:39 am – Simon climbs into bed and says it's time to get up. I tell him I get six more minutes. We lay quietly. I get ten!
6:49 am – Simon and I get up.  New diaper and I get his milk and give him my phone to watch Bob the Builder since Rob reset the internet and I haven't updated his itouch for Netflix.
6:55 am – I finish loading the dishwasher and do dishes left from last night. Answer 1,348,879 questions because Simon NEVER STOPS talking.
7:15 am – Caleb is up. Diaper change. He spits up all over his clothes, so I leave him in just a diaper. Set him in the Bumbo and sit on the couch with Simon for a few to check email, scroll through Facebook, etc…
7:20 am – Simon is hungry. I get his cereal. Caleb is fussing in the seat. I lay him on the floor on a blanket. Simon is occupied with food and Bob the Builder so I hop in the shower.
7:30 am – Out of the shower. I hear Caleb crying. Simon has pulled him on his lap and is talking to him. I give him the pacifier and go to brush my teeth and get dressed.
7:45 am – Give Simon a second bowl of cereal and sit to nurse Caleb.
7:55 am – Caleb is done. Turn on kettle for hot water. Diaper change. He spits up. It's in his hair. Quick sink bath. Caleb is ready and dressed for the day. Water is hot.
8:05 am – Get Simon dressed.
8:10 am – Remind Rob that it's Friday and a work day. (He goes in late, this is an acceptable wake up time.  However, most days he is up with me, he's been up late fixing the internet.)
8:20 am – Simon is whining for more cereal. I decide he must be hitting a growth spurt so decide to make a real breakfast. Start sausages.
8:40 am – Rob is ready. He makes toast and packs his lunch. I start an egg for him. Simon eats most of the sausages (4 or 5!!!) Caleb is happy on his blanket. He rolls over!
9:00 am – Start getting ready to leave with shoes and jackets. Simon decides he needs a different monster truck to take to school.
9:15 am – Have wrestled big child into shoes and jackets. Rob takes him to school. I clean up breakfast and start the dishwasher, water the plants.
9:30 am – Remember that I have baby books that need updated, since Caleb has now rolled 2 days in a row! Pull them off the shelf and fill in bits here and there.
9:45 am – Caleb wants to eat. I feed him while writing.
10:00 am – Caleb is done and asleep. I leave him on his blanket and covered since it's a little chilly with the open door. I finish the books and start clearing off my desk to work. (It's covered from being away for a few days and turning into a dumping ground.) In this processes, I find some things that go in the boys room, so put those away, clean up some more of the closet, remember I still haven't found the space saver bags I put somewhere safe but now need for Rob's winter clothes…look for those, no dice. Find school paperwork for summer session and next fall – fill this out. Plug in the camera and download pictures from last weekend. Find missing camera battery for other camera. Start this post.
11:10 am – Here I am. Find notebook with lists, grab coffee and open work files.
11:15 am – Decide I'd rather blog more. Write out Thursday.
11:45 am – Finish Thursday. Caleb awake. And MAD. Change Caleb.
11:47 am – Feed Caleb and read blogs.
11:55 am – Caleb is done eating and drowsy. He needs a change again, bad… Decide to wait a minute to see if he's really asleep.
Noon – Awake it is. Change him. He burps and huge pukes. Pants to laundry. Leave him in onesie for now, it's not too bad.
12:10 – Notice dishwasher is done. Drain the water line and unplug.  Caleb rolls over again! Pull out play mat for Caleb.
12:14 – Work for real this time.
12:45 – Caleb is fussing. Diaper change. I pick him up to go in the sling while I work. He throws up all over me. I rinse out sling and the skirt of my dress and hang to dry so I can wear it tonight. Clean up Caleb. I just washed this sling yesterday too…
12:50 – Read while holding Caleb. We take breaks for smiles.
1:05 – Decide to put him in my other sling so I can type and decide that maybe I should sell it after all with all the puking I need the back-up. He immediately spits up. Again… also think maybe it's time to try another food elimination. I thought he was tolerating dairy ok…maybe not. Work and play and work and play and clean up more spit-up.
2:00 – Caleb is in just a diaper. Heat up leftovers for lunch. Change diaper. Plop Caleb in swing. He's happy. Eat. He spits up…Again. Clean him off, at least he's laughing.
2:10 – Back to work. Look over Caleb is sleeping. I've cut over 1,000 words while editing. Woo!
3:30 – I make it completely through the paper I'm editing! First pass. More to do. But time for a break. Edit some pictures from last weekend.
4:00 – Pack up the double stroller and Caleb, who wakes up during the transfer. Run to pick up charcoal for our Family Group cook out.
4:30 – Finally get to the park and drop off the charcoal. Feed Caleb while chatting with some friends.
4:50 – Leave Caleb at the park since he's fed and happy and run to pick-up Simon from School.
5:00 – Get to school and talk to the office ladies about the summer schedule, then pick up Simon. Fend off his friends who are asking why we aren't going to the [other] park today. Pack up Simon in a ruck and head back to the cook out.
5:15 – Back at the park. Hand Simon off to the teen boys who watch the kids on Fridays. Sit with some lemonade in the pic nic area. Feed Caleb and wait for burgers.
5:16 – 7:35 – Kids play and eat and play some more. Adults chat and eat and watch kids and chat some more.
7:40 – The rain starts sprinkling down. Not hard or even for very long, but just enough that the kids don't fight getting in strollers to head home.
8:00 – Bathtime!
8:10 – Simon goes to bed. Caleb is changed and fed, but fussing. Lay him in the bassinet, watch a show with Rob.
9:00 – Caleb still fussing. Grab him and feed him. Watch something else. Rob starts installing a new harddrive on the computer in our bedroom.
9:30 – Caleb asleep. I doze in and out with the tv while holding him on the couch.
10:15 – Put Caleb down. Our bed is covered in tools and computer parts. Go to sleep on the couch.
midnightish – Wake up. Go to our bed.
Lather, Rinse, Repeat.