To finish up our summer travels we took a road trip. Because we are crazy and wanted to visit my Dad we rented a car and packed up our potty training older boy (in his underwear) and the baby and drove the what could be a 7 hour trip in 10 hours. Buying kid sized headphones was a great $10 investment.
But to make it extra fun my Emily and Scott drove up too, so we had some sibling time. We drove all day on Friday and Monday so had a full weekend to play. We took a 12 mile bike ride through Cuyahoga National Park, ate some lunch and did some shopping at the end, then took the Cuyahoga Scenic Train home. No one quite realized that when we said everything takes longer with kids that we meant it. 🙂 And there was a faulty bike chain, so we had to detour to fix my bike in addition to the bathroom breaks, meltdown and snack breaks, and the Simon fell asleep in his chair so we need to transfer him to the trailer with Caleb but that wakes him up and he screams break. And some nursing breaks. I think Dad planned that the ride would be about 2 hours. It took us 4. But since we got to lunch so late, we missed the afternoon train which left us time for some shopping while we waited. I got a new purse, so winning.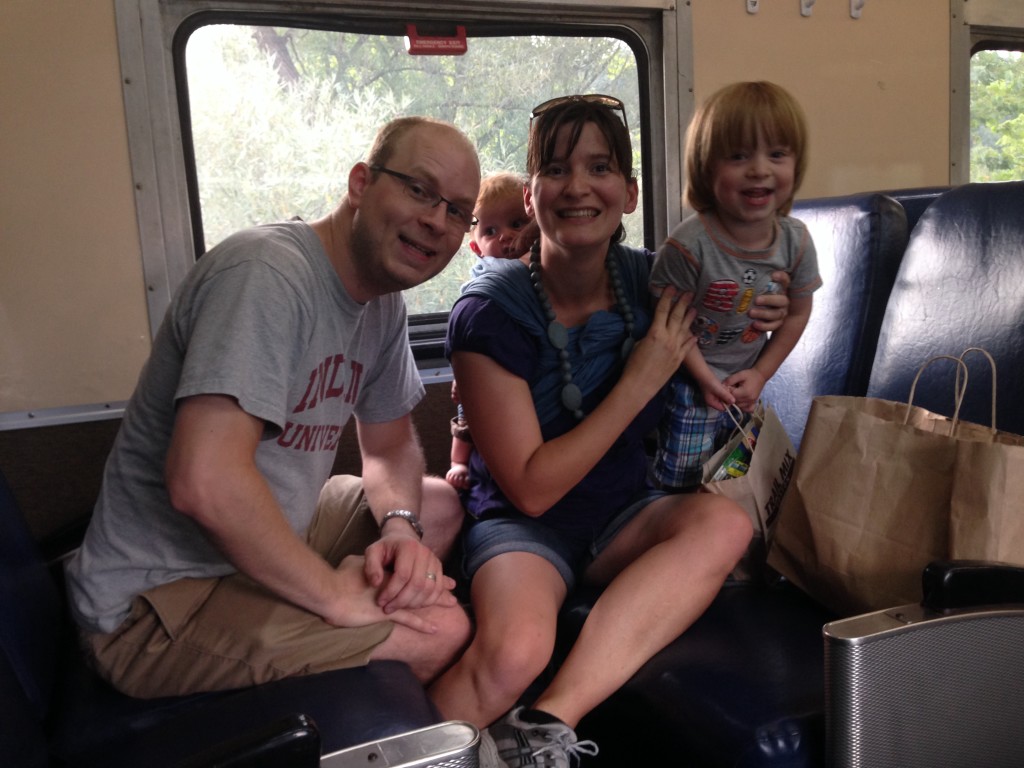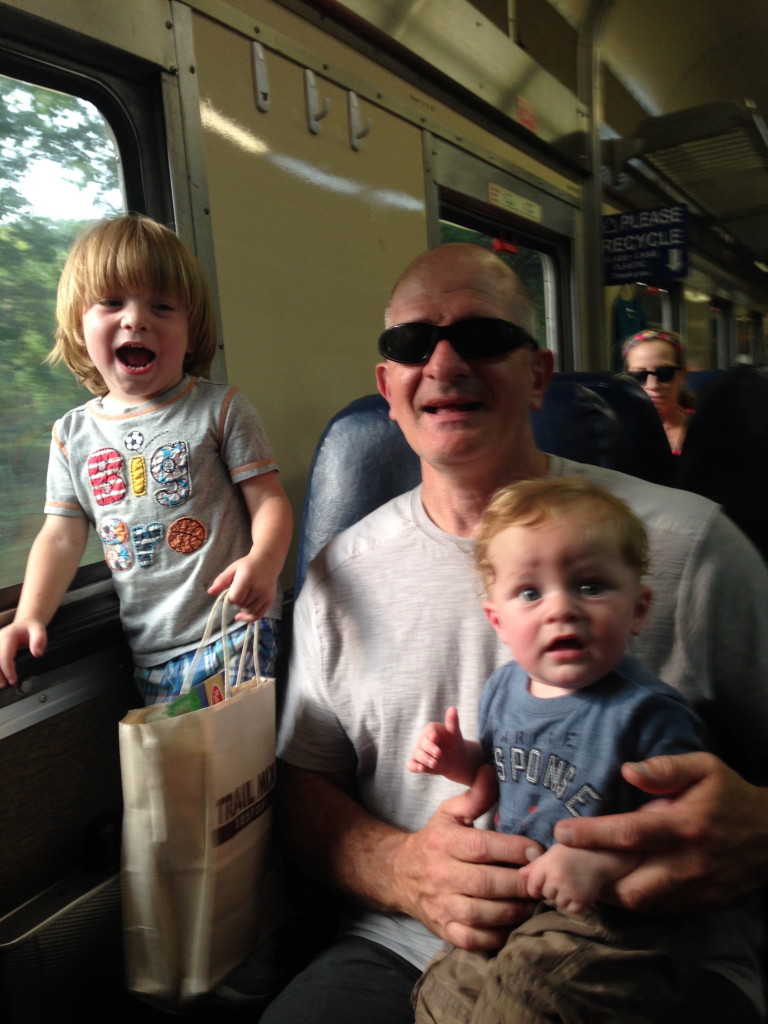 Sunday we went to the farm, which is owned by Marilyn's friends. Dad does a lot of work mowing and trimming trees. Simon got to ride the tractor, which he thought was too loud. And the golf cart, which he got to steer. We picked some blackberries and then headed home.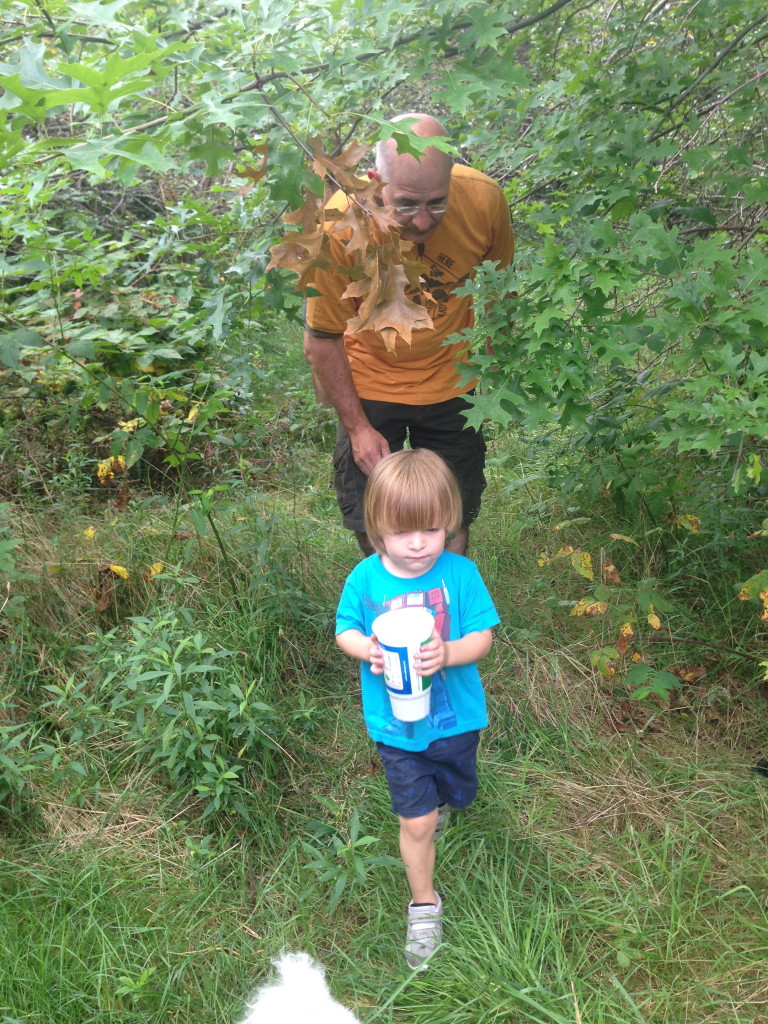 Emily and Scott left after lunch and the rest of us went to the county fair. It's been YEARS since I've been to a good county fair. We started out watching rough trucks. Simon liked watching the trucks break their wheels. Then we got some snacks and went to the midway. We bought Simon a wristband and some tickets for adult ride alongs. Simon loved the BIG slide. I screamed a lot. He also went down with Marilyn and Rob. He was crazy to ride the Ferris Wheel, until we got there and decided no way. So Rob and I rode together. That was fun. Simon spent the rest of the time in the kiddie area. I was so proud of him for riding the Dragon Roller Coaster. And after the first time, he rode again and again. I love watching him be so happy. We finished off the night with a carousel ride – where Simon told me to go stand over there and watch, but he was too little to be on alone.
This slideshow requires JavaScript.
Simon and Dad slept in the tent one night. And we made s'mores in the fire pit.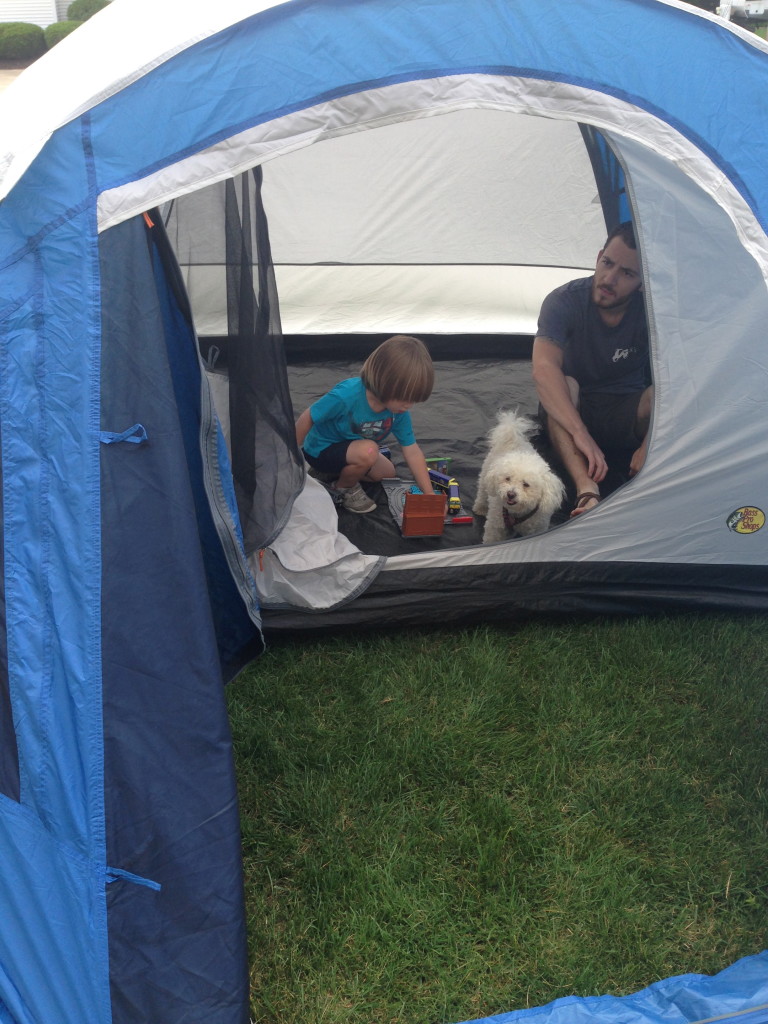 It was nice to spend time with my Dad at his house for a change.