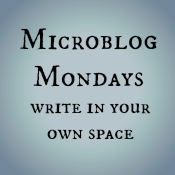 Because I want to blog more than micro – hello all the Halloween pictures – and because I NEED to be working on my dissertation, I've been trying to think of ways to motivate myself to get this done. Last week when I sat down for four hours and really worked on my dissertation I realized that I actually do like the project! This shouldn't come as a surprise, but I get so bogged down with all the things I'm doing for everyone else. I remembered this post from Mel a few weeks ago, and think it's a good concept to employ. Pay myself first, only instead of the first bit of a paychek, I'll pay myself with the first hour of work to work on MY thing. If I could do this for the whole month of November, dissertation 3-4 days a week and blog 1-2 days a week, that would be a lot of writing. And I say that I'd do this a maximum of six days a week because I know myself. It's November 3 and I did nothing days 1 or 2. Day 3, today, I was with the kids and so far tonight I've had a large glass of wine and managed this post. So here is to tomorrow and that I pay myself with one hour of dissertating.
Even if I fail miserably at this, the mindset is not a bad one to have.
Also, I'm noticing a theme of self-care in these posts. I'm not doing it on purpose.