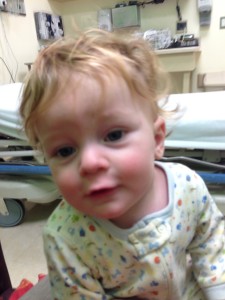 We never through it would be Caleb who gave us this one. I always assumed Simon would fall or jump off of something a little to high. I've been saying for almost 2 years it's a matter of "when not if" we head to the Emergency Room. But I really thought it would be from a playground accident.
I heard a cry in the middle of the night. Then a different sound. At first I thought Simon was up and talking. But it was Caleb with a deep barking cough between crys and labored breathing. I fed him and realized how hot he felt. There was a fever. It was a few minutes while we debated calling the off-hours doctor or just taking him in first thing this morning. The doctor on call heard the cough over the phone and said get thee to the emergency room for a dose of steroid that baby has croup. Dr. N asked our nearest hospital, I named two, and he told us where to go. Rob called for a car. It was cold and raining.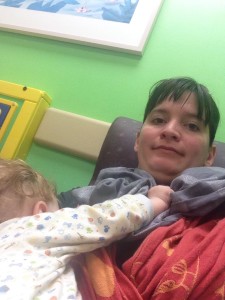 We made it to the ER, it was quiet, nothing like on TV. This hospital has a pediatric waiting room, triage, and treatment area (do all hospitals have this?) We were seen quickly. Caleb never did cough in front of a nurse or doctor. His fever was down, we got our steroid and took a cab home. I heard the cough at 3:30, we were home at 6:20. As a parental milestone, it was smooth sailing and everyone is FINE. Next time it will probably be the scary one.