In the fall of 2013 with the arrival of our second son imminent I took on the project of making our 710 square feet work for a family of four. I took some videos. We purged like nobody's business. We rearranged. And it works. I blogged all of the updates back then and you can see those posts and a "master list" under the House Tour tab above. The list is somewhat evolving, but in my blogging lackluster I've neglected this corner of cyberspace.
Over the past two years, the quest to have a functional home we love has continued. A big part of it is the constant purge of things we've outgrown – the clothes and shoes and baby gear. And now the toys. Our families are respectful of the fact we don't have a lot of space and that all kid stuff must fit into their shared 8′ x 9′ room. Now that I am back to the size I will be and Caleb is weaned I've been able to pass on my odd sizes and nursing clothes. The amount of actual trash I find stashed still makes me disgusted in myself.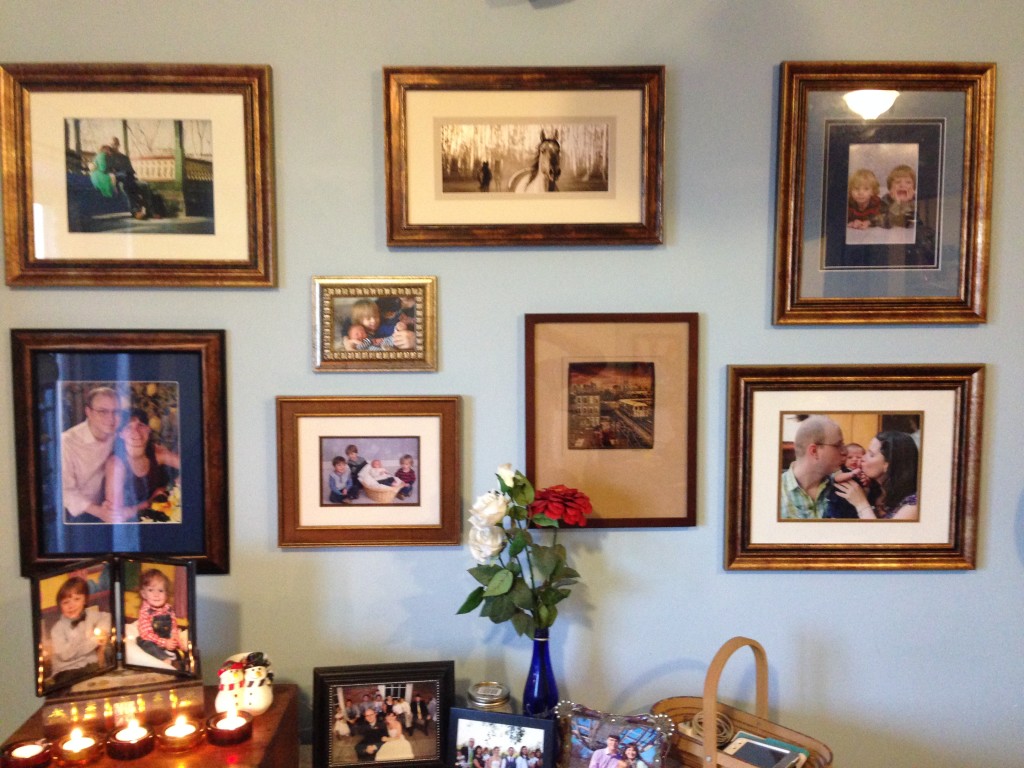 The next step is to freshen things up. We moved in back in 2007 and I'm just not excited by some of the paint choices I made back then anymore. And eight years and two kids can do a number on walls and trim. Back in October I got the urge and my mom helped me paint our bathroom – you'll have to wait until next week for that one – and WOW! Huge difference.
We also got some new art. Rob got a photo of horses for his birthday and I got him an etching of the 7 train in Long Island City for Christmas. In trying to figure out where to hang them I did a complete rearrangement. Not counting the new art, since the one I bought was a gift, this project cost about $30 for a frame and a couple of new mats. Using mostly frames we already had and a combo of old and new photographs we now have a gallery wall in our living room. I want to replace baby Rob and Kasey in the lower left with a family photo of all four of us and maybe a different mat color. We bought two because weren't sure what would work best for the pic of the boys, but I can't tell if the navy isn't working because it's too dark or because it clashes so badly with the picture.
This slideshow requires JavaScript.
The best parts in my opinion are that this was pretty fast taking only a couple of hours once we got started and that there is only one old nail hole visible that I need to touch up. The room is totally different.
Now deciding if I want to finish our bedroom or tackle the kitchen next.