Last weekend we went to Houston for a wedding and some rodeo and relaxation. I don't think the relaxation really happened, but we did enjoy the fancy hotel. We had a great time at the tail gate party (no pictures) the rodeo and the wedding. We even got to have breakfast with one of my blog friends! I didn't pull out my camera once, and most of our pictures are of Simon, but here is our weekend according to iphones.
To catch our early flight we woke up at 3am. So the first thing we did upon arriving was to order room service. Simon woke up from his nap just in time to enjoy it. I forgot to bring cereal, so first breakfast the first morning was pretzels and cheese crackers from the gift bag. The balcony was divine for the 70 degree mornings we enjoyed. The LeapFrog is AMAZING for occupying a toddler when you are trying to pry your eyes open. I got to watch a little basketball (Rob streamed the IU game for me on the phone while Memphis was in OT). Simon helped Mama get ready and carried my purse for me. Such a gentleman. We enjoyed marching around the hotel looking at the water fountains. And the highlight of the hotel was giving the fish their "treats" [several times] every day. Simon charmed the hotel staff and they let him feed the fish breakfast and a few snacks every day.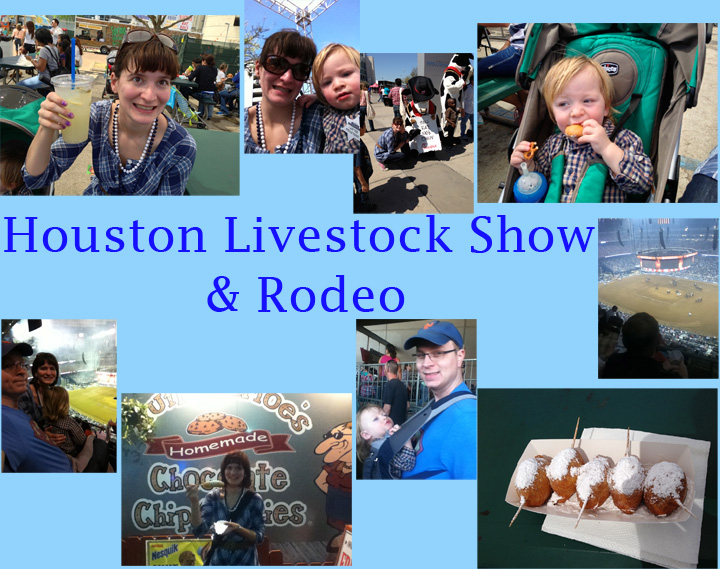 The Rodeo is a carnival and all about the food. We had jalapeno lemonade, fried oreos, and my favorite – fried cookie dough on a stick. We also ate sausages, chicken fingers, and corn dogs. It's really a good thing fair food is a once a year(ish) thing. Otherwise I would weigh 400 pounds or be dead. After a morning of walking, eating, watching, and looking at animals – Oh, and Mutton Bustin'. Watch it on YouTube, I laughed so hard I cried – we went back to the hotel to rest and ditch the stroller. Back for the evening show. We got to see the bucking horses, bull riding, and calf roping and wrestling. So much fun!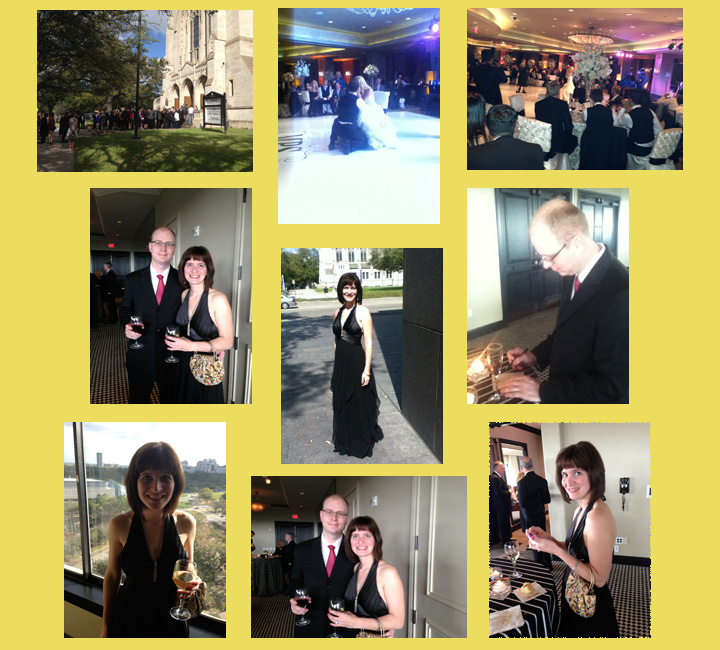 The wedding was beautiful the bride and groom were bursting with happiness and I got to wear my fancy dress and 5 inch pink heels.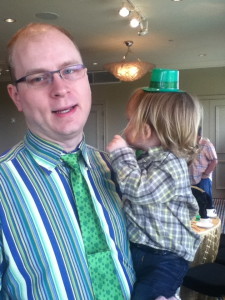 And just for fun a little St. Patrick's Day brunch before heading home. Complete with a bagpiper who Simon couldn't stop watching.