It works, here's how our kids share an 8 x 9 room. This tiny room has been quite the multi-tasking space. When we first moved in this room was storage, then an office. Then Rob's brother lived with us for a year and it was his room. Then it was an office that eventually got a crib. When Simon was around 15 months we gave him his own room. When Caleb was on the way there was no way to fit a bed and a crib unless we got rid of the pinball machine (which is not an option) so we went with bunk beds (tutorial). And now I we've finally hung some art work and have things organized to be picture worthy. The room is rarely this clean.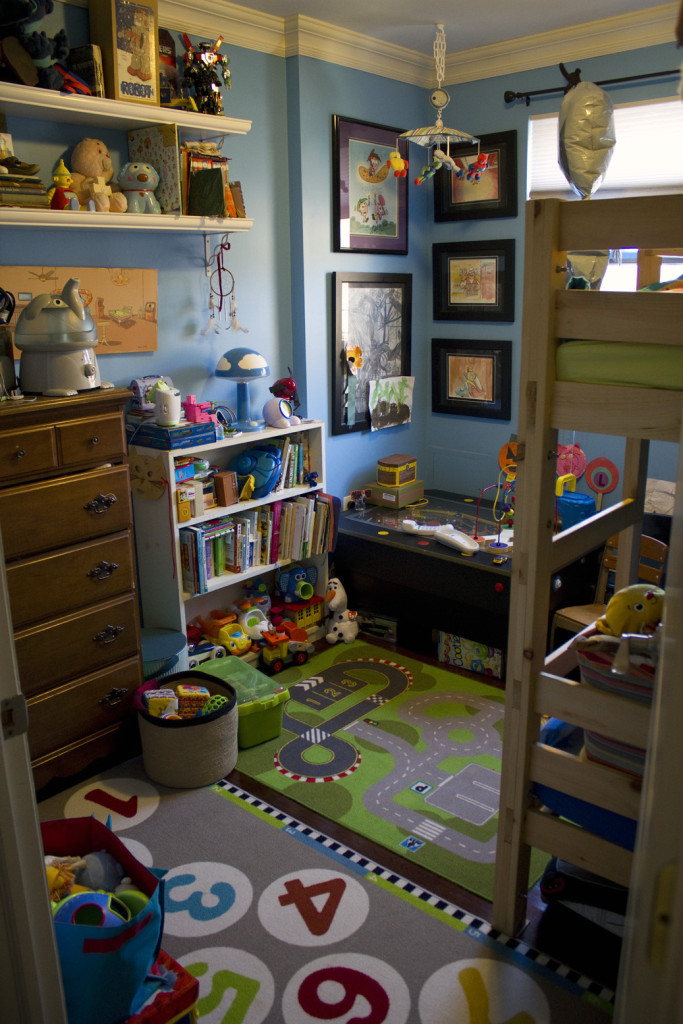 They've been sharing a room for at least part of the night since around August and I'll do a separate post about how that works. Other than the bunk beds, keeping toy storage under control is the biggest concern. Simon has his quilt and another blanket and his four stuffed animals in his bed. Caleb has a fleece blanket and a stuffed animal in his. He will get a quilt this year. It's going to happen. Caleb's bed has a toddler bed rail and a pool noodle to keep him in. Once he's beyond the age to slither out I'll remove the noodle, then eventually swap the rail for the noodle until maybe nothing. Simon never had a barrier and only rolled out a couple of times. This bed like any toddler bed is only 12 inches from the ground, so not too far to fall.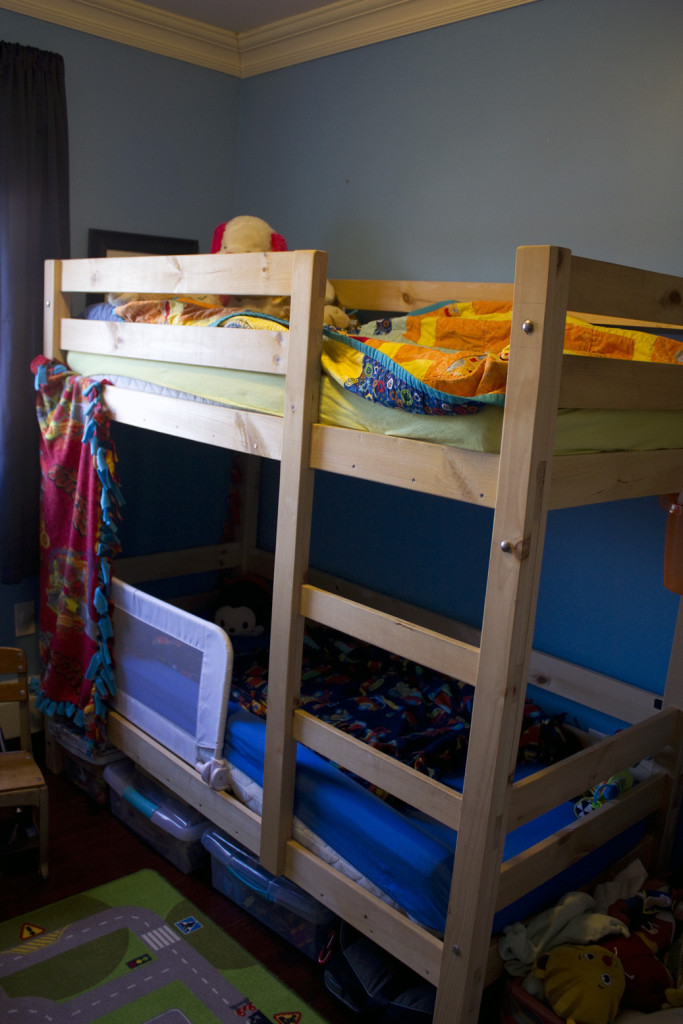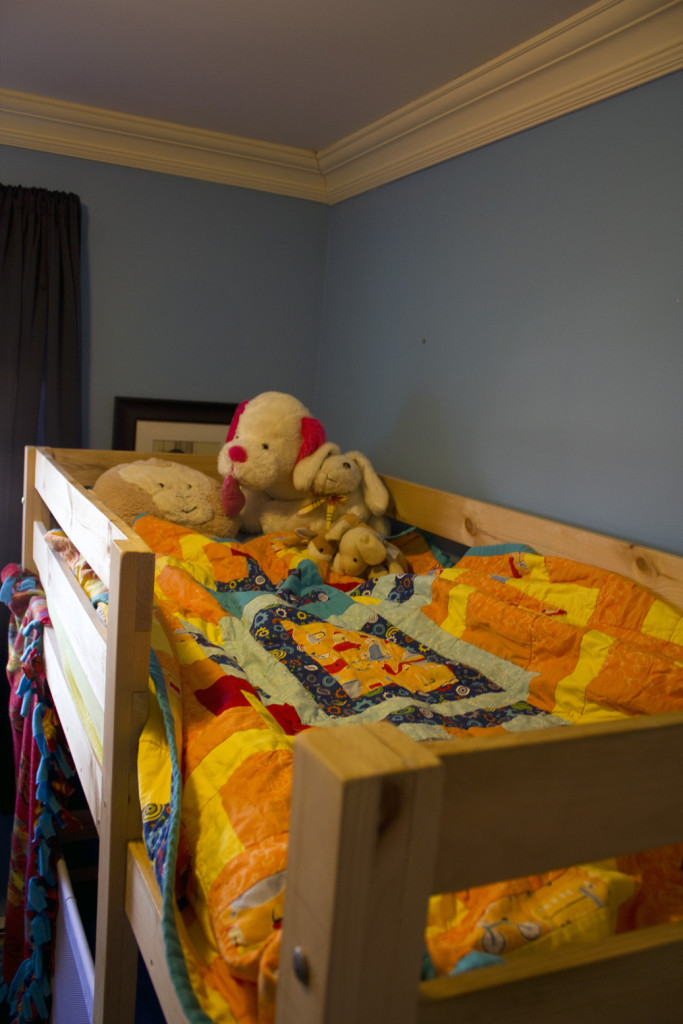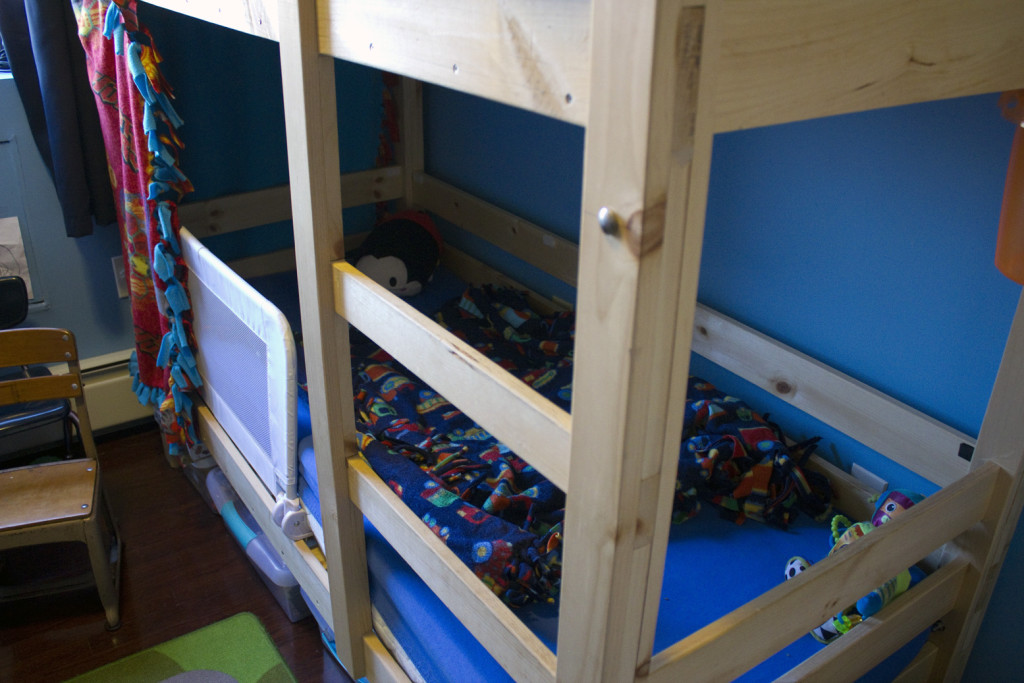 Under the bed we have Simon's car seat, and two under bed bins for train tracks and cars and trucks. At the far end is a smaller bin with random small stuff that I go through every few weeks and toss anything broken and not shown is our Christmas tree stand.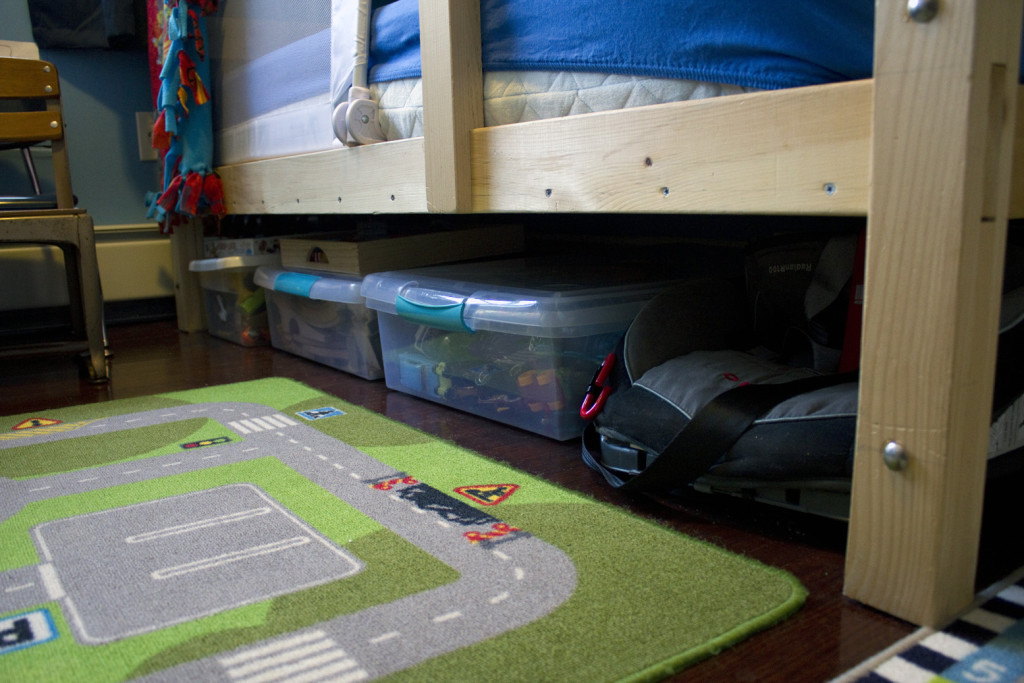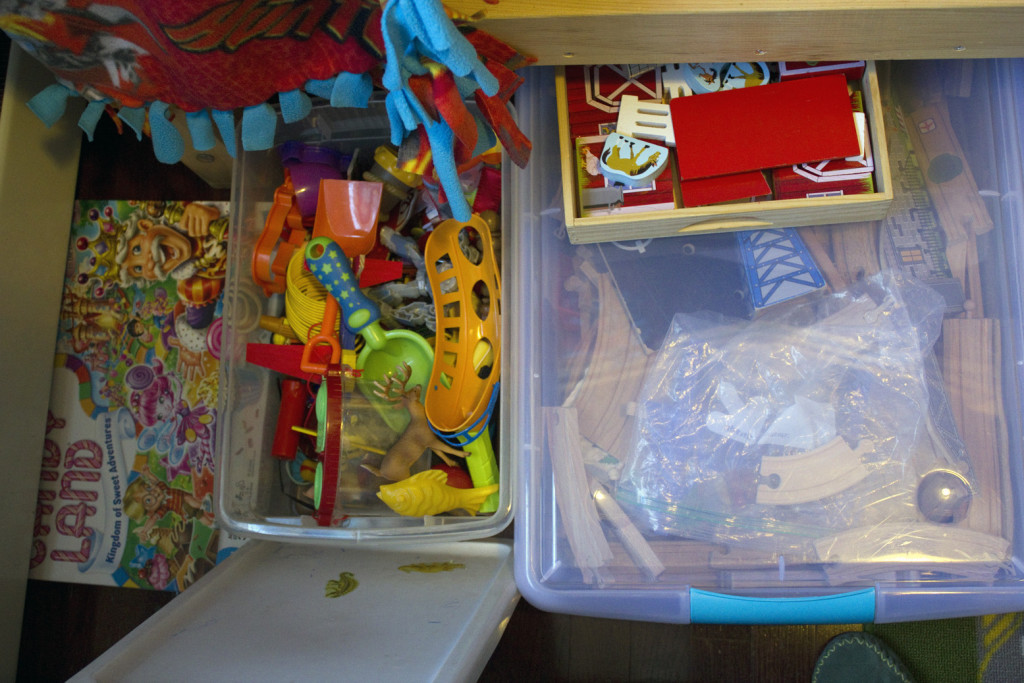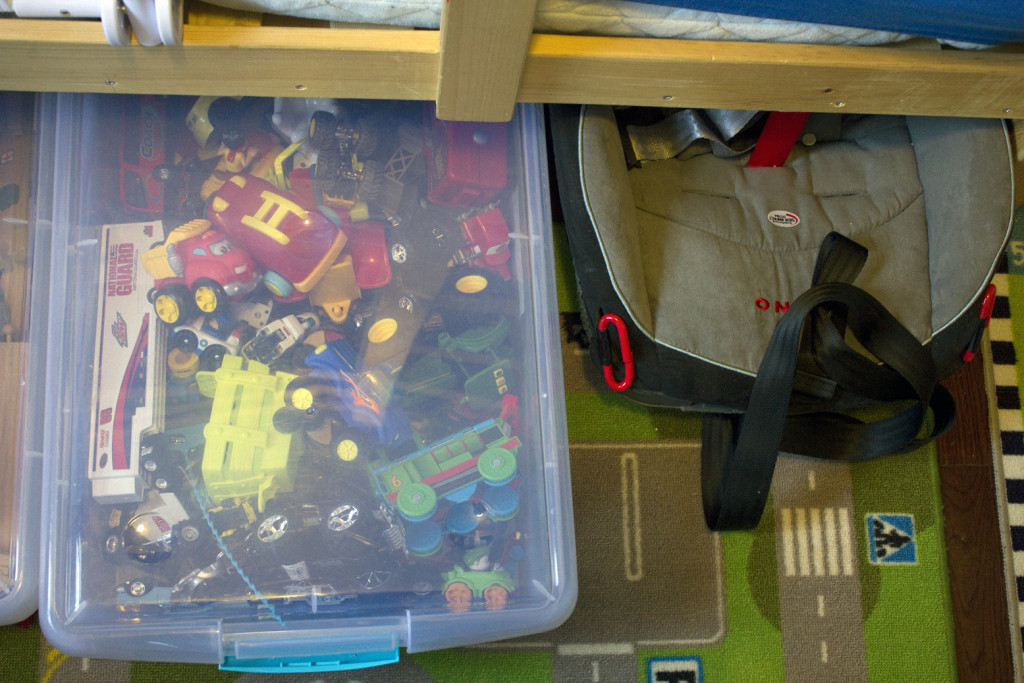 We put the behind the door rain gutters in before narrow shelves were a thing. They work for holding some of the paper picture books. Up high are old family films and other things. Eventually this stuff needs to be sorted and possibly stored elsewhere. All of the stuffed toys are in a crunch can. I really like this style of bin and have the tall round ones for a laundry hamper and blanket storage. The stuffed toys I was leaving in Caleb's bed until he started climbing in it to sleep. So now it goes on the floor each night.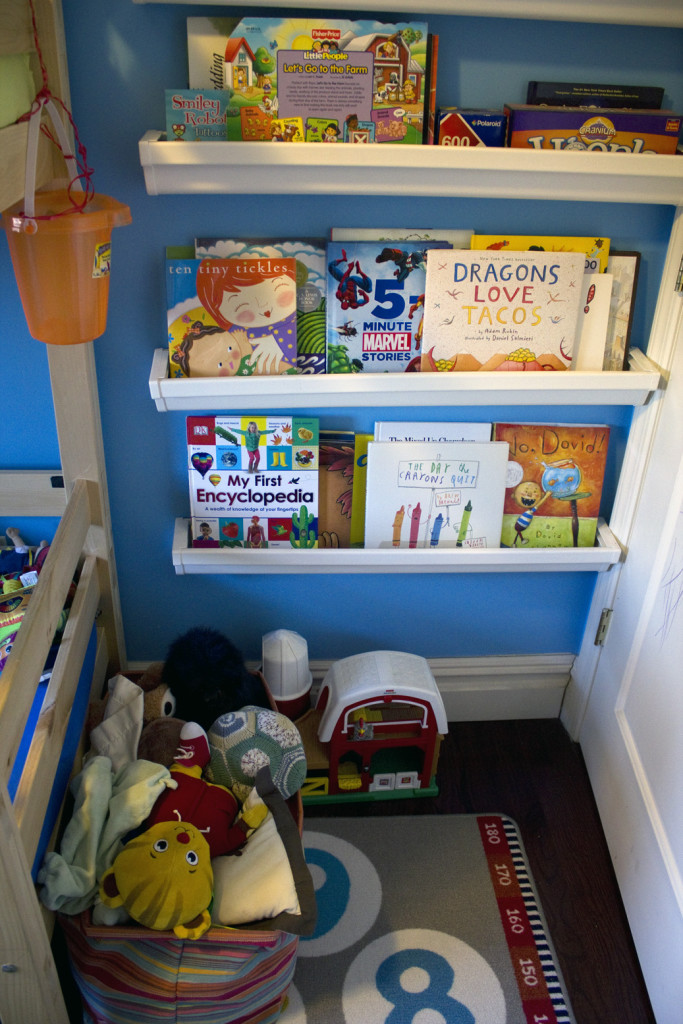 We have this bucket/seat for trains and two bins for Caleb's toys. I really wish I would have purchased another jute basket because they are discontinued and I like the look of it when we pull toys to the living room.  This Oscar trash can for ball storage. My mom got Simon a lego box at Christmas so we use the box the Duplos came in for Caleb's random small stuff. Mostly every night we toss everything into it's appropriate bin and shove out of the way.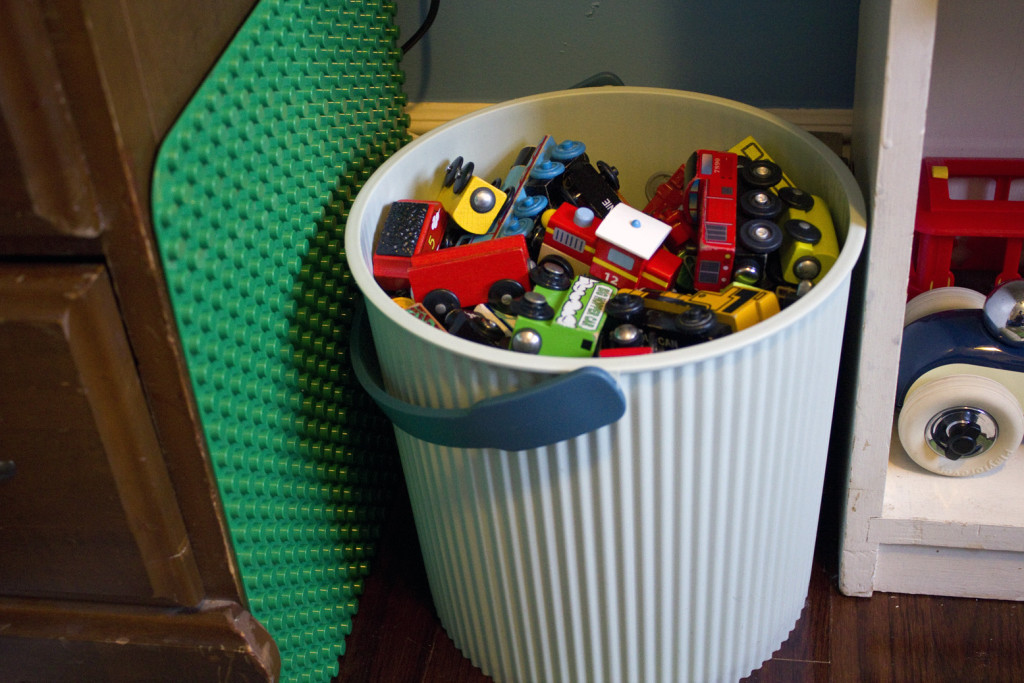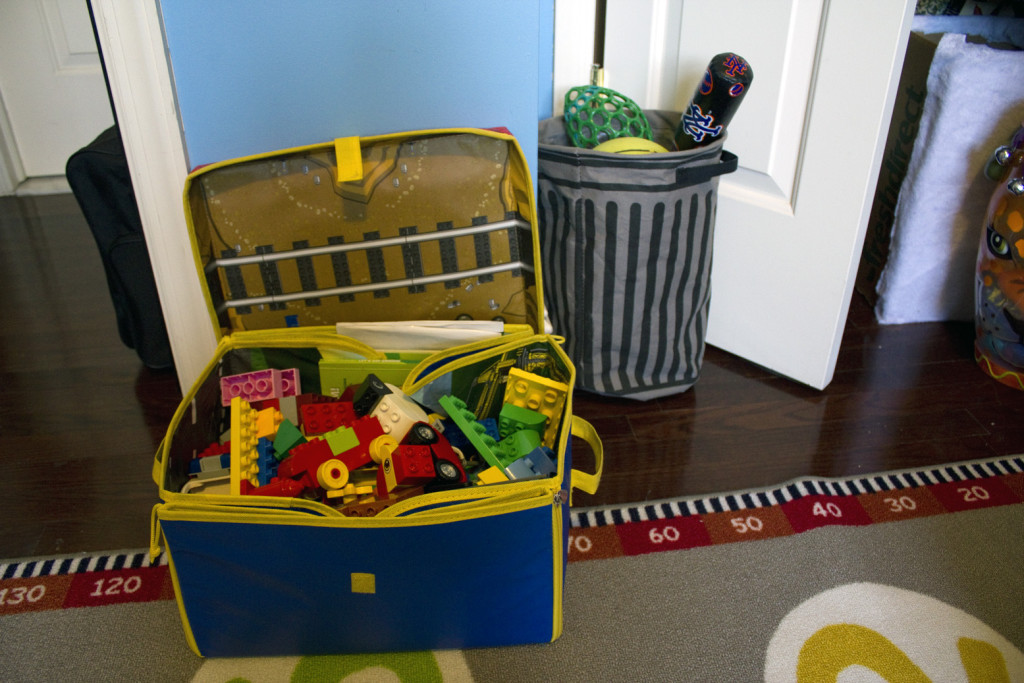 The pinball machine is something Rob has had for years. He rewired it so the lights work and had a custom base built. It's a great play table and someday if we have a house it will be a coffee table. The robot mobile is from Simon's crib. The Fairly Odd Parents from an auction. I did the plant drawing in college and for now will put kid art there. The Monkey pictures are animation cells from Rob's first film. Simon likes to tape school things on the wall. Under the table are Magnet Tiles and a box of puzzles.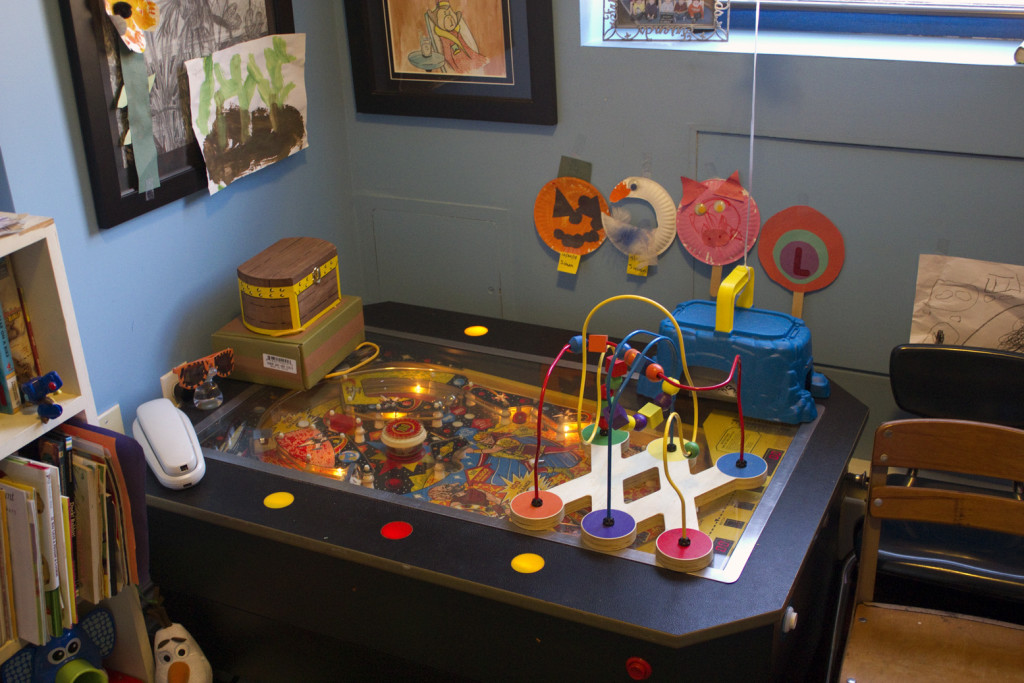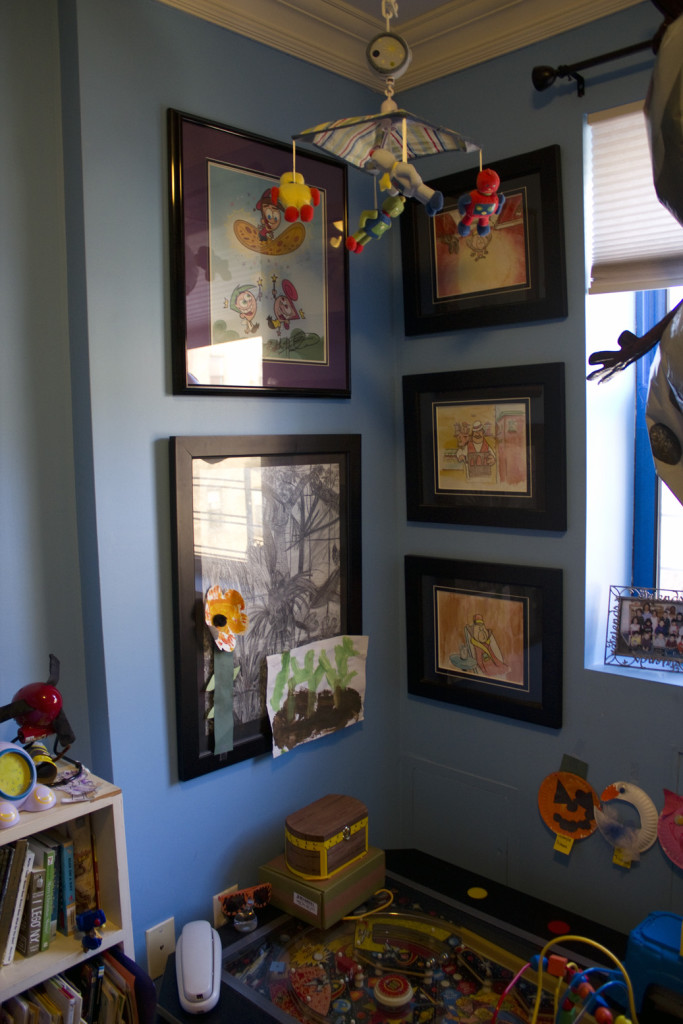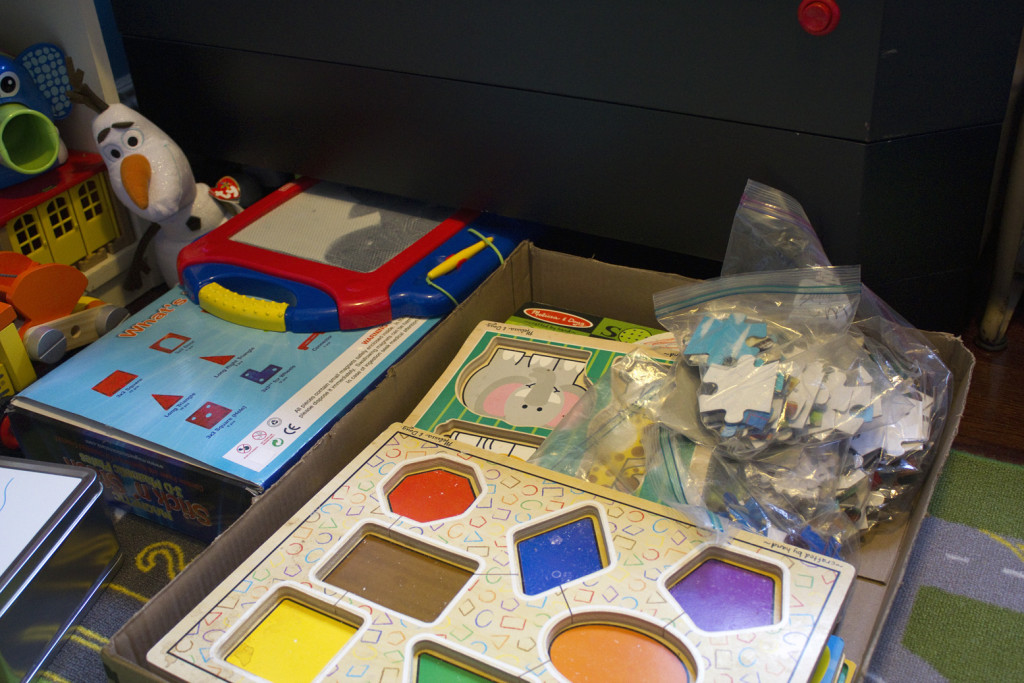 The bookshelf I got for free and it holds books and some larger toys. On top is an Ikea lamp, a sound machine, nightlight alarm clock, and a kid friendly fan. I love this fan because the blades are fabric so it's safe for sticking fingers in. There is no AC in that room and the Dyson fans are expensive. Two of these little guys to cool each kid are perfect.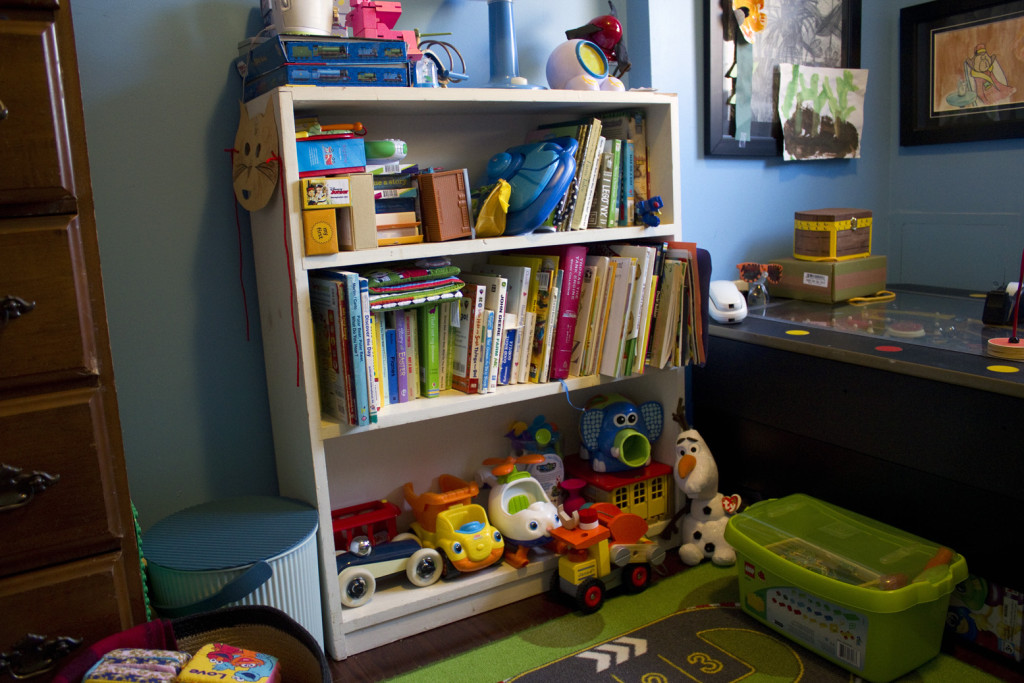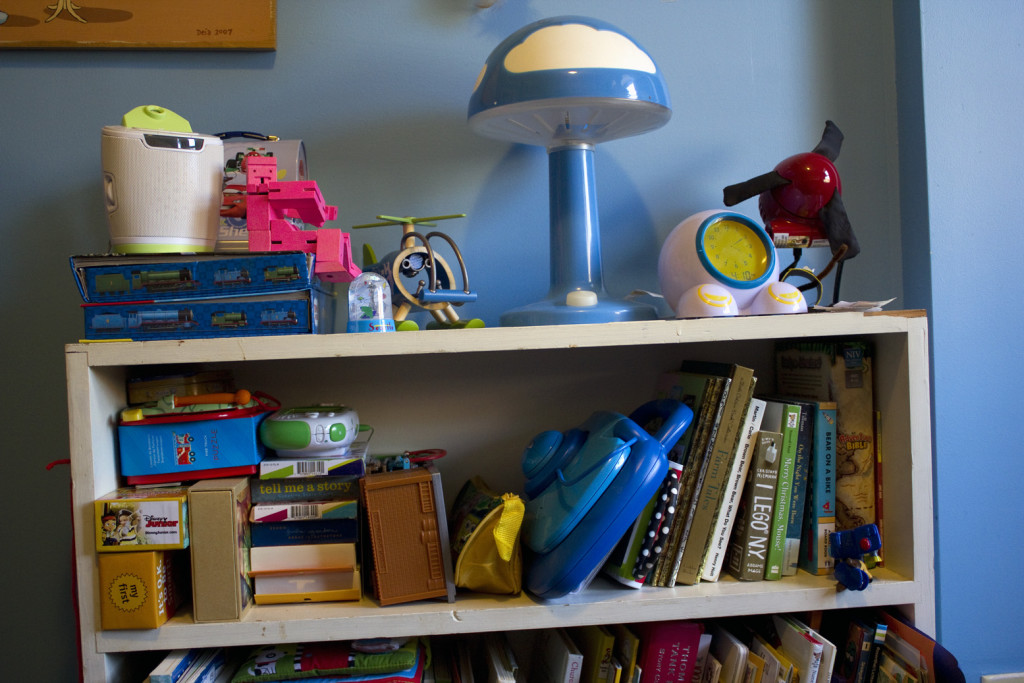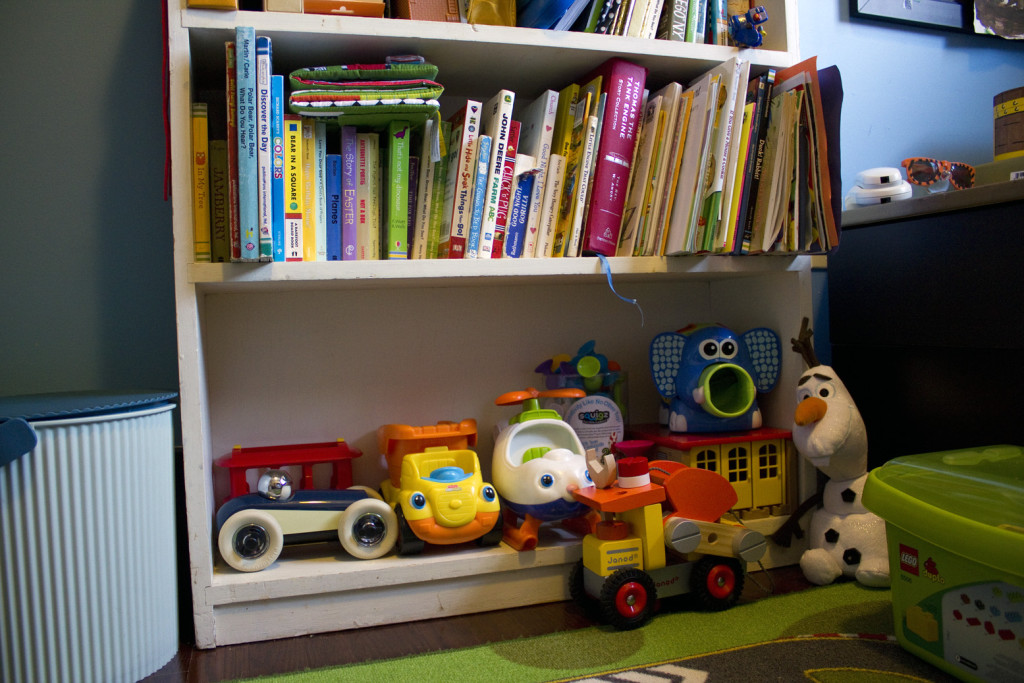 They share my childhood dresser with newborn pictures of the boys. The wooden box holds baseball cards from Rob's dad and the post office box safe holds collectable pocket knives from my Dad. The upper shelves hold an assortment of things Rob and I have kept over the years. The closet is storage and off season clothes and business clothes for Rob and I. And a giant Ikea bag of things to donate.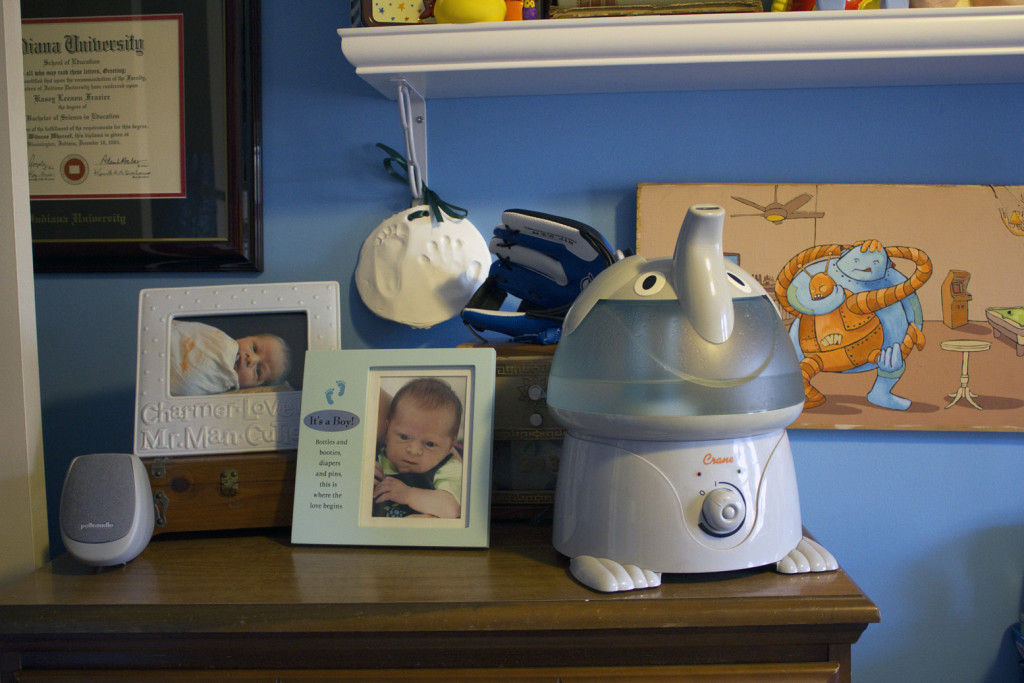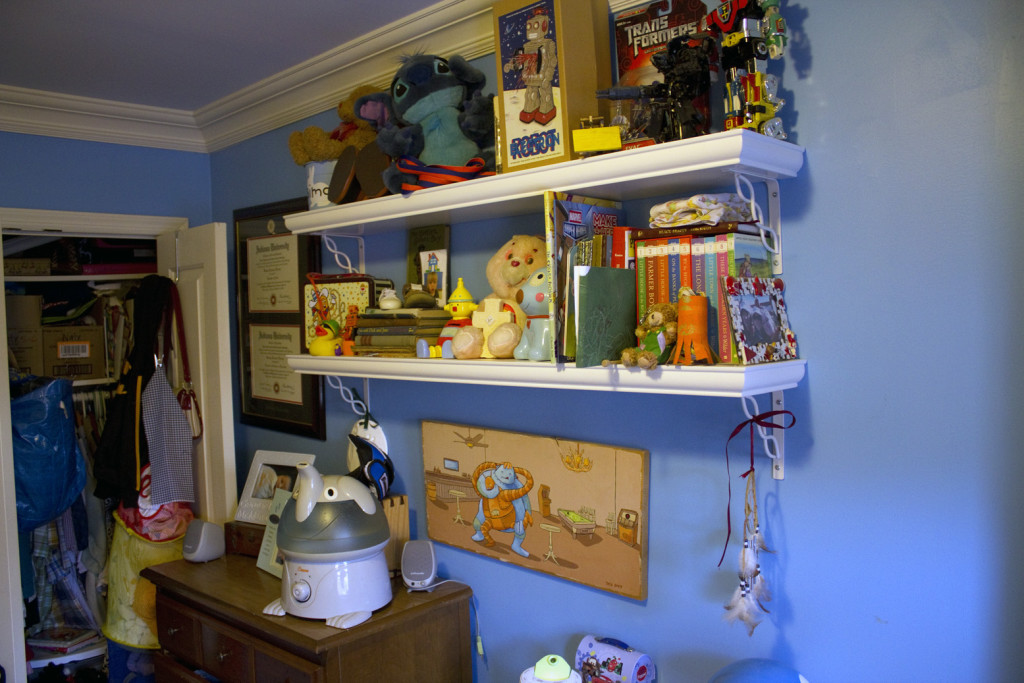 And that is how you fit two kids in a room.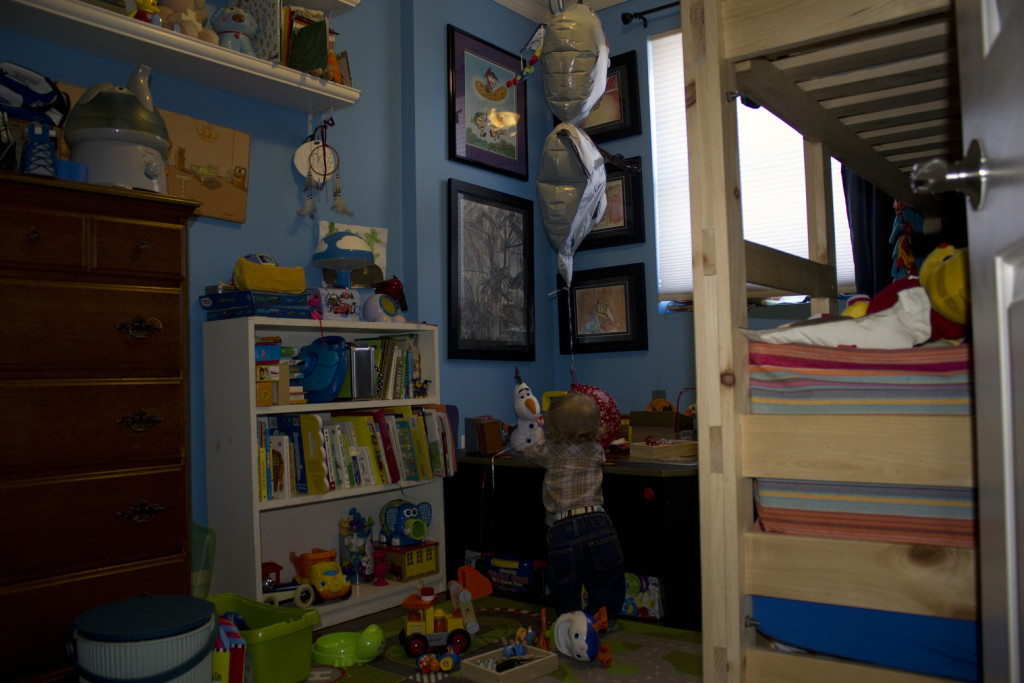 * Amazon links are affiliate links. All are things we use in the room.