Merry Christmas from the Powers family! We can hardly believe another year has passed already. This may have been our busiest year yet. The year was full of milestones and professional success. We had a lot of fun at home and while traveling. We explored some new parts and sights of New York City this year and have an ongoing bucket list. We might never see it all, but we can try.
We did a few big trips this year as a family, a long weekend in Philadelphia for spring break, a trip to Los Angeles for the Emmy awards (again!) in April, Panama City Beach, Florida for a week in June with Kasey's family and to Maine for a week in August with Rob's family. Rob took a couple of work trips to Toronto. Kasey went to Philadelphia, Louisville. and Toronto for work/school and a quick trip in Indiana solo to visit the new niece.
We got to visit with friends and family. We hope to experience all of this and more in 2016. As a few visitors have found our house is small and the kids are loud, but we have a couch and an air mattress with an open invitation. Hope your holiday season is full of joy.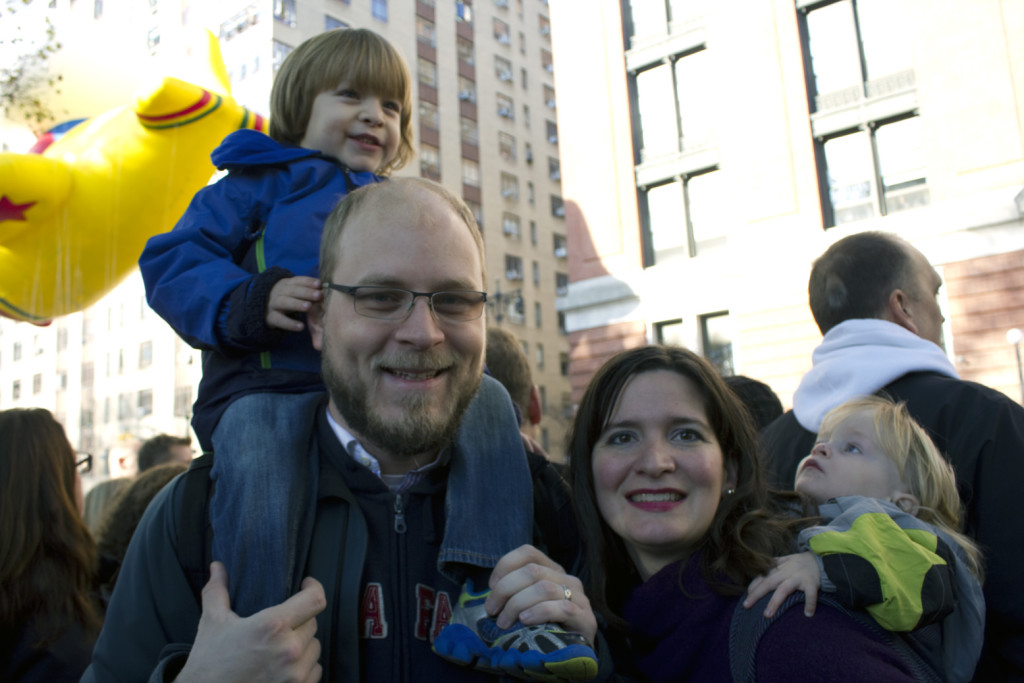 So here's a little more about what we've been up to:
Rob is back working on season 2 of Peg + Cat, a pre-school math show airing on PBS. The show was nominated for a second round of Emmy Awards in April and we once again went to LA. This time Rob's mom, aunt, and uncle came with us. And we brought the kids. Unfortunately Rob did not win this year, but we had a great time at the ceremony. And got to visit Universal Studios for a couple of days.
Kasey started the year finding out that the dissertation project in progress was not viable, so had to do a complete change in topic and direction. Ultimately it has been good and the new project is so much better. The proposal was defended in July and I'm now collecting data, in the form of interviews with middle school kids. I have an expected June 2016 graduation, at which point I will have a PhD in Psychology. For Madison folks, I will be collecting data at Southwestern for three weeks in January – I hope I will see you!
Simon turned 4 in July and we continued his birthday tradition of pizza and cake in the park. Simon started Pre-K in September and we start the Kindergarten application process any day (it's an NYC thing, but it's a process and a thing). Simon is a great kid. At the moment he loves Rescue Bots the most. Other interests include all things Mario, Lego, puzzles, Candyland, playing at the parks. His favorite food is a sweet potato tempura roll from the local Asian Bistro; he's not quite to real sushi yet.
Caleb turned 1 in February and we celebrated with a snow party at the park. It was cold and snowy while we drank hot chocolate and ate donuts. He started walking in June and has slowly been adding words to his repertoire. No is among his favorite (to say, not hear). Caleb is a lover of all things Mickey Mouse and Daniel Tiger. His favorite toys are whatever Simon is playing with. Caleb lives life at an 11 – he is able to express the greatest joy an sadness in his little life.
***
For previous Christmas cards and letters: 2014, 2013, 2012, 2011 and 2010,
I don't have earlier digital versions.